Kathryn Powers '17 and Glory Kim '17 presented their Trinity research in poster form at the International Congress of Vertebrate Morphology in Washington DC in July.  Kathryn's presentation was titled "A novel pattern of yolk mobilization in developing squamate reptiles."  Glory's presentation was titled "Fetal membrane morphology in oviparous lampropeltine snakes (Colubridae)."  Both Glory and Kathryn have been conducting research in Professor Blackburn's lab over the past three years.  Glory's research has led to two published papers, and Kathryn's, to a manuscript that shall be submitted to the Journal of Morphology.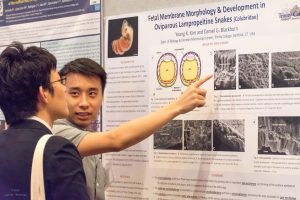 Glory Kim explains his poster to another conference participant.
Kathryn Powers poses with her poster.
{ Comments on this entry are closed }