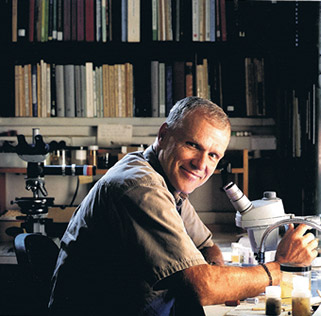 Email contact: cschneid@trincoll.edu
Education
Gettysburg College 1966-1970, B.A., Biology, 1970.
Duke University 1970-1975, Ph.D., Botany, 1975.
Research Focus
Phylogenetics/systematics of tropical marine algae, primarily Rhodophyta
Teaching Philosophy
I retired from formal teaching in 2020. My goal in the classroom and laboratory was to help students understand the natural world by logically dissecting it, then finding out how it all fit back together. If my students could develop ways of thinking that challenged their established assumptions, then I succeeded. I provided my classes the known information on a subject, but did not expect them to memorize these great webs of information. Rather, I wanted the students to interpret the significance of these facts in a greater context. I allowed them to make mistakes in their "logical" thinking, then I could use these mistakes as a platform for a constructive discussion with them. Using these tools, I believe students truly learned the material in a useful manner, one which would carry them forth well after any class they took with me.
Click here for a video on teaching and research.
Honors and Awards
The Award of Excellence, Phycological Society of America, 2020

The Trustee Award for Faculty Excellence, Trinity College, 2016

The Frank Shipley Collins Award, Northeast Algal Society, 2003

The Distinguished Alumnus Award, Gettysburg College, Gettysburg, Pennsylvania, 2000

Named the Charles A. Dana Professor of Biology, Trinity College, 1998

The Thomas Church Brownell Prize for Excellence in Teaching, Trinity College, 1996

The Charles A. Dana Research Prize, Trinity College, 1995

The Gerald W. Prescott Award, Phycological Society of America, for 1991 book, Seaweeds of the Southeastern United States: Cape Hatteras to Cape Canaveral, Duke University Press, 1993
56th Annual Meeting of the Northeast Algal Society, 21-23 April 2017