The school choice system implemented in Hartford, Connecticut is designed to improve educational outcomes for students and to promote inclusive and integrated learning environments. It is a complex system for parents to navigate, involving two separate lotteries: the Hartford Public Schools (HPS) lottery for HPS district schools, HPS charter schools, and Hartford magnet schools, and the Greater Hartford Regional School Choice Office (RSCO) lottery for Open Choice schools and RSCO magnet schools.Parents must navigate this incredibly confusing and stressful lottery process with the hope of securing a quality education for their child, yet even before tackling the lottery process itself, interested parents must undertake the time consuming process of determining which schools in the system are the best fit for their children. This web essay will focus on one branch of this complicated system, elementary magnet schools, because elementary education is a pivotal point in an individual's academic trajectory, and because magnet schools are a trademark of the school choice system and are greatly emphasized by many school choice advocates.
Interdistrict magnet schools were introduced in the 1980s, with the goal of reducing racial, ethnic, and economic segregation by providing a high-quality, theme-based education that would attract students from a variety of towns and backgrounds (Cotto and Feder 3). With the establishment of the Sheff standard for racial integration in 2008, magnet schools have become the state's primary method for reducing racial segregation and promoting integration within the Greater Hartford Region public school system. Magnet schools are monitored to ensure that they are meeting the first half of their mission and are promoting a fully integrated learning environment, but how can a parent determine if a magnet school is meeting the second half of its mission and is providing its students with a quality education? Academic achievement is very difficult to measure, and despite the controversy regarding the use of standardized test scores as an accurate measure of academic accomplishment, particularly at the elementary level, this web essay will rely on test scores as a means of determining academic performance, largely due to the greater subjectivity of all other methods of assessment. This essay aims to review the resources available to parents, who are interested in determining the academic performance of a prospective elementary magnet, and to expose the lack of easily obtainable information for prospective parents to use in informed decision-making. This essay aims to review resources available to parents, who are interested in determining the academic performance of a prospective elementary magnet, and to expose the lack of easily obtainable information for prospective parents to use in informed decision-making, by examining two common ways parents obtain information about prospective schools: the first is directly from school representatives at school choice fairs or open house events, and the second is from a popular website, called GreatSchools.
How elementary magnet school representatives discuss academic achievement:
School choice fairs and open house events provide school representatives with the opportunity to highlight the aspects of their schools that they perceive to be the most significant and most appealing to prospective parents. The analysis presented here on how elementary magnet school representatives discuss academic achievement is based upon ethnographic field notes taken by students in Professor Jack Dougherty's Seminar on School Choice at Wesleyan University, who attended a variety of open house events, as well as RSCO school choice fairs. Given that one of the driving factors behind the popularity of magnet schools is that they are considered to be superior to their district counterparts, mention of academic achievement was surprisingly absent from the field notes of Choice Seminar students who attended RSCO School Choice fairs. One student observes that a "…big elephant in the room was how these schools were actually performing, I did not hear any schools or any parents ask about or show achievement data of any kind" (LS). School representatives seemed to put the greatest emphasis on their school's particular curricular theme, perhaps in an attempt to set their school apart from the many other magnet schools also represented at these school fair events. However, representatives never discussed how their school's curricular focus enriched and increased the academic performance of their students. Rather, representatives seemed to operate under the assumption that prospective parents would automatically accept the superiority of their particular curricular theme and thus did not need to be convinced of its benefits. Another seminar student observed: "More attention was paid to these curricular themes, location, as well as the facilities offered by the school, and very little attention was paid to test scores and other standards" (HH). This same lack of attention to test scores, and academic performance more generally, was reflected in the field notes of Choice Seminar students who attended open house events for elementary magnet schools.
Although Choice Seminar students only attended open house events at two different elementary magnet schools, their observations still serve to reinforce the trends regarding the way in which school representatives discuss academic achievement that were observed at school choice fairs. At both open house events, the presentations given by school representatives were predominately centered around the unique aspects of the school's curriculum, as well as on the school's physical facilities. At the Breakthrough Magnet School open house, much of the presentation was devoted to discussing the school's mindfulness curriculum and its mission of character education, as supposed to its academic curriculum. NT observes in her field notes that "…the academic curriculum itself was not discussed in great detail … however, the idea that Breakthrough students were highly successful academically and always appropriately challenged was mentioned repeatedly" (NT) This implication of academic superiority, without any evidence or explanation to back it up, also seemed to be characteristic of many magnet school spiels at the choice fair events. At the CREC Academy of Aerospace Engineering Elementary, much of both the presentation by school representatives and the school tour was devoted to explaining the ways in which STEM was central to the school's curriculum. However, AG and RU observe in their field notes that there was "… not much discussion of why this school is better, why STEM is important, or what would make this school a good fit for certain children" (AG and RU). Although parents seemed to care about and ask questions regarding the quality of academics, school representatives did not seem intent on discussing the academic performance of their students or explaining how and why their schools performed better academically than others. These open house observations once again reinforce the trend of magnet schools promoting their particular curricular themes, without explaining how the theme is beneficial to students or contributes to the academic success or growth of students.
How GreatSchools conveys information regarding the academic performance of elementary magnet schools to prospective parents: 
The lack of discussion regarding academic performance by elementary school representatives is concerning because parents, who attend school choice events to gather information about various prospective schools, leave without even a basic understanding of the academic performance of these schools. In his RSCO School Choice Fair field notes, HH expresses concern that "…the lack of conversations about test scores, despite some critics' view that test scores are not a reliable indicator of a school's quality of education, is concerning as low-income parents might not be aware of the academic outcome produced by the schools that they are choosing for their kids" (HH). This raises a crucial question: If magnet school representatives do not discuss their school's academic performance, how can prospective parents determine which magnet schools are academically superior to others? One common tool that parents, who are computer literate and have access to the Internet, use to gather additional information about prospective schools is a popular school-review website: www.greatschools.org. GreatSchools provides individuals with a platform to post reviews about schools, as well as generates a rating of the school's quality. This rating is presumably based on the test score data that the website additionally provides. In Connecticut, the most recent testing data is from the 2012-2013 school year due to the switch from the Connecticut Mastery Test to the Common Core testing system. The Connecticut Mastery Test was administered to elementary school students beginning in grade three, and students were tested in three separate academic areas: math, reading, and writing. GreatSchools conveys this testing data through bar graphs depicting the percentage of students at a given school who tested as proficient or better in each subject. GreatSchools also provides the state average as a comparison point. Figure Two uses Breakthrough Magnet School as an example to demonstrate how GreatSchools visualizes the testing data of a school.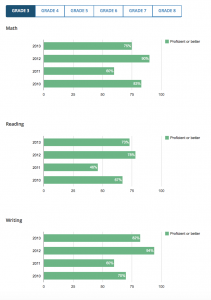 At first glance, the testing data provided by GreatSchools seems to bring much needed transparency into the elementary school selection process. But what information does it actually provide? How can prospective parents interpret this information to develop a better understanding of how a magnet school is actually performing? GreatSchools features a video entitled "dig deeper" to help prospective parents understand how to interpret CMT test results: https://www.youtube.com/watch?v=yhRHnXZGG3M. The video instructs parents to compare trends in test scores over the years to determine whether students improve over the years. However, despite giving parents this advice, GreatSchools does not provide an easy way for parents to do so, nor does it provide parents with an easy way to compare the test scores of various schools. In order to utilize the data provided by GreatSchools to compare the academic achievement of multiple schools, a prospective parent would have to create a table like Table One, a time consuming and potentially challenging process that no parent would actually undergo. Table One provides the data figures for the percentage of students meeting or exceeding proficiency levels in math, reading, and writing as determined by the CMT in the third through fifth grades. Percentages that are greater than the state average are highlighted in green. Table One reveals that out of the seven elementary magnet schools, with full testing data available on the GreatSchools website, only three consistently exceeded average state levels in the percentage of proficient students: Montessori Magnet School, Noah Webster Microsociety School, and University of Hartford Multiple Intelligences Magnet. Out of those three high-performing schools, only the University of Hartford Multiple Intelligences Magnet demonstrated a consistent increase in the number of proficient students from the third through fifth grades. In addition to the University of Hartford Magnet, Capital Preparatory Magnet School demonstrated a consistent increase in the percentage of students meeting grade level CMT proficiency standards from the third to fifth grade. The percentage of Capital Preparatory third grade students meeting CMT proficiency standards was well bellow the state averages in all subjects. However, by the fifth grade, the percentage of Capital Preparatory Students to meet or exceed CMT proficiency standards in reading and writing was greater than the state average, and the percentage of fifth grade students to meet or exceed CMT proficiency standards in math was significantly closer to the average state percentage. This indicates that although Capital Preparatory Magnet only receives a GreatSchools rating of a three out of ten, there is great improvement in student academic performance between the third and fifth grades. This information was relatively easy to discern with the aid of Table One, and Figure Three shows an even simpler to understand visualization of the math portion of the CMT data provided by GreatSchools; however, as the GreatSchools website does not provide this type of data visualization or comparison function, prospective parents would not automatically have this at their disposal. Therefore, even though GreatSchools attempts to provide parents with information regarding the academic achievement of schools, the picture it provides is a very incomplete one, and once again leaves parents lacking the information they need to make a fully informed decision.
In conclusion, even with the aid of an independent resource, such as GreatSchools, information about the academic performance of elementary magnet schools is very difficult to obtain. While the school representatives themselves provide no information, GreatSchools only provides the percentage of students meeting and exceeding proficiency requirements, which is a very small aspect of performance. It does not tell parents whether students at the schools are merely meeting the proficiency requirements or exceeding them. This information is provided by the official website for the CMT: http://solutions1.emetric.net/cmtpublic/Index.aspx. However, this website is very difficult to navigate and many parents would not even be able to locate it. In order to find the desirable information on the CMT website, a prospective parent would need to know exactly what to look for and would have to have a large amount of time at their disposable to look for it. The lack of information available to parents about the academic performance of magnet schools is concerning and adds an additional variable into a system of choice already filled with variables.
References:
AG & RU. CREC Academy of Aerospace Engineering Field Notes. (2015, February).
Cotto, Robert, and Kenneth Feder. " Choice Watch: Diversity and Access in Connecticut's
School Choice Programs." Connecticut Voices for Children (2014): 3. Web. http://www.ctvoices.org/sites/default/files/edu14choicewatchfull.pdf
GreatSchools: Public and Private School Ratings. http://www.greatschools.org.
LS. RSCO Choice Fair Field Notes. (2015, February).
HH. RSCO Choice Fair Field Notes. (2015, February).
NT. Breakthrough Magnet School Field Notes. (2015, February).