It all started about a year ago when Jon and Christoph began analyzing crumbling concrete foundations from northeastern Connecticut. The presence of pyrrhotite, a magnetic (you might see where this is going) iron sulfide, in aggregate used for concrete foundation lead to the premature decay of homes as the pyrrhotite decays into a variety of secondary minerals.
In collaboration with the Connecticut Coalition against Crumbling Basements (CCACB) Jon and I started analyzing concrete samples and found that we could detect and quantify pyrrhotite through a combination of magnetic and chemical analyses. In February we submitted a manuscript to Cement and Concrete Research describing our method, talked to homeowners, realtors and engineers, and for the past few months we have been analyzing people's homes.
Trinity's Alumni Magazine was the first to spread the word. A very famous wall made it on the title page (still bummed that they chose the wall over a heroic portrait of Jon and myself :-), and we got a few pages in he bowels of the issue. The Manchester Journal Inquirer came next, giving us a nice shout-out (yep, you have to read all the way to the end – we're not that famous), and the Hartford Courant followed suit a few days later. They actually wrote a story about us and, if you are really observant you might see the same wall again in the multi-media part.
In the mean time we got some video practice with Trinity's video guy who spent a morning interviewing us and our students and shooting video about the process. As far as I know that video is not out yet, but it was great practice for our two seconds of fame when Jon and I were interviewed by the local NBC station.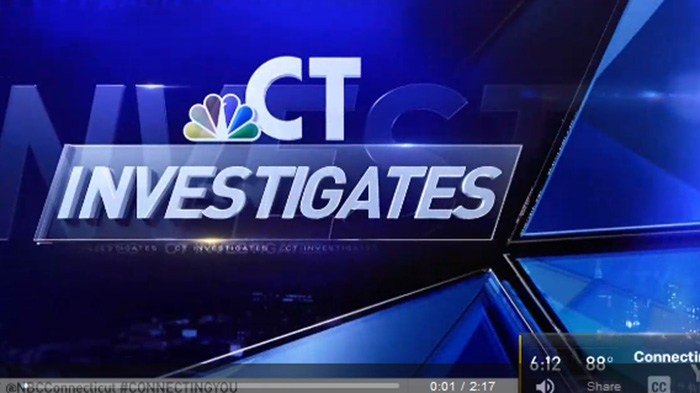 NBC's investigative reporter Len Besthoff spent a few hours with us and we ended up with 10 seconds of fame a few hours later. Instant fame ensued: even our neighbors are suddenly recognizing us in the street!
In October Jon and I attended a concrete symposium in Trois-Rivières and just in time, on the up North, we received an e-mail that our paper on thermomagnetic pyrrhotite testing was finally accepted for publication in Cement and Concrete Research. By now it's actually published and you can download a copy from here (until December 1st ). The meeting in Quebec was amazing. Since my French is pathetic we all got headphones and enjoyed the amazing skills of two simultaneous translators. Jon and I felt like at the United Nations.
By now we're working on a new manuscript to be presented at the annual meeting of the American Geophysical Union (AGU) in Washington DC, and are eagerly awaiting our new rock crusher to help with all the concrete cores that are flooding the lab.
I'd say it has been an interesting summer.