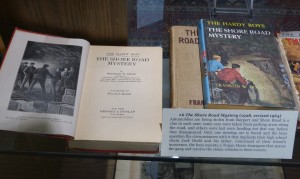 Our current display in the Library's Level A atrium are a selection of books from the early 20th century children's series produced by Edward Stratemeyer. Familiar names such as Carolyn Keene (Nancy Drew), Frankin W. Dixon (Hardy Boys), Victor Appleton (Tom Swift), Laura Lee Hope (Bobbsey Twins), and scores of others were all pseudonyms invented by Stratemeyer who either wrote the books himself or contracted them out to freelance writers for a flat fee.
Some 1,300 titles were produced for these series and sold and estimated 200 million copies by the 1980s, forming a massive portion of the strata of American popular literature for young people.
Included are selections from a gift to the Watkinson Library of a "study collection" of these series, numbering almost 800 volumes, from a collector in the southwest.