[Posted by Erika Jenns, Indiana University '13]
While scrutinizing extended spines on the shelves beneath the Watkinson, lost in the Dewey decimal system, I stumbled across the New Book of Nonsense.  I almost overlooked this gem of cynical criticism, as it was not the volume I had been pursuing.  I was pleasantly surprised by the crass drawings and captions included within.
The New Book of Nonsense was created as part of a fundraising effort for the Great Central Fair, which took place in Philadelphia in June 1864.  The fair was planned to raise money for the Sanitary Commission, organized by women from Pennsylvania, Delaware, and New Jersey to help sick and wounded soldiers in the U.S. Army during the Civil War. The first fair was held in Chicago in 1863.  The fairs provided a sense of unity for the local communities, and the members saw themselves as having a share in the nation's future.
The New Book of Nonsense is based on a fad started by Edward Lear, a British author, artist, illustrator, and poet.  "The Learian limerick focused on the singular individual, an old or young "Person," "Man," or "Lady," who was distinguished by unusual appearance, behavior, talents, diet, or dress. In its most typical form it announces the existence of the eccentric, notes his dwelling place, and describes his distinctive features; then it explains the consequences of his peculiarity and concludes with an apostrophe."
The limericks and their complimentary drawings are aimed at individuals in both the north and south and around the globe.  The age and sex of those targeted varies as well.  The content is sometimes political in nature, but more often, the jests are directed at the general public.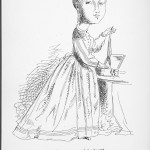 Page 5 – There was a young lady who said "I seldom wear hair on my head; I carry my locks about in a box, For such is the fashion" she said.
Page 7 – There was a young lady of Cork, Who partook of her soup with a fork, "If I eat it like that I Shall never get Fat!" Said this cleaver young lady of Cork.
Page 9 – There was an old man of the plains, Who said, "I believe that it rains;" So he buttoned his coat, and got into a boat To wait for a flood on the plains.
Page 11 – There was a young girl who wore bows, Who said, "if you choose to suppose This hair is all mine, You are wrong I opine, And you can't see the length of your nose."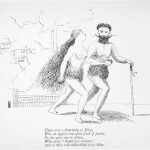 Page 14 – There was a dear lady of Eden, Who on apples was quite fond of feedin, So she gave one to Adam, Who said, "thank you madam," And so they both skedaddled from Eden.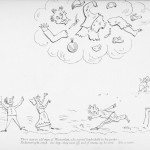 Page 17 – There was an odd man of Woonsocket, who carried bomb-shells in his pocket; Endeavoring to cough one day – they went off, and of course, up he went like a rocket.
Page 19 – An innocent stranger asked, "where Is the funniest place in the fair?
"Where the Nonsense Book lies" the committee replies, Is the funniest place in the Fair.
Page 30 – There was an old man and his wife, who lived in the bitterest strife: He opened the stove, pushed her in with a shove, And cried "there! you pest of my life."
Page 31 – There was a young student at Yale, Who became thin, abstracted and pale; His friends said it was drinking, He declared it was thinking, But one can't believe students at Yale.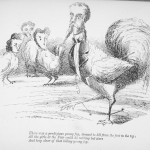 Page 43 – There was a prodigious young fop, dressed to kill from the foot to the top: All the girls at the Fair could do nothing but stare And keep clear of that killing young fop.
Page 53 – My good Southern Brother look here, one thing to y mind is quite clear If we put out this Furness, it no longer will burn us, Nor warm little darkies up here.
Flipping through the pages of The New Book of Nonsense gave me a sense of what may have been culturally acceptable in the 19th century, or rather what was considered to be taboo.  The lighthearted, rhyming messages that accompany these crudely drawn renditions of what members of polite society should not partake in are a much different approach than Lydia Sigourney would have deemed appropriate.  The New Book of Nonsense is a refreshing break from the strict etiquette guides written by Sigourney, which are like being wrapped in an ever-tightening corset rather than traipsing barefoot and free.