[Postted by Mario Dunkel, a visiting scholar from TU Dortmund University, Germany]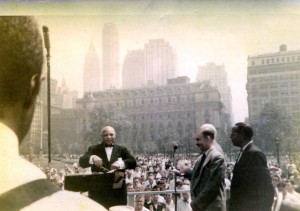 [Image: W.C. Handy in Battery Park, 1954]
I am currently working on a project that explores early jazz historiography, and I found several fascinating documents in Trinity College's Edward "Abbe" Niles Collection. Abbe Niles was an early blues and jazz critic, mostly active in the mid to late 1920s. He was close friends with several musicians, including W. C. Handy. Since Niles was also trained as a lawyer, he would often assist Handy with copyright issues and other legal matters. In the mid-1920s, Niles became THE American blues and jazz critic. Together with Handy, he co-edited an amazing volume on blues music (Blues: An Anthology). In 1928 he wrote the Encyclopedia Britannica's first entry on jazz.
Some of the most interesting documents of Trinity's Abbe Niles Collection are the letters that Handy sent to Niles in 1926 when they were working on the book Blues: An Anthology. Niles had sent Handy a draft of his preface ("Sad Horns") for this collection of blues music, based on interviews that he had conducted with Handy. From Handy's letters we can learn a lot about Niles' image of Handy and his music. We also see how several parts of Niles' manuscript conflicted with Handy's ideas and how the preface, in the end, became a collaborative project.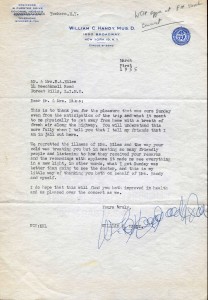 The Abbe Niles Collection also includes a number of correspondences between Niles and other major musicians of the 1920 such as Irving Berlin, George Gershwin, and many more. It's a true treasure for scholars working on 1920s jazz and blues.
This entry was posted on Wednesday, March 6th, 2013 at 4:39 pm and is filed under
Visiting researcher
. You can follow any responses to this entry through the
RSS 2.0
feed. Both comments and pings are currently closed.