Posts Tagged 'Trinity staff'
[Posted by Noelle Beach, Assistant Director of Annual Giving at Trinity College]
Did you know that the Watkinson Library has wedding invitations from alumni that are almost 100 years old?  I didn't.  In fact, I didn't know that the College even archived these items until recently when I was doing research in the alumni archives for The World of Rare Books class taught by Richard Ring.  The alumni archives are housed in row after row of dark metal filing cabinets in the labyrinthine basement of the library, and are an immense collection of biographical data on thousands of Trinity College alumni from the 19th and 20th centuries.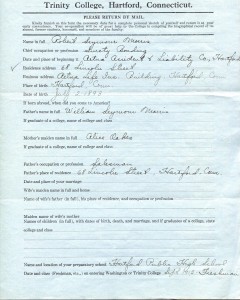 The collection was started in 1910 by Edgar Francis Waterman `98 who was the treasurer and a trustee of the College – that's class of 1898 in case you didn't catch it.  Waterman's alumni archive was modeled on a similar Harvard initiative, and his goal was to highlight and publish distinction that Trinity alumni have brought to the College.  Throughout the course of the project and in the years leading up to WWI, Waterman and his team reached out to over 1,700 alumni.
They also issued detailed surveys, wrote letters, and collected images.  Their success in obtaining information was remarkable, especially considering that they did not have the pervasive system of electronic communication that we enjoy today.  Waterman was able to receive responses from at least 80% of contacted alumni, and also collected portraits from 60% of the group.  All of this information was compiled into the alumni archives and since 1972 have been available to the Trinity community.
Now let's step back for a minute, and I will explain how I wound up spending the last two nights pouring over faded newspaper clippings, carbon copy letters, and trying to decipher handwriting that was written 80 years ago.  My original intention was to do research on a ten-page typed paper on the Trinity College lemon squeezer that was written over 60 years ago.  For those of you who don't know, the "passing of the lemon squeezer" is a renowned tradition at Trinity, which started in 1857 when a senior named William Niles gave a wooden lemon squeezer to the Class of 1859 to acknowledge their academic achievements and moral character.  For the past 155 years the squeezer has been passed down from class to class, making a ceremonial appearance at each year's Commencement.  While I found the lemon squeezer paper quite interesting, what intrigued me even more was its author Robert Morris, Class of 1916.  These curiosities lead me to the alumni archive, and searching for an individual's folder that had been sitting in a filing cabinet for longer than I have been alive.
After spending several hours reading through the impressive collection of material that Trinity has retained about Robert Morris, he started to come alive to me as both a model undergraduate and alumni.  Morris was a Hartford native who entered Trinity in 1912.  While he was a student Morris played on the varsity football and track teams, sang with the Glee club, was class president, and also a member of the fraternity Alpha Chi Rho.  He graduated from Trinity in 1916 (B.S), and returned the following year to coach football and pursue a graduate degree.
Morris's involvement with Trinity continued well past his years as a student.  He served on the Board of Trustees for 22 years, the Board of Fellows for 13 years, and was a class secretary for the alumni magazine, The Reporter, for 53 years!  Morris was also involved in the Athletic Council, Trinity Club of Hartford, and was very influential in the creation of the Austin Arts Center in 1965.  To recognize all of his engagement with Trinity, Morris was presented with an honorary Doctor of Law degree in 1965 and the Eigenbrodt trophy in 1949.  The Eigenbrodt trophy is still awarded annually for service to the College.
In addition to highlighting all of Robert Morris's achievements, his alumni archive folder contained ephemera items such as a copy of his wedding invitation, handwritten correspondence to college officials, and multiple newspaper clippings where he was mentioned.
The folder also included the postcard Morris sent to Alumni Relations in 1947 with handwritten class notes scribbled on the back, and carbon copies of letters he received thanking Morris for his involvement on the Reunion committee.  The reason these items were fascinating to me is because I currently work in Development as a member of the Trinity College Fund.  Although many decades have passed since Robert Morris was a class agent, I feel a connection to him, because we still send out similar thank you letters, and other members of our team work on collecting class notes.  (However, we don't use postcards anymore!)  The opportunity to see Development- related correspondence with alumni from over half a century ago has provided me great perspective in my current job, as well as an appreciation of the depth of the tradition of engaging alumni over the years.
I was able to access this comprehensive collection of biographical data on Robert Morris thanks to the alumni archive initiative that Edgar Francis Waterman started in 1910, and due to the fact that the Watkinson Library has kept and organized material that might otherwise be discarded.  I encourage anyone who works with our alumni to take advantage of the wealth of knowledge and research that we have available to us in the Archives.  And I would also like to thank (posthumously) Robert Seymour Morris, Class of 1916, for his years of service and dedication to an institution that has touched the lives of so many individuals.  It has been a pleasure reading about all he did for Trinity.
Tags: Trinity staff