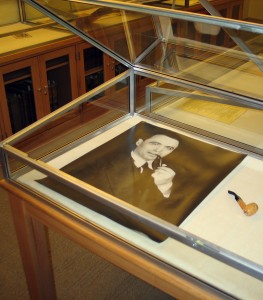 Our April/May exhibition will focus on the life and career of Trinity alumnus Hyam Plutzik '32, who studied under Trinity professor Odell Shepard (1884-1967).  During his student years, Plutzik served as an editor on the Tripod, and helped revive the student yearbook, the Trinity Tablet, which had been dormant for many years.  Several years after graduation, he returned to Connecticut to spend a "Thoreauvian" year in the countryside, undoubtedly inspired by Professor Shepard's interest in the nineteenth-century Transcendentalists.  In 1941, on the eve of America's entry into World War II, Plutzik wrote a detailed account of his life since graduation in a remarkable 72-page letter to Odell Shepard, the original of which is in the Watkinson, and will be on display. It was Odell Shepard who wrote Plutzik's recommendation letter to Yale University, where he pursued graduate work on scholarship from Trinity College
Most of the materials on display are on loan from the University of Rochester, which hosts the Plutzik Reading Series, one of the longest-running reading series in the country.
The opening of the exhibition (which is being installed as I write) will be on April 9, from 1:30 – 3:30pm, and will feature readings of Plutzik's work by our own award-winning poet Ciaran Berry, Artist-in-Residence Clare Rossini, and Dick Allen, the Poet Laureate of Connecticut.  Trinity students will also read selections of their own poetry.