Young alumni pay it forward as Trinity employees
By Bhumika Choudhary '18
I feel as though I'm back with my family.
I recently returned to Trinity College as the Summit Fellow for Communications, a position created to further the college's strategic plan. After graduating from Trinity in 2018 with a B.A. in English and spending a year in a job at the State Capitol, I wanted to work where people would listen to and nurture my ideas. I knew Trinity's Office of Communications well; as an international student from Mumbai, India, I worked part time there for 3½ years and found mentors who helped shape my voice as a writer.
When the opportunity to return to work at the college arose, I seized it. Not long after being back on campus, I started to wonder how many young alumni worked at Trinity; within just a month of my employment, my wondering sparked the idea for this Reporter feature, a perfect example of how Trinity is giving me a platform to be a storyteller.
I learned that at least 22 alumni who graduated since 2004—including several graduate assistant coaches and Bantam Network Trinsition Fellows—work at the college. While I may be one of the most recent Trinity grads among the group, David Andres '04, director of analytics and strategic initiatives and a member of the President's Cabinet, has been an integral member of the community since earning his B.S. in biology here.
I asked seven of our alumni staff to participate in a short Q&A so we could learn a bit more about them and their ties to Trinity. Here's what they have to say.
John Michael Mason '12, M'14
Head Coach for Men's and Women's Indoor and Outdoor Track and Field Coach; Associate Head Coach for Men's and Women's Cross Country
B.A. in self-designed major of classical foundations of American culture history with minors in music and medieval and Renaissance studies; M.A. in American studies
Trinity staff member since 2012
Why did you want to stay at Trinity after completing your graduate assistantship? I could have gone in many different directions, but I had started to carve out a home at Trinity. It was easiest to recruit here because I knew it so well, and I believed in what Trinity is and could be. I also had other things I was interested in, and that morphed into my involvement with Cinestudio [chair of its board] and Trinity Film Festival. Most importantly, I liked Hartford. I felt like I had opportunities here and knew that if I was going to stay here, I wanted to have a community outside of campus.
As a student and as an employee, you have been a key driver of Trinity Film Festival. Why? I grew up in a family where we watched a lot of movies, so I always loved film. Here I had opportunities with Cinestudio, like show​ing my own short films to a large audience in ​our beautiful theater. Meanwhile, I had friends at film school who were working hard and were only able to show their film​s to a class of 15 ​peers. I wanted ​more people to experience their films in the best theater I have ever seen. That is how the festival began. It's a labor of love. I love ​the theater and the energy ​that comes from students ​seeing their films ​on the big screen.
What distinguishes Trinity from other schools? If I am speaking to a prospective student and we are standing on the Long Walk, I paint a picture: Imagine yourself rushing from class to practice. You are running down the hill, and the bells are going off at the Chapel. After practice, you are about to head back up the Long Walk to go to the dining hall with your team. Stop and look around. This is your life for this short time at college, and it is pretty special. You can ​see the downtown skyline from here. Hartford gives students educational, cultural, and culinary opportunities. When I think of Trinity, I think of Hartford. They are inseparable for me.
Daniel A. Garcia '17
Assistant Director of Alumni Relations
B.A. in human rights studies with minor in African studies
Trinity staff member since 2018
Is there anything that you appreciate as a Trinity employee that you did not recognize as a student? As an employee, I am able to see all the work that goes on behind the scenes. We only saw a piece of the pie when we were students.
You started at Trinity as a Summit Fellow, a short-term position in Alumni Relations and the Office of Communications. How did your experience as a Summit Fellow influence your decision to continue working at Trinity? My previous role allowed me to build many relationships with our current students and young alumni. I value these relationships and want to do my part to help enrich the Trinity experience for all. My new role allows me to use these existing relationships to educate and foster a sense of philanthropy within our community.
Does being an alum affect your job? It does, in the most positive and fruitful way. I know so many people from my undergrad years that it has allowed me to connect and educate my peers in a much more personal and informal way.
How does your newly created position fit in the college's focus on young alumni engagement? This position gives Trinity the opportunity to engage our young alumni before they even become alums. We hope that fostering a sense of philanthropy in them while they are current students will lead them to become young alums who are eager to reconnect with the college after leaving. Our young alumni are an important constituency, and I am excited to continue engaging with this group of friends and peers.
Karolina Kwiecinska '16
Special Assistant to the President
B.A. in women, gender, and sexuality
Trinity staff member since 2017
Is there anything that you appreciate as a Trinity employee that you did not recognize as a student? My experience working at Trinity has been entirely different from my time as a student on campus. As an employee, I've gained a deep appreciation for the administrative staff that works year-round to conduct college business and ensure everything is running smoothly. As a student, I was unaware of how much time employees spend carrying out day-to-day responsibilities.
What makes you look forward to work each day? I feel honored to step foot on campus each day. To work for a historic and prestigious institution like Trinity is truly a privilege. I am a Hartford native. As a kid, I would walk or drive by Trinity's campus every day and stare in awe at the beauty of the campus. To have had the opportunity to attend Trinity and now work here still feels surreal.
Why did you want to work at Trinity? I originally returned to Trinity to work in Community Relations. My goal was to chip away at some of the barriers and stereotypes about Trinity that still exist within the community, utilizing my knowledge of the area as a resident. I also was drawn to the opportunity to work with an inspiring leader and incredibly dedicated team. It was a full-circle moment for me. Growing up, I was taught the important role higher education would play in my aspirations and future. Trinity provided me with unique opportunities and a high-quality education. I felt that coming back as an employee was my way of paying it forward to the other students who come from backgrounds similar to mine.
Christopher Houlihan '09
John Rose College Organist-and-Directorship Distinguished Chair of Chapel Music and Adjunct Professor of Music, ex officio
B.A. in music with minor in writing and rhetoric; M.M. in organ, The Juilliard School
Trinity staff member since 2013 (faculty member since 2017)
What makes you look forward to work each day? I look forward to working with my organ students and The Chapel Singers. My students often ask me about what Trinity was like when I was an undergraduate. I think they appreciate that I can share some of their perspectives on the life of a Trinity student and that I also have my own set of unique experiences.
Why did you want to work at Trinity? I had many extraordinary opportunities as a student, specifically because I came to Trinity. Trinity is one of the few small colleges where students can study organ and choral music within the context of an exceptional liberal arts education because of our long history of distinguished Chapel music. I am proud to continue this program for our current and future Bantams.
What are you most grateful for as a Trinity employee? I feel very lucky to make music in our extraordinary Chapel and to play our magnificent Austin pipe organ. These are two of Trinity's truly world-class treasures. I am also exceedingly grateful for our brilliant students, whom I learn from every day.
You succeeded your former teacher John Rose. How do you carry on his legacy while forging your own? I am certainly standing on the shoulders of a giant. John was extraordinarily dedicated to the Trinity community for 40 years and still remains actively involved in the life of the college. I am grateful to have learned from his example and thankful for his continued support and encouragement.
Rosangelica Rodriguez '15, M'18
Sustainability Coordinator
B.S. in environmental science with minor in Hispanic studies; M.A. in American studies
Trinity staff member since 2015
How does your position work toward the strategic plan's goals? One of the main goals of the Summit strategic plan is to build a sustainable future, and my position was created to help Trinity reach that goal. When we think about sustainability, we should consider social sustainability, financial sustainability, and environmental sustainability. These three aspects have to work together to drive all the decisions that are made on a college campus. I am responsible for making sure our decisions minimize our environmental impact and help us achieve a sustainable future.
What makes you look forward to work each day? It may sound silly, but saving the planet. I have the opportunity to influence not only students but also the entire Trinity community to make positive change. Our immediate community may be only 100 acres, but our actions here and when we leave have a ripple effect worldwide.
Why did you want to work at Trinity? I wanted to give back. As a student, Trinity gave me so many opportunities: I did summer research; I traveled to Asia, Africa, and other parts of the United States; and I made lifelong friends. I also saw the changes that Hartford was making, which made the city more attractive for a young college graduate, so I decided to stay.
How does being an alum affect your job? I have an advantage when it comes to working with students, as I can easily relate. I also can't help but call my old professors by their last name. Professor Geiss will always be Professor Geiss—not Christoph—even though we're colleagues now. It's also reassuring to know that Trinity and everyone here who knows my story wants to make sure I succeed, and if I am successful at my job, then we are all succeeding at driving environmental sustainability forward.
Kyle Smith '05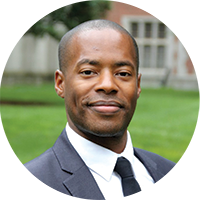 Senior Associate Director of Admissions
B.A. in religion
Trinity staff member since 2017
Why did you want to work at Trinity? It was an important time in Trinity's history to come back to campus. There was new leadership and direction at the college. For the first time, Trinity had an African American female leading the institution. With Angel Pérez leading enrollment efforts, it seemed clear that Trinity was continuing the work of breaking down barriers to higher education. I also was intrigued by what seemed like Trinity's improving relationship with the city of Hartford. I was excited to return to help build new classes of Bantams. And, of course, my wife [Jody Walker-Smith '05, a human rights attorney with the Connecticut Commission on Human Rights and Opportunities] and I are both Trinity graduates, so this is a special place for our family.
What makes you look forward to work each day? Finding ways to interact with Hartford. My job allows me to work with different constituencies in the city, whether it's a local business that I might be working with to source marketing material for the Admissions Office or a community-based organization that serves the youth of Hartford. I enjoy developing relationships with people and organizations throughout the city.
Does being an alum affect your job? I do have an added sense of pride about the work our division does. I think that I am also able to speak with prospective students and families from a unique perspective because I was a student here.
Elizabeth Patterson '05
Associate Director of Annual Giving
B.A. in English with minor in Hispanic studies
Trinity staff member since 2016
Is there anything that you appreciate as a Trinity employee that you did not recognize as a student? I don't think I understood as a student the degree to which every Trinity employee, whether faculty or staff, wants students to succeed. I always knew my professors were in my corner, but I don't think I knew as a student just how special that was.
What makes you look forward to work each day? I think that it's the people who have always made the Trinity experience stand out. That was true for me as a student, and it's true for me as an employee. I work closely with alumni volunteers, and they're such a passionate, dedicated group of people. I have the opportunity to meet students, who always impress me with their talent and drive. And I have a terrific group of colleagues, both in the Advancement Office and across campus.
Why did you want to work at Trinity? I could wax poetic about how I believe in the power of education to broaden your horizons and change your life for the better (which is true). Or explain how my position was a step I wanted to take professionally (also true). But in the end, I love Trinity, and while I could have pursued a position in higher ed somewhere else, I wanted to make a difference in education here, 'neath the elms.
What are you most grateful for as a Trinity employee? I'm grateful for the chance to contribute and make a difference on campus. I was able to attend Trinity because of the scholarships and grants I received, and those were made possible by the generosity of Trinity alumni. The work I do every day helps create those same kinds of opportunities for students who are on campus now and those who will be here in the future.