In 1966, Project Concern, the first interdistrict busing program in the United States, began in the Hartford area. Nearly 50 years later, Project Concern still exists in the form of Open Choice, which has the same design as Project Concern. Although Project Concern was started voluntarily by the state, it's modern counterpart, Open Choice, is now part of a court mandated remedy program resulting from the Sheff vs. Oneill CT Supreme Court decision. In the decision, the court found that the state constitutional right of the defendants to "an equal educational opportunity" was being violated because the defendants were going to school in racially isolated settings, which led to a poorer quality of education. Open Choice is now a part of the state's remedies for Sheff. After several years of relatively insignificant changes in the racial landscape of schools in the Hartford region, the Sheff prosecutors returned to court to mandate the state to meet a remedy goal of 41% of Hartford Minorities attending school in "reduced isolation educational settings," or schools that have student populations which are 25-75% white. Open Choice fits into this remedy goal by busing Hartford minority students to suburban, primarily white schools. Due to the lottery element of Project Concern and Open Choice, social scientists have been able to easily create a randomized study of effects the programs have on effects of the program on its participants. These studies help us answer the question, is Open Choice an effective program in providing an equal educational opportunity to Hartford students? Based on Erica Frankenburg's summary of several studies conducted on the long-term outcomes of Project Concern participants in her report, "Improving and Expanding Hartford's Project Choice Program," it is clear that participants are more likely than their peers in Hartford schools to gain access to a variety of educational and social benefits. Despite the clear articulation of the long-term effects of the program by the studies Frankenburg includes, Open Choice receives criticism on its short-term effects on student achievement. In her report, "Educating Inner-City Children in Suburban Schools," Erin Jacobs, spells out this criticism in a study of Open Choice participants in 2003, as well as recommendations for how to improve student achievement in the program. Based on these two viewpoints of Open Choice, this project finds that the program offers long-term benefits to its Hartford participants. It also has the potential to provide short-term benefits, if it is enhanced.
In her study, "Educating Inner City Children in the Suburbs," Erin Jacobs offers another critique of Open Choice, in which she finds that the program has little positive impact, and some negative impact on student achievement. These criticisms call into question the short-term effects of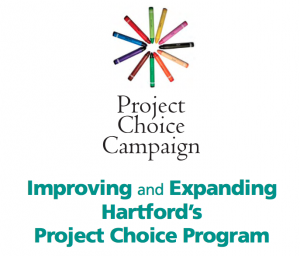 Open Choice on participants. Jacobs, however, provides policy recommendations for improving the short term effects of Open Choice. With this in mind, this project comes to the conclusion that Open Choice is currently beneficial to Hartford participants in the long-term, and it has the potential to create short-term benefits for Hartford participants if it is enhanced.
In her report, "Educating Inner-City Children in the Suburbs," Erica Frankenburg summarizes these studies, and provides information regarding the long term social and educational outcomes of Project Concern, which are overwhelmingly positive for minority participants. Academically, minority students in Project Concern "were more likely to graduate from high school and…complete more years of college." (Frankenburg, 25) Socially, black participants
"seemed to have a greater sense of interracial comfort…were less likely to have sensed discrimination during and after college, less likely to have encounters with the police or fights, and more likely to have closer contact with whites, such as living in integrated neighborhoods or interacting with more white friends in college. Female students in Project Concern were less likely to have a child before they were than their female peers in Hartford schools." (Frankenburg, 25)
Additionally, Frankenburg discusses the types of employment black participants in Project Concern and their counterparts in Hartford Public Schools obtained, showing that
"black students who attended desegregated suburban schools worked in professions that had traditionally employed fewer blacks. The students who participated in Project Concern were more likely to be in private sector or white collar jobs while students in the control group were more likely to have government or blue collar jobs." (Frankenburg, 25)
Frankburg's report displays the long-term outcomes of the program, but it does not convincingly find that Open Choice affects participants positively in the short-term. In her report, "Educating Inner City Children in the Suburbs," Erin Jacobs uses a study she conducted in 2003 on the effects of Open Choice on the student achievement of Hartford students participating in the program, measured by their performance on the CMT to argue that Open Choice is either hurting, not affecting, or only slightly improving student achievement of minority Hartford participants on the CMT compared to their peers who remained in Hartford Public Schools. The study breaks down student achievement by subject area. As a whole, the effect of Open Choice on participants' CMT achievement varied by subject. As Jacobs reports, "math effects follow a pattern that is initially negative but positive in later years, while reading effects are positive throughout treatment. For writing, on the other hand, effects are universally negative." (Jacobs, 80)
Jacobs further divides her study population into two categories based on income. Classifying those that qualify for free or reduced lunch as the lower income group, and those that do not qualify for free or reduced lunch as the higher income group, she finds that Open Choice had different effects on the two groups. Using her findings, she shows that the higher income group performed slightly better on CMT scores in math and language compared to the control group, while the lower income group actually performed worse in all subject areas compared to the control group. Both groups of participants performed worse than the control group in writing. (Jacobs, 81)
Jacobs explains that the different effects of Open Choice in different income groups results from lower income transfer students experiencing a larger social gap between themselves and their suburban peers than the higher income students experience in the new setting, arguing that "if the differences in economic status between sending and receiving schools are too large, achievement levels of transfer students will actually decline." (Jacobs, 84) This difference, Jacobs argues, causes "difficulty integrating into the school environment." She goes on to claim that
"if Choice students view themselves as outsiders, they may not feel governed by the academic norms of their new school environment, and may indeed rebel against them. Further, the experience may be a blow to their self-esteem and to their expectations of their own academic abilities, which will affect their performance. (Jacobs, 84)
If Jacobs is right in arguing that the lower performance of lower income students is a result of their inability to fit in because their peers in the suburban school are so different from them, then one can conclude that merely placing minority inner city students into primarily white suburban schools, while it may make a statistical impact on integration numbers, does not necessarily mean integration is happening. This is one of the key arguments of critics against simply setting goals to place a certain percentage of students in reduced isolation settings, as the current Sheff efforts seem to be aimed at. Efforts to truly benefit the educational outcomes of Hartford and suburban students must move past simple integration measures and efforts.
Jacob's theory, however, rests on suspicious ground when taking the positive long-term outcomes of Project Concern that Frankenburg shows into account. If low income students placed in a suburban environment become alienated from their suburban peers, how is it that those students are experiencing considerable long-term benefits from that experience? Citing a qualitative study which interviewed Project Concern transfer alumni, Frankenburg explains this apparent inconsistency, writing that
"Alumni interviewed detailed difficulties that they encountered as students, but most believed that despite the challenges of the experience at the time, they were better off as a result of their participation."  (Frankenburg, 26)
Here, Frankenburg contends that regardless of the short term effects of Open Choice, which Jacobs characterizes as mostly negative, especially for poorer students, participants still enjoy long-term benefits.
Regardless, Jacobs' theory informs three policy recommendations she includes in her report for enhancing Open Choice to promote better integration of lower income transfer students. They include increasing support services, increasing participation, and increasing focus on writing. Increased support services, such as counselors at receiving suburban schools, later return transportation to allow transfer students to participate in afterschool activities, would allow students to better acclimate to their new environment. Increasing participation would allow students to feel more at home in their suburban environments, diminishing alienation. An emphasis on writing skills would elevate transfer students' writing scores. If these three recommendations are implemented, Jacobs argues that student achievement amongst Open Choice participants would rise considerably.
If Jacobs is right in her recommendations, then Open Choice has the potential to grow into a program that not only services transfer students' long-term interests, but also delivers in the short-term. Based on the research and arguments described, this project comes to the conclusion that Open Choice is not only an effective means of increasing the number of students in reduced isolation educational settings, contributing to the Sheff remedy, but also an effective way to produce long-term social and educational outcomes for participants. Additionally, it has the potential to enhance student achievement if the program is enhanced with more resources. For these reasons, Open Choice is making strides toward providing an equal educational opportunity to Hartford students.
BIBLIOGRAPHY:
Frankenburg, Erica (2007). "Improving and Expanding Hartford's Project Choice Program." Washington, DC: Poverty & Race Research Action Council.
Jacobs, Erin. (2003). "Educating Inner-City Children in Suburban Schools: A Randomized Study of Majority-to-Minority Transfer and Achievement in Connecticut." Ithaca, NY: Unpublished Senior Thesis, Cornell University.
About the Author:
Bryan Farb is a sophomore American Studies major at Trinity College in Connecticut. He hails from Berkeley, California. When he graduates from college, he wants to barbeque and listen to music with his friends, while trying do some good in the world.