Waiting for Superman lays out a powerful underlying theme of acceptance to a charter school or a destiny for failure in struggling districts. Somehow though, the only way to do whats fair for children, is through a lottery system that drives a students chances by luck and little bingo balls (Guggenheim, 0:02). Therefore a crucial scene in the film is watching students either get accepted or wait-listed to a school through a competitive lottery system. Throughout the film, scenes are established where at the bottom of the screen, a ticker appears that shows the spots available and the numbers applying (Guggenheim, 1:11). So as balls are being drawn, and numbers are read, the scene shows the elation of many parents and families juxtaposed with anxiety and sadness of others (Guggenheim, 1:37).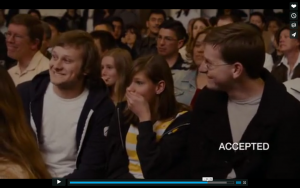 The filmmakers put these scenes together to show both the excitement and devastation to identify in this system there are clear winners and losers. This is an important message to get across because in our education system, where we believe in "equal opportunity,"  clearly some are getting a better chance and a better opportunity at succeeding than others. This scene encapsulates the documentary's goal of showing a divide and conflict in our public education system and its goal to serve all students equally.
One intriguing aspect of the DC public school highlights was Michelle Rhee's attempts to change tenure and how public schools operated (Guggenheim, 1:26).  Kahlenberg and Potter would support Rhee's attempts to take the successes in high achieving charter schools and apply what is working to traditional schools like extended school day and alternatives to tenure (Guggenheim, 1:24). "Albert Shanker originally envisioned charter schools as doing just this-testing and developing new methods that could be shared with other schools. Thus far, however, charter schools and district schools have more often been engaged in competition instead of collaboration." (Kahlenberg and Potter 2014, 175). Although Rhee attempted to take the suggestion of Kahlenberg and Potter, clearly the limitations of the traditional school system and all the stakeholders impeded and possible change that was inspired by charter schools.
The idea that it is challenging to change the traditional school model was very fascinating. The documentary referred to the bureaucratic  school system as "The blob" (Guggenheim, 0:31.) Below an important point is highlight between the clear discrepancies of terminations across professions. Although, these distinctions were made and the documentary highlights many different stakeholders from different sectors, such as Bill Gates, an alternative model from another system was not provided. If teachers are a key stakeholder and the system is broken in a way change is nearly impossible to be instituted, why don't we look at other models for success? How do lawyers or doctors or other professions handle  there systems? Waiting for Superman covered a lot, but the blob of all the different stakeholders, needs to be drawn out much more distinctly to identify how actual change can start to be implemented. The movie ended with some kids being saved and others having to resort back to failing schools, a problem was presented and it left a lot to consider, but what are the next steps and who needs to be at the table to solve these next steps is still very unclear.
Bibliography
Guggenheim, Davis. Waiting for "Superman." 2010. Film.
Kahlenberg, Richard D., Potter, Halley. A Smarter Charter: Finding What Works for Charter Schools and Public Education. Teachers Collee Press. 2014. Print.