Strong bonds play key role in mentoring program's success
By Andrew J. Concatelli
Consuelo Pedro '15 enjoyed an idyllic undergraduate experience living with a small community of fellow Trinity College students who supported her when she was new to college life and to the country. "I lived in a tiny residence hall, and we all just pulled together," says Pedro, an alumna from Trinidad and Tobago. "There were all types of students, and we all got along."
Knowing that not everyone formed such immediate connections to the College and their classmates on their own, Pedro wanted to help forge these strong bonds for others when she became part of Trinity's Bantam Network, the mentoring program for first-year students that launched in fall 2015. "I thought, 'I had such a great first-year experience. If I could reproduce that, it would be amazing,' " she says.
Pedro was among the first group of Trinsition Fellows — along with Alex Conaway '15, M'17, Chanel Erasmus '15, M'17, Taniqua Huguley '15, M'17, and Bates College and American University graduate Meredith Friedman — who each oversaw two "nests" of 45 to 70 first-year students and helped students successfully transition to college life.
From their offices in the residence halls they serve, the fellows have a unique opportunity to build personal relationships and engage in honest conversations with students. As they learn about a particular student's questions or struggles, the fellows can address those needs directly. "The fellows are like a compass," Pedro says. "We don't know everything, but we can guide the students in the right direction. Every student will have a different combination of needs, and what we do is plug them into the right resources."
The Bantam Network traces its origin to a Mentoring Network Design Challenge issued by President Joanne Berger-Sweeney in 2014, months after she arrived at Trinity. Molly Thoms '17, leader of the team that proposed the Bantam Network's original design, says it was shaped partly by what she wished had been in place during her own first year. "It's really that feeling of having a family when you get to campus and having a default network that you can fall back on," Thoms says.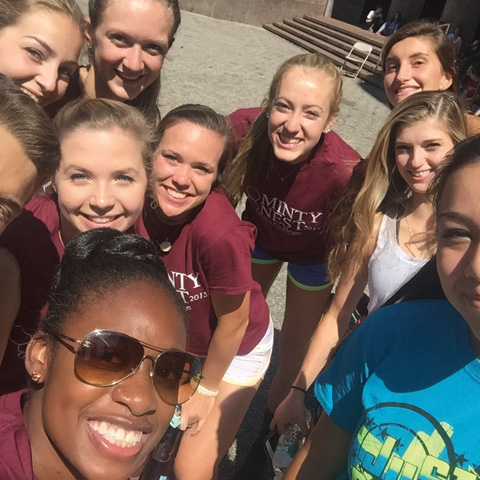 The network's design, Thoms adds, called attention to the fact that Trinity already offered all the resources first-year students needed to succeed and channeled them through the Trinsition Fellows to increase their visibility and access. "Aside from the fellows, the Bantam Network didn't necessarily add a lot to Trinity; it just put everything together," Thoms says.
The opening of the renovated common spaces in first-year residence halls coincided with the start of the Bantam Network. With full kitchens, dining areas, televisions, and couches, the common spaces have become popular gathering spots for nest events hosted by the fellows. First-year students and their mentors often meet for home-cooked meals, game nights, and discussions of current events.
Joseph DiChristina, dean of campus life and vice president for student affairs, says the fellows are the foundation of the Bantam Network's success. Having recent college graduates on the staff is helpful, he says, because they understand the culture, the resources, and the pathways to academic success. "If you moved to a new neighborhood, you'd want somebody who could walk you around to other houses and give you a chance to meet people. That's what the fellows do," DiChristina says. "They get to know the students individually and can help them tap into the resources to get students connected to the right place." Those resources can include the Registrar's Office, the Career Development Center, the Counseling Center, and dozens of departments, student activities, clubs, and organizations.
DiChristina says he believes that the Bantam Network has helped to raise levels of student satisfaction at Trinity, as measured by a survey given to first-year students. Students who arrived after the Bantam Network was initiated are more likely to report that they feel that Trinity is becoming their home and that they felt welcomed to Trinity during Orientation. "Fellows are working with individual students to help them through personal, academic, and social challenges. As a result, fellows are able to be an important resource for students prior to an issue becoming unmanageable for the student," DiChristina says. "Individual support for students plays a significant role in retention and student satisfaction. Most of us need some kind of guidance — a touchstone to go back to — and that's what the Bantam Network provides."
Erasmus came to Trinity as a January recruit for the women's squash team after graduating from high school in South Africa just a month earlier and struggled with the abrupt transition. "I wasn't sure if this was a place for me," says Erasmus. "I relate to students who are falling through the cracks and are very good at hiding that they are struggling because I was one of those."
Erasmus says that her own challenging first-year experience made her want to help to create a smooth entry into college life for other students. "If you had a great experience, you want them to have the same experience, and if you didn't have such a great experience, you want to make it better for them," she says of what motivates the fellows. As staff members who have no academic or disciplinary oversight, the fellows can offer students personalized, pressure-free support. "The fellows know what it takes to meet students where they are," Erasmus says.
Madalyn Farrar '19 was part of the initial class of first-year students who took part in the Bantam Network. "Having a nest made it easy to meet new people, make friends, and get acquainted with the campus and its resources. It opened up a lot of opportunities," Farrar says. "The nest would have events with the Study Away Office and the Writing Center and have professors come and speak about helpful things that we, as first-years, hadn't explored yet."
Friedman says she enjoyed being a source of information for students while providing them with a sense of stability. "There's always a person there for you if you have a question," she says of the role of the fellows.
Each nest's designated faculty mentor — who oversees other faculty members teaching first-year seminars associated with that nest — encourages students and faculty to attend nest events. Faculty mentor Irene Papoulis, principal lecturer in the Allan K. Smith Center for Writing and Rhetoric, says that most students come to college looking for intellectual engagement. "They find it in their classes, and as a faculty member, I am interested in how the nests provide academic occasions for interactions beyond the classroom," she says.
In addition to engaging with faculty members in academic discussions, first-year students have opportunities to interact with professors in more informal settings and to form bonds by going on outings together. "The feeling of being connected to a group, known by all for one's uniqueness, is invaluable for students' academic as well as social success," she says. "The nests engage students at all levels."
Faculty mentor Bill Church, associate professor of chemistry and neuroscience, says that his favorite experiences with first-year students include a chocolate baking competition, a table tennis tournament, and a trip to watch a Yard Goats baseball game at the new stadium in Hartford. "I think that having a faculty mentor in each nest helps the students to view the faculty differently. It allows them to get a perspective of the 'person' behind the faculty member," he says. "The thing that has impacted me the most is seeing how challenging it is for the students to balance the demands of the classroom and the need for nonacademic activity and growth."
With the idea that regular trips to downtown Hartford help first-year students achieve that balance while learning about their new home city, Pedro led weekly Friday afternoon outings to museums, cultural events, and restaurants.
The fellows also benefit from the Bantam Network by receiving professional development in the field of higher education through assignments in College offices. DiChristina plans to position the assignments of the incoming fellows to focus on campus projects that address the first-year experience, such as coordinating the Bantam Beginnings pre-orientation programs, to maximize the impact of their work.
While Pedro's two-year fellowship ended in the spring of 2017, the Bantam Network continues to grow and evolve. The new Trinsition Fellows — Maria Dyane '17, Sheila Njau '17, Monica Mhina '17, 2015 Union College graduate Tim Hobart, and 2015 Colby College graduate Thalia Giraldo — will lead the network through the 2018-19 academic year.
Pedro says she believes the next Trinsition Fellows will continue to improve the first-year experience at Trinity and build on the sense of community that is being fostered through the Bantam Network. "I believe in the community of this institution," she says. "This is family to me."
Read more about the first group of Trinsition Fellows.
For more about the Bantam Network, please visit http://www.trincoll.edu/StudentLife/BantamNetwork.
Bantam Network by the Numbers
10 total nests
Each nest has:
1 dean (oversees 2 nests)
1 Trinsition Fellow (pairs with 1 dean to oversee same 2 nests)
1 head faculty mentor
3-4 additional first-year seminar professors
4-5 first-year seminar student mentors
4-8 affiliated RAs
4-5 affiliated P.R.I.D.E. leaders
45-70 first-year students