VOLUNTEER SPOTLIGHT
By Mary Howard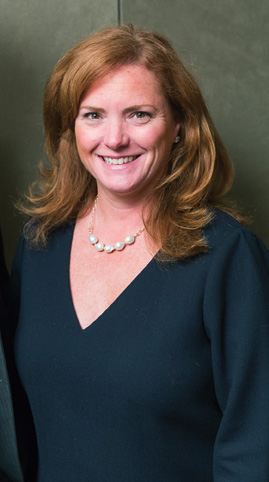 For Tara Lichtenfels Gans '88, P'20, giving back to her alma mater is a natural outcome of her gratitude for the education she received. "Trinity gave me a strong academic foundation," she says. "My course of study challenged me to hone critical and analytical thinking skills."
Since 2015, Gans has been co-chair of the College's Long Walk Societies Committee. In that role, she helps raise unrestricted gifts from her fellow alumni at the leadership level. "Trinity has such a diverse, talented, and generous national alumni community," says Gans, who considers it a privilege to serve on the committee and to work with the Advancement Office to strengthen alumni giving. "For Trinity to remain academically dynamic, it needs strong alumni support."
Exceptional academics and class sizes are what drew the West Hartford native to Trinity. A political science major with a concentration in international affairs, Gans knew early on that she wanted a career in government. She found classes with international relations expert Albert Gastmann particularly inspiring. "My experience with Professor Gastmann highlighted the importance of the interdependence of governments and political relations around the world," she says.
After graduation, she took a position as a legislative aide to U.S. Rep. Barbara Kennelly M'71 (D-CT). In Gans's nine years in government, she served as a senior adviser to the congresswoman, the Office of the Deputy Majority Whip, and the Democratic Caucus. "It was an exciting time to be part of the leadership team on the Hill," says Gans, who was involved in the implementation of the North American Free Trade Agreement (NAFTA) and the U.S. accession to the World Trade Organization. In addition to her work around international trade, she has specialized experience in national security and defense, as well as education issues.
In 1997, Gans left Capitol Hill for a position as director of federal affairs with the Pharmaceutical Research and Manufacturers of America, where she was responsible for developing and implementing industry-related legislative strategies before Congress and federal agencies.
When she left her high-powered career to spend more time with her young family, Gans found the shift in pace provided new opportunities. "I was able to be more engaged in other organizations, especially my children's schools," she says. Gans served in several capacities, including chair of an annual fund, and discovered that the skills she developed in politics were invaluable in fundraising. "Developing working relationships creates trust and a sense of partnership. That was inherent in my work in government affairs. In much the same way, fundraising is about creating relationships and commitments to shared common goals," she says.
In addition to serving on the Long Walk Societies Committee, Gans recently joined the College's Board of Fellows. She also is a member of Trinity's Women's Leadership Council, which encourages alumnae to help shape Trinity's future and to be responsive to the needs of female undergraduates.
This work is particularly close to Gans, as her daughter, Mara, joined Trinity's Class of 2020 last fall. "It's so important that we alumni continue to give back to Trinity to ensure current and future students have access to the opportunities we had."
Melissa Bronzino Regan '87, associate director of alumni relations and staff liaison to the Women's Leadership Council, says, "Tara believes so strongly in the importance of a liberal arts education. Her love of Trinity is behind everything she does as an alumna, parent, and volunteer."