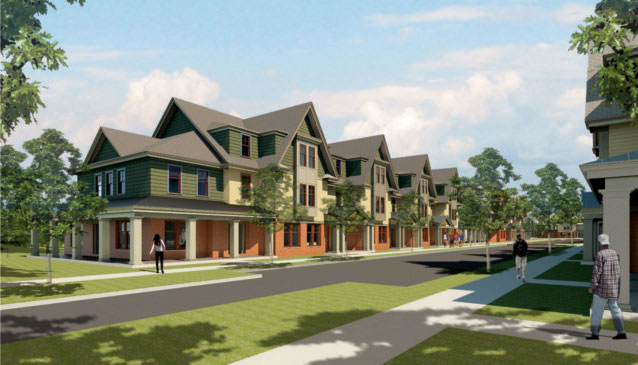 New Townhouse-Style Residence Halls on Crescent Street
Trinity College and a New York developer are partnering to build three new residence halls for upperclass students, which are expected to be completed by the start of the 2013-2014 academic year.
The $25-million project will mark the first of two phases that will eventually result in a total of five new townhouse buildings and more than 340 beds in suite-style layouts. The second phase is expected to begin in June 2013. Phase two of the project will include between 7,500 and 10,000 square feet of new retail space on New Britain Avenue. "As far as the community goes, this will be of great economic benefit," says Vice President for Finance and Operations Paul Mutone. "The concept of the project, with its retail space, is to not only serve Trinity students but local residents, as well."
A Hartford Police Department substation, to be located in a building owned by the College, is also planned for the nearby corner of New Britain Avenue and Broad Street.
Trinity's partner is Kirchhoff Campus Properties of Pleasant Valley, New York, whose related construction firm worked on the $33-million renovation and restoration of the historic Long Walk buildings (Seabury and Jarvis halls and Northam Towers) and has been involved in projects at Vassar College, Marist College, and Mt. Saint Mary College, among others. The architect is EYP Architecture and Engineering P.C. of Albany, New York, which has extensive experience in designing higher education buildings. Kirchhoff will own and finance the project, but Trinity will manage the property. The land is owned by the College and will be leased to the developer.
The students who live there will be subject to all College rules, regulations, and policies, Mutone says. Residential supervisors will live on site. Each of the suites will have a kitchen, dining room, washing machine and dryer, and single bedrooms. The buildings will be airconditioned and have wireless connectivity. The energy-efficient, three-story townhouses, built to LEED Gold standards, will be brick, shingle and metal, and will be handicapped accessible.
The new facility will replace existing housing stock and is not intended to support an increase in the College's enrollment, which now stands at 2,116 undergraduates, about 90 percent of whom live on campus.