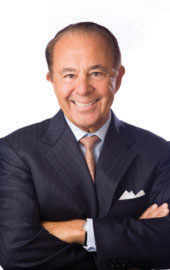 DEGREE: B.A. in economics; J.D. and LL.M., Boston University
JOB TITLE: Chairman of the Board and Chief Executive Offi cer of Admirals Bank;
participated in a summit organized by the Hellenic Initiative—a non-profit institution
established to help resolve the Greek economic crisis—alongside former U.S. president
Bill Clinton and prime minister of Greece Antonis Samaras.
FAVORITE TRINITY MEMORY: I used to travel all over the country to perform with The Pipes. One of the most memorable trips was during my freshman year when we drove a 1956 Mercedes from Ithaca, New York, all the way down to Miami, Florida.
REPORTER: How did the economic crisis in Greece catch your attention?
LAZARES: My heritage is Greek, and I maintain relationships with relatives and friends there, so I am naturally interested in what is happening. I know that Greece has some historically entrenched issues related to labor and political favoritism. Also around 2007 I was analyzing the assets of a Greek bank, and it became clear that the banking system there wasn't as robust as the banking system in the United States. The level at which assets were carried were not realistic.
REPORTER: How did you come to participate in the summit in Greece?
LAZARES: A year ago I was asked to speak at a forum hosted by an Athens-based group where Steve Forbes was the keynote speaker. I brought along some of my colleagues who had real professional expertise and perspectives that were outside of the country. Attending this event was the first step in getting involved with the summit, which was put together by the Hellenic Initiative.
The Hellenic Initiative is a non-profit organization founded by Andrew Liveris, Chairman and CEO of The Dow Chemical Company; Muhtar Kent, Chairman and CEO of The Coca-Cola Company; George David, Chairman of the Coca-Cola Hellenic Bottling Company; and George Stamas, Partner at Kirkland and Ellis LLP. I am friendly with George Stamas, and he explained to me what they are trying to do, which is to bring together individuals of Greek heritage living in the United States, Australia, United Kingdom, and elsewhere to see if they could come up with solutions to the financial crisis. They managed to bring in former president Bill Clinton at the last moment, and Antonis Samaras, prime minister of Greece, was also present.
REPORTER: How would you describe the crisis in its current state, and what solutions did you discuss at the summit?
LAZARES: The focus was on how to get jobs going and how to create some sense of hope. Generally speaking, the group agreed that austerity, while it is well intentioned, is not the best thing at this time. You can't take a country that has been operating under one system, dysfunctional as it is, for 40 or 50 years, and just overnight shut off the faucet. People have lost their jobs, and that causes political unrest.
To complicate things further, the number-two political party in Greece right now is the Communist Party. Our fear is that austerity will be implemented to a point where people will jump on board with an extremist group. The biggest component is youth unemployment, which is approaching 50 percent, and that is a formula for disaster. So we discussed what members of the summit could do to help create enough small victories and opportunities for investment to give people a sense of hope.
REPORTER: What do you think the U.S. and the rest of the world can learn from what is happening in Greece?
LAZARES: We must be cognizant of the fact that the banking systems in all of Europe and the political systems are closely tied, but government policies are unable to directly deal with a broken banking system. Typically, a country has the ability to print money and inflate its way out of its debt, which is not the case in Greece. Breaking up the Eurozone would create a level of uncertainty that would be devastating to the European community and the worldwide economy. At the same time, disruption in banking and political systems in Greece leaves spots for radical politicians to gain power. We must be careful not to put the blame on the people as that may force them into positions that could be politically explosive.