Question: How can you find Robert Yerkes' Army alpha and beta tests? For our next class we'll analyze intelligence tests developed during World War I, which were published by Clarence Yoakum and Robert Yerkes in their book, Army Mental Tests (1920). Does Trinity Library own this book? If not, how can you request it from a nearby library, or even better, instantly view the full-text version for free? Describe your search strategy, and if possible, skim the contents and describe some that stand out.
To start my search for Robert Yerkes' Amry alpha and beta tests, I scheduled an appointment with a librarian. However, Blizzard Nemo postponed that option. Instead, I started with the library website. I began looking for Clarence Yoakum and Robert Yerkes's book, Army Mental Tests (1920). From the library site, I clicked the link to "CTW Consortium Catalog."
Using an Advanced Search, I looked for "army mental tests" under Title and "yerkes" and "yoakum" under Author.
The search was successful, and a collection is available at Wesleyan University. Trinity students can request the book through the Action menu on the right side.
This is called an InterLibrary Loan and can also be done through https://illiad.trincoll.edu/illiad/illiad.dll.
Alpha and Beta intelligence tests were used to be able to test large populations with untrained examiners in 1917. These tests were used to determine candidates fit (or unfit) to serve in the army and hold officer positions. [1] Using the library database (PsycINFO), I was able to find abstracts (summaries) for the contents of Army Mental Tests. Searching "yerkes" and "yoakum" under Author, I found the book as well as information on each chapter, though not the full text itself.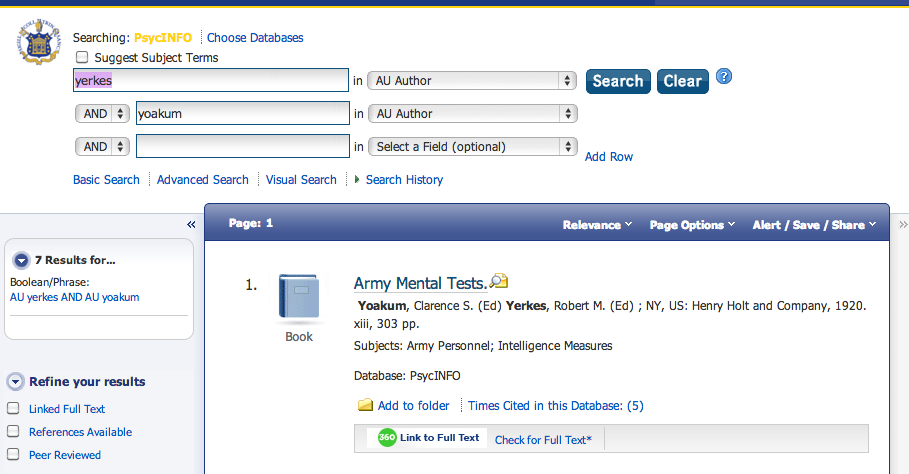 The book includes the making of the tests, the methodology and results, a guide for examining people using the test, army tests, practical applications, and blank forms. Binet, a French psychologist, created intelligence tests for school children that were used in some schools. Revisions were made, and both group and individual tests were developed for use in the army after America joined WWI. The test pages, instructions for administering, and blank forms are all included in the book. This information was gleamed from the abstracts found on PsycINFO.
---
[1] "Revising the Test" (on Army Alpha and Beta intelligence tests), from "Race and Membership in American History: The Eugenics Movement, Chapter 5," Facing History and Ourselves, January 3, 2012, http://www.facinghistory.org/revising-test.