For long, New Haven has been known as the "murder capital" of Connecticut and at one point was considered one of the most dangerous cities to live in throughout the entire country. Growing up in the inner city, some may feel perfectly fine. However, there are some that have the fear of being shot at in the morning waiting at the bus stop or celebrating a team victory with family and friends. Living in a home with a father who has been a high school principal in New Haven Public Schools for close to 20 years, many New Haven residents give credit to African American educators as community leaders and are the leading factors for helping improve neighborhoods with a high volume of crime and schools with high dropout rates. Apparently, having more African American leaders within an urban school can ultimately change the learning culture. While examining the relationship between minority teachers and student outcomes, it leads to the question of: has the hiring of African American educators in New Haven public schools actually led to an increase in the graduation rate and/or led to a decrease in the crime rate, or is this simply a perception by the public?
While people [from New Haven] believe that the increase of African-American educators
has increased the graduation rate and decreased the crime rate, in reality, community organizations deserve the credit for helping to reshape the city and its schools. Of the students attending New Haven schools, the majority of them are of the Black or Latino race. It is true that many students would agree that it is those teachers of color that helped motivate them to do better in school and plan a future for themselves. However, over the last decade, the number of minority teachers has been decreasing each year. Although it is almost a surprise that the number of African-American teachers have decreased, what are the underlying factors that helped produce such numbers that is improving the city's graduation numbers and high volume of violent crime?
Crime History

For those who know of New Haven, the first thing that the city is associated with, even before Yale, is the amounts of violent crime that the city has seen in recent years. Just in 2010, "The Elm City follows Flint, Mich., Detroit, Mich. and St. Louis, Mo. as the U.S. city with the largest violent crime to population ratio"[1]. Of the violent crimes, shootings are the main issues and it is our youth who are the main culprits and victims. Newhallville, one of the most dangerous neighborhoods in New Haven, is the home of 80% of the violent crimes that take place within the city. Just by word of mouth people are afraid to go through "The 'Ville" during the day or the night simply because they are afraid of being robbed or even shot at for wearing the wrong colors. One of the main causal factors of this violent history is due to the distribution of drugs.
From 2008-2010 Newhallville had been run by drug lord, 40 Cal Al, who was just a teenager, and someone who I went to high school with. Affiliated with a 30 member gang known as R2: BWE (Read St: Beef with Everybody), they were known as definitely one of the hardest crews in town. "If you have a problem with them, your life is on the line. It's not a crew that shoots you in your legs"[2] states a member of New Haven's Street Outreach Program. Over several years leading up to the gang members' arrests in 2010 they had been tied to numerous murders, attempted armed assaults on cops, aggravated assaults, firearms discharges, and street robberies. Ranging from ages 14 to 17 years old, these members sold drugs and attacked random people just to gain credit on the streets.[3]
As early as 1995, when the New Haven Gang task forces were able to shut down many of the national gangs that were led by adults, the city's youth began to take over from what they learned from their parents who had either been killed or incarcerated. "The city's kids took the lesson to heart: you fight for what you stand for. And, in the temporary absence of strong gangs to stand for, they stood for the only thing they had left: their neighborhoods"[4]. Reflecting from the amount of crime, New Haven was also known for its low performing test scores and low graduation rate. In 2004, two of the largest public high schools in New Haven were only graduating nearly 68% percent of its seniors, while the average SAT scores were just over 800 which were much lower than the state average[5]. This was definitely a problem because students were spending much more time on the streets, rather than in school.
As Crime Rate Drops, Graduation Rate Rises
According to the crime information from the Department of Police Services, the number of homicides recorded from 2003-2009 have decreased by 3%[6]
and the graduation has increased by nearly 15%[7]. The fact that less shooting are occurring within the city means that less teens are spending most of their time dealing drugs and holding guns, and are actually going to school. Kermit Carolina, New Haven mayoral candidate, and current James Hillhouse principal is one of many African American educators who is receiving credits for these statistics. Students feel that Carolina, as well as several other minority educators are "so driven, inspired and determined to support, nurture and encourage their children — their students" and have never encountered such teachers like that in previous years[8]. Just this year New Haven Public schools has increased its graduation rate from 58-70 percent. The underlying factor however is not the increase of minority teachers within the school. Although, there is note the Board of Education has been initiating programs with the police to identify students who are considered to be involved with gang activity, the number of minority staff decreases each year. According to the New Haven Register, "the hard work and perseverance of city students, who with parents, families and the community play a critical role in the success of School Change."[9]
New Haven Promise Scholarship Motivates Students
City officials have said that the collaboration with community organizations, such as Yale University, Yale-New Haven Hospital, and the Community Foundation for Greater New Haven[10] have all contributed to the cleaning up of city and ultimately helping students to graduate and pursue college. However, to some students, chasing higher education is not always the reality. This consists of various reasons: financial, lack of motivation, or they do not know how to choose college. In Connecticut there are several universities: liberal arts, private, or public that the New Haven Promise Scholarship fund promises to assist any student who can maintain a 3.0 grade point average throughout high school. Though some may think that the college prep program begins in high school, it actually starts when children are first enrolled into kindergarten at New Haven Public Schools. The organizations motives are to create a "Pathway to Promise that is a Yearlong Journey to for a child's Future Success that is going to create a college-going culture in all New Haven Public School preK-8 schools"[11]. As part of the inaugural class of the Promise scholars in 2011, it seems like the scholarship provides an atmosphere that motivates students to not only get a high school diploma, but eventually attend a university. Just in the past year the graduation rate has reached its highest in the last decade at 70.5% percent while 42% of the high school seniors have applied for the scholarship.[12] As the Promise's Motto states, "work hard, get great grades, and look for a letter from us in July"[13] which gives students all of the motivation to exceed the best.
Programs that Benefit the Community
The Kiyama Movement, founded by New Haven resident as well as civil-rights activist and defense attorney Michael Jefferson, was developed "for the expressed purpose of challenging select behavior in the broader black community that serves to impede the collective advancement of black people."[14] Jefferson believed that the reason why our schools were failing before is because our kids didn't have someone in their ears telling them right from wrong. He states that this "dysfunction" in the city is caused by, "the fact that the black male does not receive the type of positive guidance that he should receive from other black males."[15] Beginning in 2005 This "War on Ignorance" has a pledge each year, inaugurating 40 black men who swear to do all in their power to make this world a better place for their generation. "Kiyama has helped those young boys turn into men", Jefferson states. "In the last 8 years I've had nearly 300 people take the pledge and they have all been positive in school and the community. After you make yourself a better person, then you help out the city, those who need it the most."[16]
Since 2005, the Kiyama Movement has been working to get young men from the Newhallville area to take part in its pledge. In prior years, Newhallville, an urban neighborhood and possibly one with the highest crime rate in the city, had been suffering from its youth being taken in by the streets and ultimately dropping out of school. James Hillhouse High School, located right on the outskirts of Newhallville has been used as the home for the organization, recruiting its African American male students to take part in the "war on ignorance" and ultimately spreading the message along in order to resist self-destruction of the black community.
Prior to 2003, the Dixwell "Q" House was a community center for students attend after school until their parents got out of work, but its main intentions were to keep them away from the negative influences of the urban streets.[17] Attending the "Q" House for numerous summers during my younger years I can say that it was very beneficial for the entire the community. Although there were many fights between the kids who also attended, it was much better to have that in a controlled environment where there were adults who could quickly resolve problems, rather than being on the streets where guns or other weapons could have easily gotten involved. The "Q" House served as an outlet for urban kids after the long school day and even weekends. Although academic achievement was not emphasized as much as it should have been, programs such as arts, dance, music, and recreational time were offered from the time school was out, until it was dinner time. While the city is fighting to bring back the "Q" House a new community center has opened to replace it. Opening in 2005 the Dixwell-Yale University Community Learning Center, run by Yale student interns, is a non-profit organization that has been home to nearly 10,000 students each year that participate in either after school or summer programs. This community based learning center, in the middle of an urban neighborhood has been known for its assistance in education improvements by offering tutoring, computer literacy, mentoring and athletics.[18]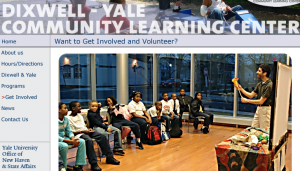 Conclusion
To answer the question of has the hiring of more African American educators in New Haven Public Schools actually led to an increase in the graduation rate and/or led to a decrease in the crime rate, or is this simply a perception by the public? The answer is no, because statistics show, that each year from as far back as 1995, that the number of minority teachers has decreased by about 15%.

Although the community may perceive that it is indeed African American teachers who deserve credit for reshaping the city and its schools, it is actually community organizations who should be worthy of the recognition. Teaming up with community activist and Yale University, these community outreach programs are helping lead the city of New Haven and its schools to a bright future to come.
---