In The Cartel, Bob Bowdon clearly and explicitly addresses the problem within American school systems when he shows a news clip in which the man speaking says that we have an "awful school system" (Bowdon 1:28). Shockingly, on average only 37% of high school seniors in the US read at the 8th grade level.  In the most basic form this film shows that the United States spends the most money per-student, but cannot show where most of that money goes, because it is obvious that this money has not gone into the betterment of the education of students. Bowdon uses the New Jersey school system as an example for what is present throughout the country outlining the effects of teacher unions, and teacher tenure on American education throughout the United States. Through this documentary Bowdon reveals to the viewer that the true problem in schooling is not that poorly performing schools need more money, it is that through corruption, local school boards and state legislatures are all too dependent on receiving more funding as a way to dramatically improve the school's performance levels.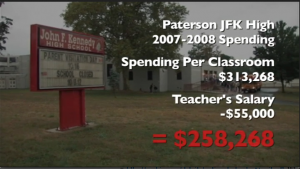 The Cartel is a documentary that was created and directed by Bob Bowdon in which he interviews board members, former principals, former teachers, and even teacher union leaders en-route to discover what is really wrong with American public education. Although he conducts his documentary only in New Jersey, Bowdon makes a clear statement that these figures are represented in other states in this country (maybe not all equally, but many show staggering numbers like New Jersey). Bowdon explores topics such as local funding, unions, patronage, vouchers, and charter schools and finds that much of what is decided within schools is decided through politics. Throughout the documentary Bowdon asks many New Jersey residents if they think schools should receive more money, not to his surprise all of his interviewees said yes, they think schools should receive more funding because classrooms are too run down, but in reality these people do not know that schools are receiving billions of dollars each year. Schools, it is revealed in this film, are receiving billions of dollars and no one knows where the money is going. Bowdon also looks at the charter school system and how charter schools do in comparison with public district schools, he found that most charter schools perform significantly better than public schools while spend less dollars per-student. Because parents have favored charter schools more and more, there are not enough seats available to students; charter schools go through a lottery. Charter school officials believe that everyone deserves to attend their schools, however, there are not enough spots, and therefore the only fair way to accept students is through a lottery.
Bowdon finds that many teacher unions and the protection of bad teachers through tenure are partly to blame for the low success rates in public education. Bowdon concludes that tenure and teacher unions protect the jobs of bad teachers. At the 0:34:55 minute mark, Bowdon is in an interview with Joyce Powell, the president of the NJEA Union and is speaking about an indecent where a tenured teacher said to a student, "I'm going to kick your ass bitch" and after saying this to a student proceeded to punch the student in the chest. Bowdon found out that this same teacher was given a deal, left the school, and the district agreed not to tell future employers why she left the school. Powell goes on to defend the decision of the district stating that everyone makes mistakes and people should not be penalized for their mistakes. After this interview, it is clear to Bowdon that teacher unions protect and defend "bad" teachers and make it difficult for good teachers to succeed.
The most crucial scene in this film, in my opinion, was when Bowdon is interviewing Beverly Jones, a former teacher of the year in New Jersey, and she is expressing her views of the corrupt public education system. Jones is brave enough to express her views, however, she does give insight on what her peers (some of who cannot afford to step up and risk losing their jobs) would say about the public school system:
"The children are not the focus, money is the focus. And what happens to the money no one knows because the money does not reach the classroom" (Bowdon 24:40).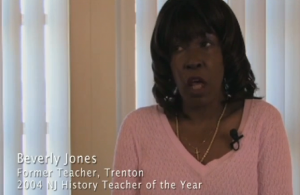 While explaining that this is what other teachers would say, Jones is clear about sharing these feelings as well.
Bowdon points out the corrupt nature of the school system and expresses that teachers unions play into this corruptness. Bowdon briefly makes the claim that teachers unions play a significant role in electing superintendents who they later negotiate with in order to fulfill their wants and needs.
In a Q&A with Bob Bowdon, Bowdon explicitly states that the problem is corruption and the amount of money being wasted by the school system in an effort to "help" educate children better. Bowdon later simply says that the solution is school choice, something that is missing in education. In this same interview Bowdon addresses his critics and states that the facts shown in his film are not exaggerations; janitors are really making six figures, and they are documents coming from online sources that show through articles that his points are valid.
In my opinion Bowdon's documentary does contain flaws, as many documentaries that reveal such harsh truths about the American educational systems do. Beginning with clips of different people speaking on a number of things wrong with American school systems may be confusing for the viewer because they may not be presented with the main point of the film right away. However, I do believe that Bowdon does dive right in to his goals for the film after showing those clips, which were to make viewers aware of the corruption that takes place within school systems and between high ranking school officials.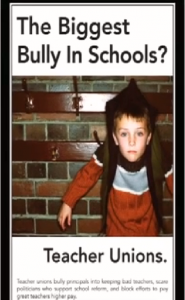 To conclude the film Bowdon lists the many things wrong with the educational system; people think more money should be spent on education, but they don't know where the money is going, teacher unions and teacher tenure help protect bad teachers and have only fired .03% of bad those teachers, to many people vouchers seem worse than illiteracy and drop out rates, and many more. Although it is true that The Cartel has many critics within local school boards and school legislatures, Bowdon gives evidence that proves all of his claims. Bowdon is trying to help viewers see that more emphasis should be placed on the betterment of the education of students and less on politics and the corrupt nature of the educational system that has prevailed over the past few decades in the United States. When the corruption ends, schools will improve.
Works Cited:
Gillespie, Nick. Reason TV. Reason Foundation. 2010
The Cartel, created and directed by Bob Bowdon. 2010.