The past decade and a half has seen a wholesale reconstruction within the American education system. Documentary, Race to Nowhere, draws upon this shift to explain the recent decline of critical thinking among students across the United States, and as reasoning for the emotional crisis many are dealing with when attempting to meet the demands of new collegiate expectations.
Filmmaker and speaker, Vicki Abeles, introduces her documentary by explaining her personal ties to the recurrent schooling epidemic in America today. She introduces herself as a mother of three children, one of whom is a thirteen-year old girl named Jamie who is experiencing the psychological brunt of the stressors within the current educational system, primarily in its focus on testing performance. Through interviews and personal accounts, it becomes clear that it isn't just the pursuit of academic success that produces the anxiety for Jamie, but arises from further expectations of success from a slew of extra-curricular activities as well. Abeles links her child's emotional turmoil with that of other American teenagers' by analyzing personal narratives from teenage students across the country. By doing this, she guides the viewers through the post-No Child Left Behind transgression of learning in the American school system.
Abeles uses one teacher's account to highlight the primary issue behind her argument. Teacher, Emma Batten-Bowman explains how "things that actually get our students to think are pushed aside" (Abeles et al, 0:00:53), so that the primary focus becomes testing performance. With a legislatively produced financial incentive in the back of the minds of many teachers, it becomes almost impossible to divert from the curriculum revolving around test taking. Teacher, Susan Kaplan, exposes a common trend among educators by commenting, "we're told either you do it or you don't have a job…we went along with it because our bonus money was based on test scores"(Abeles et al, 0:29:50). What we see arise from this are teachers who devote less time to outside imaginative learning experiences, like project-based learning, and more to performance-based instruction. The result, as Abeles explains it, is an "education system [that is] a mile wide and an edge deep"(Abeles et al, 0:48:45).
While trying to comply with the rising requirements and expectations among collegiate institutions, many students "push to do more" (Abeles et al, 0:09:50), causing the rise in both depression and anxiety in our children today.  Evidence of this internal "push" can be seen through the recent increases in cheating among students. Denise Pope, Ph.D. refers to one study, which found that "less than three percent of 5,000 students have never cheated"(Abeles, 0:41:50). This means that out of 5,000 students, a whopping 4,850 have cheated at some point during their schooling career. Our students' recent reliance on cheats helps unveil, not only the tremendous pressure they are under today, but the lengths they will take to evoke the idea that they truly can balance it all. As Pope explains, "the pressure on them is so great that they feel they need to get the grade, by hook or by crook" (Abeles, 0:42:39), and in this way, are willing to compromise their moral standards in order to fulfill collegiate expectations.
Through filming student accounts, Abeles furthers her argument when explaining the emotional toll many experience in an effort to juggle it all. One student, Jacqueline explains that "now it is all about preparing yourself to look good for colleges" (Abeles et al, 0:08:05) and is much less about an interest in the actual experience of learning. Another student builds upon this by explaining, "I'm not thinking about the meaning of any of this. I'm just thinking about how to get it done" (Abeles et al, 0:48:30). Abeles explains that these stressors, associated with rising collegiate admission requirements, goes beyond the student and effects the emotional sanity of the parents as well. One parent expresses it as; "we want the best for [our children], but in the end were just putting pressure on them to be whatever we think they ought to be"(Abeles et al, 0:11:20). Abeles says that it is this focus on the need to do it all, especially in testing performance, that creates anxiety and pressure among our youth, and is reason for the rise in depression, cheating, and decline in critical thinking among students.
When focusing on the personal accounts of the students interviewed in this film, a great deal is revealed about the conditions of their mental state. One student, Ally, is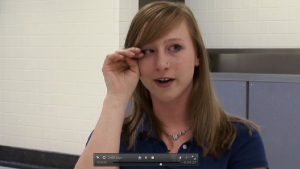 concentrated on in particular during a scene that exemplifies the effect that academic pressure can cause adolescents. During this scene, filmmakers shot both Ally's personal recollection of the events, in addition to flashback scenes, which helped guide the viewer and allow them to further connect to Ally's experience. During her narrative, Ally recounts both her athletic and academic strength as a younger student during her developmental years, something that was going to win her an academic honors diploma by the time she graduated high school. With her honors diploma on the line, Ally spoke of the intensity with which she focused on her grades, something that eventually led to an emotional collapse. Ally retold the story of the bad test grade she received in her math class. With little help from her teacher, the grade could not be redeemed, and she ended up failing the class, loosing her candidacy for the academic honors diploma. This loss overwhelmed her to the point that she stopped trying, her reasoning being "if you don't try, you can never fail" (Abeles et al, 1:00:50). She said that it became "hard for [her] to get up in the morning" (Abeles et al, 1:01:00), and when she stopped attending school, her mother checked her into a stress center. Ally, once a successfully thriving academic, became so entranced by performance, that one poor grade led her to a personal breakdown. The severity to Ally's experience speaks volumes to the extremities children are facing today when trying to cope with all that is expected of them in their quest for success.
Abeles recommends that one resolution to the problems associated with mass knowledge-based testing (and its link to a decline in critical thinking) is a reduction in assigned homework. On the website for the campaign, entitled Race to Nowhere, Abeles furthers her stress on the limited "relationship between homework and school achievement." In the film, Abeles expands on this idea when interviewing Sara Bennett, author of "The Case Against Homework", who asserts that "homework is not going to make our kids any smarter"(Abeles et al, 0:26:55). This policy chain, however, is one that is difficult for many to get on board with. One critic of the film expressed his discontent with Abeles suggestion during one Washington Post newspaper review. Here, critic Jay Mathews responded to the no-homework proposal by stating "Abeles says she wants more authentic learning and imaginative teaching. That is the approach taken by imaginative urban educators like Deborah Meier, but it still requires significant homework"(Mathews). Here, Mathews brings up a crucial flaw in Abeles' argument by explaining that even the most engaging of learning requires outside schoolwork as well.
Through use of direct narratives from students, parents, and education professionals alike, Abeles asserts the presence of an overpowering desire to succumb to the government-generated definition of intellect. This intellect, she explains, is measured through national standardized testing, a gauge that isn't fully representative of the potential of an individual. Still though, we put so much emphasis on these types of tests that we become obsessive in our preparation for them. The result, she explains, is not only the deterioration of our student's ability to think critically, but their emotional stability as well.
Works Cited:
""A Call to Mobilize Families, Educators and Policymakers to Help Disprove the Notion That the Educational System Is 'one-size-fits-all.'"Race to Nowhere.Web. <http://www.racetonowhere.com/>.
Mathews, Jay. "Why 'Race to Nowhere' Documentary Is Wrong." Washington Post. The Washington Post, 03 Apr. 2011. Web. 23 Feb. 2014. <http://www.washingtonpost.com/blogs/class-struggle/post/why-race-to-nowhere-documentary-is-wrong/2011/04/03/AFBt27VC_blog.html>.
Race to Nowhere. Dir. Jessica Congdon. Prod. Dir. Vicki Abeles. 2009. Documentary.