At the Hartford Public Schools Fifth Annual Education Expo yesterday, over a hundred parents and families circulated the Hartford Sport and Medical Sciences Academy gym, browsing forty different public and magnet school options for their kids.
Upon entering the school, visitors were greeted by students from the school itself. Parents were given the option to explore the gym, filled with tables dedicated to different schools, or to take part in one of the student run tours of the Sport and Medical Sciences Academy (SMSA), which ran every 30 minutes. These tours rally gave the parents a student's perspective of a day in the life, and allowed them to see what their children would be experiencing if they were to attend SMSA. Throughout the tour, parents were able to see students working in the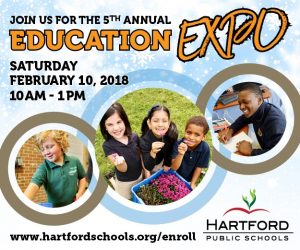 computer labs and art studio. They were encouraged to go in and talk to the students, and get a taste of what their kids would experience in a typical lesson.
If parents and kids were not interested in SMSA, they had the option of going right to the gym, which had over forty different tables, each dedicated to a different school. Parents were free to walk around and talk to the representatives, and ask as many questions as they wanted. There were schools there that catered to every parent's request, each trying to sell their unique principles and philosophies. The Montessori Magnet School, for example, runs differently than a traditional school. remain within a classroom setting with the same teacher for an entire developmental cycle, generally lasting three years. Social and academic curricula are provided with the intention of preparing children for the world through an inquiry-based model. Once have mastered the basic skills, they work to immerse themselves in extensive interdisciplinary research projects.
There was a very positive atmosphere in the room, all of the parents seemed excited to be there, and were curious about all of the options. A few families seemed overwhelmed will all of the choices, but as soon as they started talking to different representatives, they became much more relaxed. Other families seemed confused, they didn't know where to start, what they were looking for, or what they wanted for their kids. For these families, the Expo was a great place to explore plenty of different educational opportunities, and to start to gain an idea and understanding of what they were wanted for in their children's education.
Not only was this event targeting the parents, but it had plenty of activities for the kids too! There was face painting, a photo booth, popcorn, snacks, mascots and almost every table had a free give-away targeted towards the kids. "We really try to make this day about the kids too, after all, they are the ones who will be attending their chosen school in the fall", said Alison Giuliano assistant principal of SMSA.
Overall, this event gives parents from all classes and background the opportunity to explore the amazing, affordable options Hartford Public Schools have to offer. Giuliano hopes that every family leaves here with a better understanding of the schooling systems, and a clearer idea of what they want their children's education to look like.