Strengthening Trinity—together
By Maura King Scully
It was just a year ago that the results of Trinity College's alumni survey were published in the pages of this magazine. "Several thousand of you took the time to tell us how much you care and how much you want to make this a better place," Vice President for College Advancement Michael Casey said at the time. "And we heard you."
Casey notes that since then, the survey results have been a "major driver" in how his office approaches its work. "We're seeking to engage more alumni more actively and wherever we can to partner with them to advance the college and its mission," Casey says. "We know that our alumni want the college to succeed, and we are trying to create more positive ways for them to express their passion and to achieve the goals they want, which is to make Trinity the best it can be."
Strengthening the college's annual giving is vital to reaching those goals. This past year (the fiscal year, which runs July 1 through June 30), the college raised nearly $9.5 million to support its operating budget. This includes $8.4 million from the Trinity College Fund, which includes the Parents Fund, and another $1.1 million to support the operations of the Athletics Department. "These gifts touch everything we do," says Dominque Matteson, director of annual giving.
Casey agrees. "Gifts that support our operating budget give us the capacity to recruit and retain the very best students, faculty, staff, and coaches and, in turn, to provide the resources to fully support our students, whether in the classroom, in the lab, or on the playing field."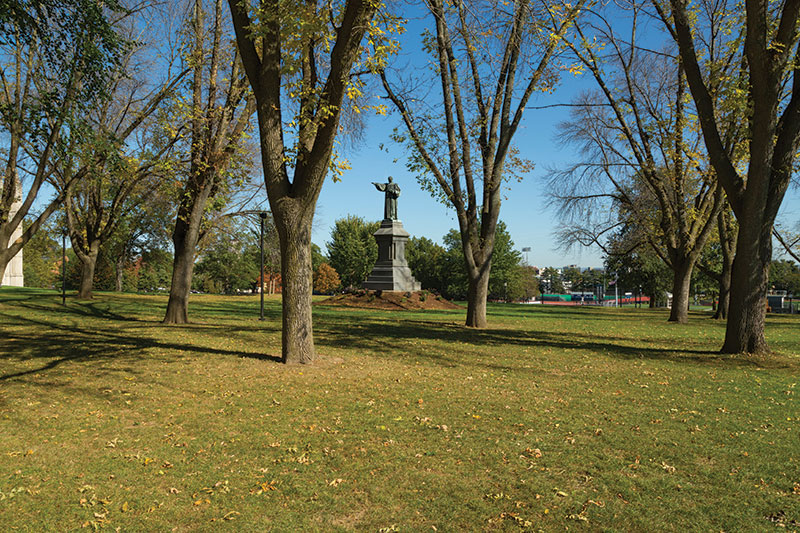 Mary Kate Morr '12, who as a class agent encourages fellow alumni to make Trinity College Fund annual gifts, offers a simple pitch to her classmates: "Whatever you loved about Trinity, this is what you support through annual giving."
Supporting financial aid resonates with class agent Bill Talbot '82. "My parents weren't able to pay for my education," says Talbot, now a Chicago-based equities portfolio manager. "I was able come to Trinity through a combination of work, financial aid, and loans." Talbot stresses financial aid when he reaches out to classmates. "I initially assumed that funds raised by annual giving were 'icing on the cake,' " he explains. "I've since learned that annual giving is more about sustenance than icing."
Encouraging support of the Trinity College Fund is a top priority as the college approaches its bicentennial in 2023. Volunteers including Morr and Talbot are a key part of that strategy to increase participation, which in turn impacts college rankings. Alumni annual giving participation—the percentage of alumni who give in any year—is seen as a vote of confidence in the institution; that's why U.S. News & World Report and others factor it into rankings formulas.
A decade ago, Trinity had one of the highest levels of alumni annual giving participation in the country—55 percent. But it took a major hit from FY2011 through FY2013, losing nearly 40 percent of its annual donors due in large part to the controversy over the Building Social Community at Trinity white paper. Among other things, the white paper advocated for requiring fraternities and sororities to become coed, meaning they would lose their national charters. The recommendation was met with considerable consternation and anger among many members of the community. In 2015, the Board of Trustees, in concert with Trinity President Joanne Berger-Sweeney, rescinded the coed mandate, but the damage had been done, and the college's annual giving participation rate has not recovered, hitting a low in 2018 of 28.5 percent.
The college is by no means alone in facing annual giving participation challenges. Nationally, data shows that alumni participation rates in college and university annual funds are dropping. "Nearly every school is seeing participation rates drop, and nearly every school is seeking ways to respond," says Casey. "In our case, that means two things: giving alumni more ways to invest directly in their passion (for example, athletics) and aggressively enlisting their help as volunteers."
"The strongest annual funds are volunteer driven," says Casey. "Williams College has 1,600 class agents. Two years ago, Trinity had just over 100. Today, we have over 200, and we're looking to add 100 a year for the foreseeable future."
Trinity also is focusing more on engaging young alumni and current students. "We're working hard to show them the value of investing in their community," Casey says. "We asked the Class of 2019 to make multiyear commitments, and more than 150 did. We're also looking at how we can underscore for current students how much their experience is a function of investments made by prior generations."
As part of this effort, the Board of Trustees came forward with a Trustee Challenge in June, pledging $1 million to help the college secure 1,000 new donors. The challenge, Casey says, was a way of empowering the community to help secure its own future. "The trustees recognize that as leaders of that community, they have a significant role to play in that future," he says.
Trustee Lou Shipley '85 was among the first to participate. "Trustees have a unique vantage point on Trinity and can see how investments in the school have both short-term and long-term impact," Shipley says. "The Trustee Challenge encouraged members of the board to show their financial support for this great college."
The trustee effort was a great success, bringing in more than 1,100 new donors, and that individual initiative can make a big difference at the grassroots level as well. The Class of 1982, for example, had a 65 percent participation rate this year thanks to what Talbot calls "grassroots engagement." His secret weapon? Old-school, handwritten notes. "In April, I had a stack of [nearly] 500 letters and wrote a personal note on every one. For Giving Day, which occurred shortly after the letters were sent, my class had the highest response rate. Results like that are gratifying."
Morr uses a variety of media in her quest to reach classmates: text, email, Facebook, and phone calls. "It's fun to talk to people once or twice a year and not as scary as it might sound," says Morr, who does community outreach for a nonprofit in Denver. "I was worried about bothering people but have found that classmates really appreciate the reminder. They're glad I'm keeping them connected to Trinity." In turn, Morr values being a class agent as a way to stay connected to the college. "Every quarter, there's a conference call where we get long-term, strategic information about Trinity. I feel like I get an insider's look, beyond what's on the website."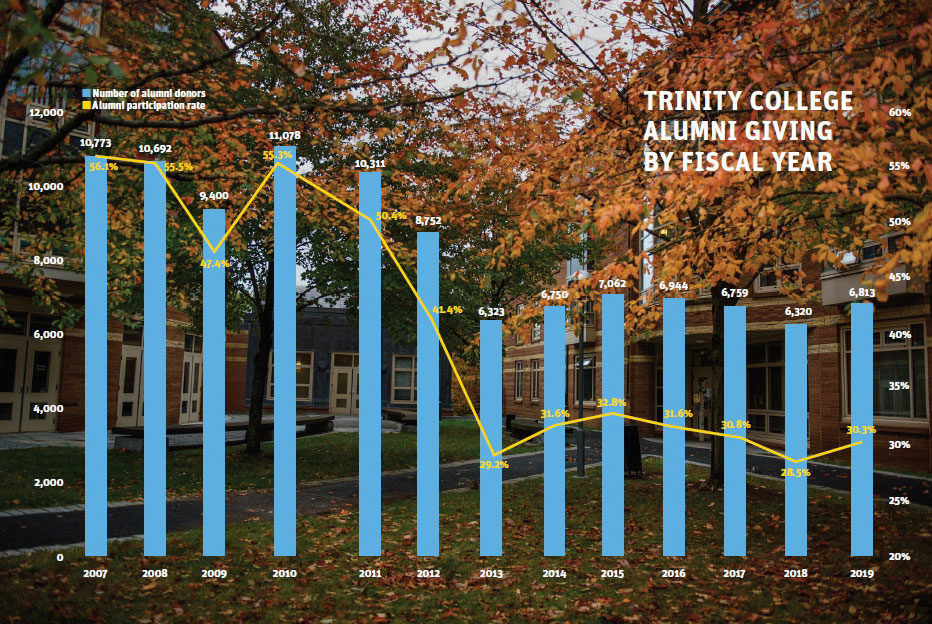 This past year's participation rate ticked up to 30.3 percent. "That's only 2 percentage points ahead of last year, but it's a start," says Casey. "Our long-term success will depend upon our ability to give our community members a reason to invest every year and to engage as many of them as possible as partners in that effort. The reality is that there are only about 35,000 alumni, parents, and friends," he says. "Their willingness to invest has a material impact on our ability to thrive, grow, and compete."
As Trinity began its new fiscal year on July 1, Casey and his team face the need to raise those funds all over again. "It's labor-intensive, person-by-person work, but we believe deeply in Trinity's mission," he says. "So we embrace the challenge to make that case every year."
Game on.
For more information on becoming a class agent, please visit https://www.trincoll.edu/alumniandfamilies/volunteer/class-agents/