Julie Mason '93 serves as chief of staff to country's first second gentleman
By Kathy Andrews
Portraits by Stephen Voss
"Walking through the White House gates never gets old," says Julie Mason '93, whose third White House tour of duty began in January 2021. As deputy assistant to the president and chief of staff to the second gentleman, Mason brings invaluable experience from more than 25 years in federal and state government, political campaigns, and the business and nonprofit sectors.
Her chief responsibility is overseeing the contributions of the first second gentleman in U.S. history, Douglas Emhoff. She appreciates the "fresh eyes" Emhoff brings to his role and is excited about helping him to determine which initiatives he'll focus on as he supports the administration and, in particular, the work of his wife, Vice President Kamala Harris.
Harris is breaking barriers as the first woman, the first Black American, and the first South Asian American to be elected vice president. At the same time, her husband has become a national role model for male spouses of powerful women. Videos of Emhoff, such as one where he is blowing kisses to Harris before President Joe Biden's first address to Congress, have gone viral. "He has been surprised, I think we all have," says Mason, "at what seems perfectly normal, supporting one's spouse, getting so much attention."
Emhoff, Mason, and team hit the ground running in the initial months of the Biden-Harris administration, supporting pandemic response and economic recovery efforts. "The focus has been on making sure we can get Americans healthy, building confidence in vaccines, and sharing news about the president's initiatives to help families get back on their feet and build back the economy," Mason says. Emhoff's Twitter feed (@secondgentleman) offers a glimpse of his cross-country travels, including visits to small businesses and to vaccination sites at community centers and mobile clinics and on tribal lands.
Emhoff, who has led an accomplished career as an entertainment lawyer, cares deeply about access to justice, notes Mason. "As a lawyer, he is passionate about advocating for justice and fairness, which aligns well with the president's commitment to equity."
Amid the whirlwind of second-gentleman duties, Emhoff says, "As a 'newbie' to D.C. and politics, I'm lucky to have Julie at the helm of my White House team. She not only knows the nuances of this administration but also how to get things done—and she does it with a steady leadership style, positive outlook, and great sense of humor."
Mason's close friend Karen Regan '93, her roommate for three years at Trinity as well as after college in Washington, D.C., concurs with Emhoff. "Julie is someone you call when you want something to get done," says Regan, the assistant vice chancellor for research and innovation at the University of Colorado Boulder. "Julie has always been driven toward public service. She likes to think about and solve bigger problems."
Recalling the first time she visited Trinity's campus as a high school student, Mason says, "I remember feeling the energy on campus and loving that it felt like a community within a city." Growing up, there were pictures of Trinity in her house since both her father, John Whittier Mason, M.D., '60, and uncle, Robert Mason, M.D., '62, are alumni.
"I think there's a lot to be said for a school like Trinity," says Mason. "A small school that builds a true community is more valuable now than ever. During the pandemic, we all felt a bit disconnected. Having a place like Trinity, where people really gather and get to know each other, makes a real difference. By the time I graduated, it felt like home, and my classmates felt like my extended family. They still do."
Upon graduating from Trinity with a degree in Latin American studies, Mason was uncertain where her career path would lead. "I'm so impressed when people know exactly what they want to do," she says. "I did not, but that's the beauty of a liberal arts education. For people like me, who are on a less-defined journey, being exposed to Shakespeare, economics, philosophy, gender studies—it all sets the stage for whatever you do." She remembers volunteering for Big Brothers Big Sisters (BBBS) and serving as president of the campus BBBS club. "All of us in the program got to know people in the community and kind of break down barriers, which was terrific."
Mason's first job after college was as an assistant teacher at a private school in McLean, Virginia. But after a year observing so many people flocking to D.C. to get involved in politics, she decided she wanted to give it a try, too. "I put on my red Ann Taylor suit, printed off hard copies of my résumé, and began knocking on doors."
An Illinois native, she secured an unpaid internship with her hometown congressman, which led to a job answering phones in the office of the then-chairman of the Senate Judiciary Committee, Joe Biden. Within six months, she landed a position assisting Mike McCurry, press secretary to President Bill Clinton, and learned the ropes of White House media relations. Next, she served as deputy press secretary to first lady Hillary Clinton. A highlight came in 1998, when Mason accompanied the first lady on a trip to Trinity, where Clinton conducted a forum on child care and toured the Trinity College Community Child Center (TC4).
Between 1999 and 2009, Mason employed her strong communications and marketing skills at AOL Time Warner, the Smithsonian's National Zoo, the Arizona Department of Homeland Security, and the Office of Arizona Governor Janet Napolitano. Mason took time off to raise her children before returning to D.C. to lead communications for Jill Biden during the 2012 presidential election campaign. From 2013 through 2015, Mason was director of special projects in the Office of Vice President Joe Biden before spending 5½ years in leadership positions with international consulting firm Albright Stonebridge Group.
In her latest White House role, Mason has been struck by how much her daughter, Adele, 14, and son, Sam, 12, are interested to hear about her day at work. "The first time I was in the White House, I didn't have kids. The second time, they were young and would participate in kid-focused activities like the annual Easter Egg Roll. But now, at their schools, they're talking about world issues and national issues, topics like equity and gender, and we have conversations about civics—which is great! It's fun for me to see what I'm doing through their eyes."
Also in the administration
The Trinity Reporter checked in with three other alumni serving in the Biden administration to ask how their Trinity experiences contributed to their career path or the work they do today.
Sarah Despres '88, B.A., history; J.D., 1996, Northeastern University School of Law
Counselor for Public Health and Science at U.S. Department of Health and Human Services: "After Trinity, my first full-time job was working in the Soviet Union for the United States Information Agency (USIA). Having that solid education from Trinity meant that I could pivot from working for USIA to entering law school. After law school, I came back to D.C. with no preconceived notion of what I would do and just started seizing opportunities as they arose. Having a well-rounded humanities education was critical for that."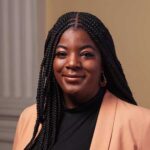 Kendall Mitchell '17, B.A., English (concentration in creative writing), minor in Hispanic studies
Public Affairs Specialist/Press Assistant, U.S. Department of Justice: "The English Department is one of the best departments at Trinity. It opened my mind to hearing other people's stories without bias. As a political communications professional, I have to know how to communicate an issue in a meeting with Majority Leader Chuck Schumer but also how I should communicate this issue to your grandma, who might not be fluent in English. The skills I learned from the major helped me to be a good communicator and a strong writer."
Maggie Thomas '10, B.S., environmental science and biology, minor in legal studies; master's in environmental management, 2015, Yale University
Chief of Staff in the Office of Domestic Climate Policy: "The Trinity Environmental Science Program is inherently interdisciplinary and nothing prepared me more for the role that I have today. If we're going to tackle the climate crisis, it needs to be a completely interdisciplinary approach. I was exposed to so much at Trinity, including the Interdisciplinary Science Program and research studying red-tailed hawks. Over time, I realized that what I really wanted to do was to make change in the world, and to do that you need to be engaged at the intersection of science and policy."
These members of the Biden administration follow in the footsteps of many other Trinity alumni who, according to the college's records, have served in previous presidential administrations, including Victoria Coates '90, National Security Council (Donald Trump); Jonathan Asen '09, Office of Legislative Affairs (Barack Obama); Neil Patel '91, Office of the Vice President (George W. Bush); and Charles S. Ingersoll, Jr. '83, Office of Presidential Personnel (Ronald Reagan).