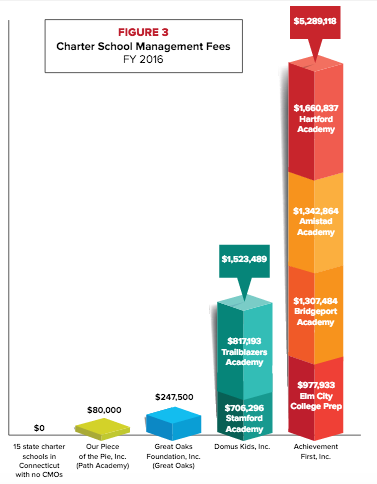 Source: CT SDE, 2016; Rodriguez, 2016
A few years ago, I wrote in ctnewsjunkie.com about charter management fees charged by private companies that manage charter schools in Connecticut. The total management fees added up to millions in state dollars diverted from charter schools to these management companies. A new report from CEA, the state's largest teachers union, (prepared by Rodriguez Data Solutions, LLC) shows that these charter management fees are growing at a higher rate than overall State spending on charter schools in Connecticut.
Not all charter schools in Connecticut charge pay management fees. In fact, most charter schools do not pay management fees, so the report looks closely on the handful that do: Achievement First, Domus, Great Oaks, and Our Piece of the Pie. The charter management schools charge fees at charter schools in the cities that serve mostly Black and some Latinx students.
You can take a look at the Executive Summary of the report below and the data here. As a result of these findings, the CEA has urged legislators:
to review the revenue sources and expenditures of corporate-style charter schools and is specifically calling for
The prohibition of management fees in all Connecticut charter schools
More accountability and transparency of all charter schools
An investigative audit of all CMOs
Total disclosure of CMO finances
Public disclosure of all CMO information through the state's Freedom of Information Act
A moratorium on future charter school expansion
What do you think?