Vice president for strategic initiatives and innovation
Trinity College's newest vice president is a familiar face: Sonia Cardenas, dean of academic affairs and longtime professor of political science, recently added vice president for strategic initiatives and innovation to her job title.
President Joanne Berger-Sweeney noted the importance of the role and the expertise that Cardenas brings to it. "Sonia has been an integral member of our leadership team helping design key strategic initiatives like the Bantam Network and our partnership with Infosys," Berger-Sweeney says. "Sonia possesses the leadership ability, insight, and vision to support Trinity's commitment to cultivating an innovation ecosystem in our region. We must support our new and growing collaborations with partners in the community, and Sonia is the one who will guide us in our endeavors."
Cardenas joined the Trinity community in 2001. She earned a B.A. in international relations and French from Tulane University, an M.A. in foreign affairs and a Ph.D. in government from the University of Virginia, and a certificate from the International Human Rights Law Programme at Oxford University.
Cardenas recently took the time to answer questions from The Trinity Reporter.
Why is this the right time for Trinity to have a vice president for strategic initiatives and innovation? Trinity is in the process of implementing its bicentennial strategic plan—Summit—and approaching a comprehensive campaign, so we're at a critical juncture in the college's history. Nationally, the value of the liberal arts is increasingly questioned at the same time that employer surveys tell a very different story: liberal arts graduates and the skills they bring to the workplace are in high demand. Everything we see about the future of work indicates that a humanistic liberal arts education will become more, not less, important. In this context, Trinity is positioned to meet our strategic goals. My job is to work closely with the president and colleagues across campus to help ensure that we're successful as we innovate strategically and make the most of this moment.
What do you consider your priorities in this role? My top priority is to make sure we're implementing Trinity's strategic plan as fully and effectively as possible. I'm also charged with developing and launching key strategic initiatives and partnerships that align closely with our goals as a college and, ideally, that will help differentiate us nationally. Our partnership with Infosys is a good example of this. More broadly, I'm interested in having us experiment at the margins of what we do, committed to protecting our academic core. This requires building relationships and listening for ideas, always staying open to new possibilities.
What do you see as Trinity's greatest strengths? Trinity is fortunate to have a rich and proud history on which to build and an alumni body that's passionate and successful. We have outstanding faculty who are dedicated teacher-scholars and the reason why a Trinity education is transformative for so many people, and we have a talented and committed staff who care deeply about the college. We're also one of the country's only selective liberal arts colleges that's located in a city. This location, I'm convinced, inspires much of what we do. For instance, it explains why we're so strong in the sciences and engineering and why we have remarkable community-learning opportunities, long-standing graduate programs, and unique global connections. Our urban identity makes us value creativity, experimentation, and engaged learning in very special ways.
What challenges do you foresee in your role, and how do you plan to approach them? Change in any setting can be challenging, but especially when we're trying new things in the face of uncertain outcomes. As much as people talk about change management or problem-solving, I find that adopting an improvement mindset can be really productive. How can we do better? Answering this effectively requires a clear understanding of one's mission. It also requires a high level of candor and communication, along with the realization that successful initiatives are never created in isolation. They require collaborating closely with others and working together around a shared purpose.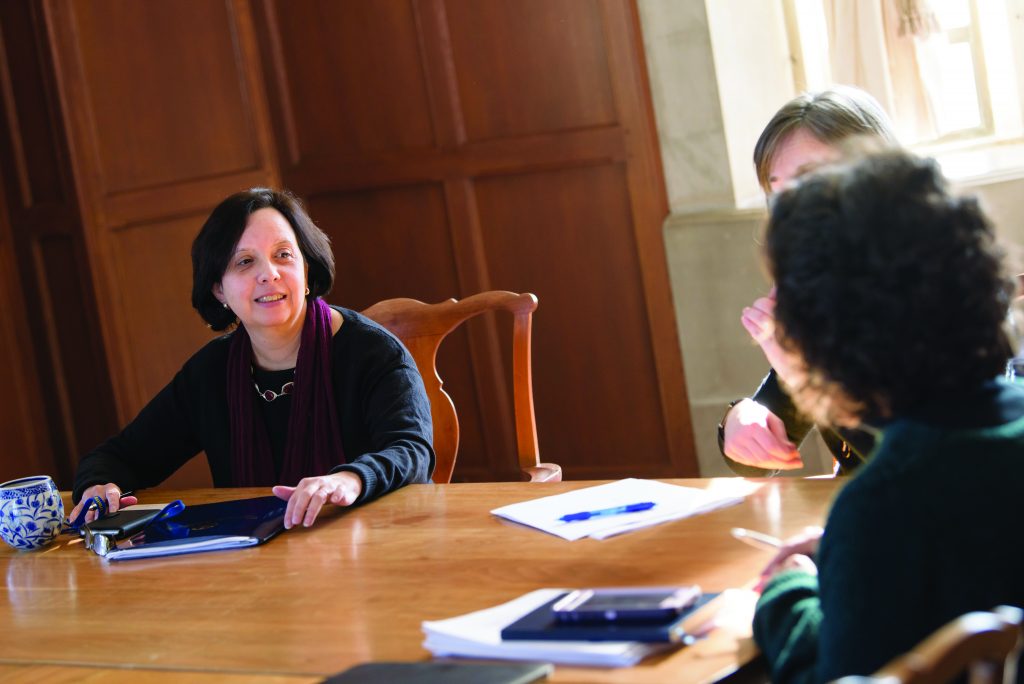 A major initiative with Infosys recently was announced. What does it mean for Trinity? This partnership will allow us to experiment in forward-looking ways, which is essential in higher education. And it promises to create new opportunities for our students, including internships and applied forms of learning for computer science and beyond. Building on our core strengths, we want to explore how we can bridge the divide between the liberal arts and the future of digital technology. We also want to showcase the power of a liberal arts education—and Trinity—in new ways and reaching new audiences.
How do you see the relationship between Trinity and Hartford continuing to evolve? The long-standing relationship between Trinity and Hartford is multifaceted, just as Hartford isn't a single place but a complex and diverse set of communities. In terms of new areas, I'm excited to see how Trinity continues playing a leadership role among institutions of higher education in promoting an innovation ecosystem in Hartford and the state of Connecticut. President Berger-Sweeney has led this effort, and it's paying off. Trinity's presence in downtown Hartford, for example, will make it possible to contribute to the momentum that we're seeing locally around innovation and workforce development. We'll make sure that our students are benefiting in direct ways from these initiatives. For Trinity to be successful, it's important that our relationship with Hartford be reciprocal and based on mutual respect and trust.