Career Development Center takes 'holistic and personalized' approach
By Andrew J. Concatelli
"The world of work has changed, so the way we look at career development has to change," says Jennifer Baszile, dean of student success and career development. Students graduating now can expect to change jobs much more frequently than previous generations, she adds, and many of the positions they will hold don't even exist yet.
Reflecting that changing world, Trinity launched a new student success ecosystem in October 2017 to support, cultivate, and retain Trinity students with the goal of preparing them for life after graduation. The new Center for Student Success and Career Development comprises the Office of Student Success and the Career Development Center, two offices that previously operated separately.
While a feature in the winter 2019 issue showcased support for students during college, in this story, Part 2 of 2 on the new center, we focus on how the Career Development Center (CDC) prepares students for success after college.
NEW OPPORTUNITIES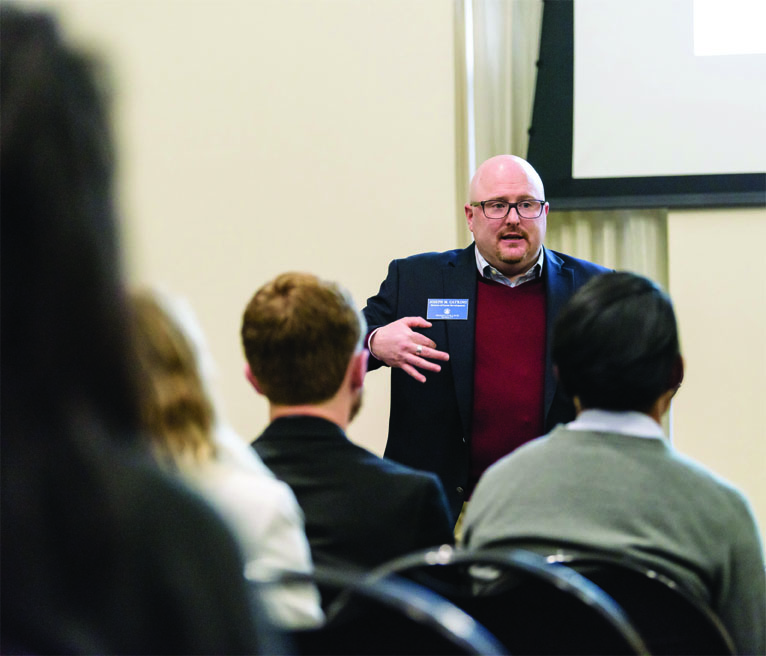 Director of Career Development Joseph M. Catrino says that new programs and new ways to interact with the office have transformed career development at Trinity. "We are, of course, still the place to come for help with a job or internship search, but it's more than that," Catrino says. "We take a holistic and personalized approach to working with students."
This approach has seen a shift from advising to coaching, with CDC staff assigned to six career communities that students may join: Arts, Communications, and Marketing; Business, Finance, and Consulting; Engineering, Physical Science, and IT; Health Care and Life Science; Policy, Law, and International Affairs; and Social Good, Education, and Human Services.
"This is not major based," Catrino says. "We looked at what industries students were pursuing and now offer industry-based support." Every year, each career community hosts three key events designed so that students can learn by experience: the Career Trek, which takes students into the field to see what their professions of interest really look like; the EXPLORE series, in which panels of alumni working in particular fields share their knowledge of those communities; and the Career Skills Lab, in which students develop industry-based skills to which they may not have been exposed previously.
"The idea is to help students imagine themselves in those industries, to really create a bridge to career through these experiences," Catrino says.
Reinforcing that link between students and the professional world is the Bantam Career Network (BCN), a new online mentoring and networking platform. Introduced this spring, BCN functions like a private, Trinity-specific LinkedIn group in which alumni and parents can share opportunities with students (and alumni with other alumni), start conversations, and join groups of Bantams with similar experiences or interests.
"Trinity alumni love to help current students," Catrino says. "That pay-it-forward mentality is real. They were helped by alumni when they were students, and now they want to come back and help other students."
Baszile adds, "The alumni network is so important to the work that we do here. There is very little that is more compelling than being able to point to a Trinity alumnus and say, 'This is what they did.' We are facilitating real connections between alumni and students, and we can use those exemplars to help students imagine where they are going."
THE CENTER IN ACTION
Of the 87 percent of 2018 graduates who provided information about what they are doing after Trinity, 95.2 percent have secured jobs, enrolled in graduate school, enlisted in military service, or volunteered for organizations such as the Peace Corps and Teach For America. Members of the Class of 2018 are now working at the Cleveland Clinic, the New York City Ballet, Morgan Stanley, Citi, ESPN, NBC Universal, the Southern Poverty Law Center, and Facebook, among dozens of other employers across all industries.
Helping to facilitate those positive outcomes are career development interns (CDIs) who work with their fellow students on résumés, cover letters, and more. As a CDI, Posse Scholar Caitlyn Linehan '19 believes that the low-pressure, drop-in Career Studio hours encourage students to work on important aspects of career development at their own pace. "Students have a lot to juggle, so what makes the Career Development Center helpful is the accessibility; you can pop in at the open Career Studio just to get started," Linehan says. "You don't have to finish all of your career documents before you get here or during your first visit. You can return as many times as you want." Since the studio model was introduced in the fall, student drop-in visits per semester have more than doubled.
In addition to coming to career development to prepare for the job-search process, QuestBridge Scholar Hayden Mueller '19 attended this year's Bantams & Beyond conference for seniors and appreciates the multifaceted approach that the center takes to introduce students to the professional world. "The office is staffed with competent, kind people who genuinely want you to succeed," Mueller says. "From résumé-building workshops to networking events, they're with you every step of the way, helping students find where they want to go and who they want to work with."
Students say they value the emphasis being placed on personal development and finding a direction that is truly the right fit. "Career development goes beyond editing résumés and providing interning advice," says Darius Borges '20. "People like Joe Catrino have really helped to instill a sense of confidence and self-worth in me."
Borges believes that the most important benefit offered to Trinity students is one they can take with them after they graduate, via the Bantam Career Network. "The way that Trinity is able to cultivate and maintain relationships with its graduates is by far its greatest strength," Borges says. "The alumni portal is expansive, and all of the alumni whom I have contacted have been genuinely helpful and thankful that I reached out."
THE BASIS FOR CHANGE
After Angel B. Pérez, vice president for enrollment and student success, arrived at Trinity in 2015, he spent a year researching best practices in career development. He saw that college students weren't engaging with traditional career development offices in the usual, transactional way: make an appointment, sit at a desk, and hear about where to apply for a job based on your major. "Students weren't coming in," Pérez says. A new design for the space was a first step in rethinking how the office supports students. "We needed an inviting, warm space. Now there's music playing in the lobby, it's more open—it's a hangout," Pérez says. "We wanted students to feel this is not an intimidating space, but one where you come to explore."
Career development at Trinity was fundamentally overhauled, with a new outlook encouraging more deeply engaged relationships with all students, not just seniors. "The real change in philosophy is we don't want students to see career development as the last stop in their journey at Trinity," Pérez says.
Even students in their first semester of college can expect to have productive interactions with the CDC. "You cannot necessarily have a conversation with first-year students about what they will do when they leave here, but with every first-year student, you can have a conversation about meaning and purpose," says Baszile. "From that relationship, you can start to structure a set of experiences that will help them discover career paths that are of interest to them."
Integral to this process is design thinking, a learning tool developed at Stanford University that encourages a different approach to problem solving and can be used by a student to explore a life trajectory. "We want students at Trinity to think about the fact that careers and lives— professional and personal—are theirs to design," Pérez says. "Our main job is not only to educate students but also to make sure they have a plan when they leave here. We know their goal is to get a job, but they can spend four years here really trying to find meaning in the workplace."
To help reach that goal, students learn how to map a connection between their potential major and their desired career path. "We don't tell students there is a one-to-one match between their desired career and the courses they take," Baszile says. "We show them how to take any major and make a career path they desire. That's where the personalization comes in, and the small size of Trinity is a strength."
CDC Offerings
Bantams & Beyond: This signature program for seniors is a one-day exploration of life after college. Held before the start of the spring semester, the conference combines interactive workshops, alumni talks, and networking opportunities. It gives students the tools they need to find their first job, prepare for success in the workplace, and thrive in their professional and personal lives after graduation.
Bantam Career Network (BCN): This new web-based mentoring and networking platform allows alumni and parents to share opportunities with students (and alumni with other alumni), start conversations, and join groups of Bantams with similar experiences or interests.
Career Connections: Held during Family Weekend, this large event invites family members and alumni to the Center for Student Success and Career Development to network with students across all class years. This is an opportunity for students to connect with professionals in their field of interest to learn about graduate school, interviews, résumés, and potential job or internship opportunities.
Career Skills Lab: Designed to teach Trinity students industry-specific skills, these labs offer hands-on opportunities to learn and practice new skills that are useful when pursuing internships, jobs, or graduate education. Past Career Skills Labs have included grant and press-release writing.
Career Studios: Students can get job-search assistance, résumé reviews, LinkedIn critiques, cover-letter help, and more anytime Monday through Friday between 1:00 and 5:00 p.m. The drop-in Career Studios are staffed by Career Development Center (CDC) student interns and a staff member. Additional evening workshops and pop-up career development sessions at places including on-campus coffee shops meet students at times and places most convenient for them.
Employer Treks: These off-campus trips provide students the opportunity to explore career fields and organizations firsthand. Events vary in structure and may include alumni panels, behind-the-scenes tours, and Q&A sessions with professionals.
EXPLORE Series: These topical programs help students learn about careers within specific industries by networking with alumni and employers. Some events are panels, while others involve roundtable sessions or open networking.
Handshake: This online career platform launched last year connects students with a more robust pool of employers. More than 60 percent of the student body has used Handshake to look for jobs and internships. Online skill evaluations and interview preparation guides are available through Handshake, which also is where the CDC schedules its appointments and events.
Internships: The CDC posts more than 200 Hartford-area internships on Handshake. More than 75 percent of Trinity students do at least one internship during their four years at Trinity, and 30 percent will do three or more internships during their college years.
Specialty Programs:
Catalyst Leadership Corps: Designed to provide leadership training and professional development to a small cohort of exceptional first-year students, this program invites students to attend a series of development workshops throughout the fall. In the spring, a speaker series features leaders from the city of Hartford. Additionally, all participants are matched with a Hartford-based organization for a modified internship during the spring semester.
Design Fellowship: Open to first-year students, Trinity's new Design Fellowship offers personal development opportunities to undergraduate students with the promise to be extraordinary leaders on campus, in the community, and beyond. Students are equipped with tools that help them design their time at Trinity and their lives after college.
Catalyst Summer Internship Program: Trinity undergraduate students interested in exploring potential industries of interest may apply for this summer internship. The Catalyst Summer fund affords students up to $3,500 for an unpaid or under-paid internship.
Meaningful Work Program: This program is designed for students interested in using their on-campus job experiences to learn leadership skills, reflect on their experiences, and have a stronger understanding of individual strengths, abilities, and values. The program helps students boost their career readiness and sets them up for personal and professional success.
For more information on how you can get involved in the Career Development Center at Trinity, please visit https://www.trincoll.edu/CareerDevelopment/Families