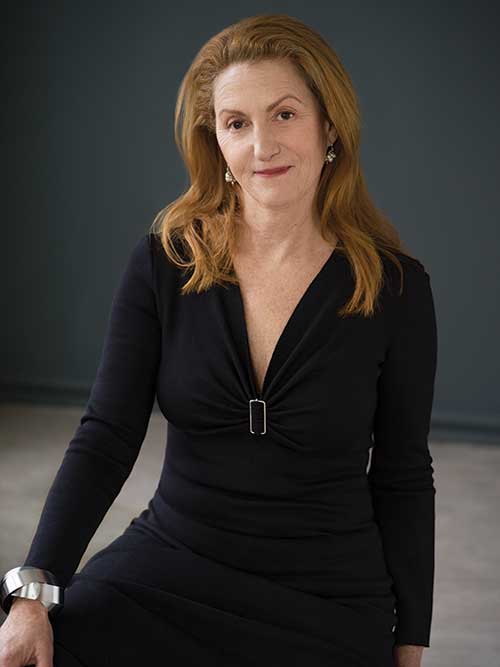 DEGREES: B.A. in art history and studio arts; M.A. in art history and certificate in conservation of art and objects, the Institute of Fine Arts at New York University
JOB TITLE: President and CEO, National Women's History Museum, Washington, D.C.
FAVORITE TRINITY MEMORY: I had my dog with me at school. Her name was Mistress Quickly, from Shakespeare. She was a Bedlington terrier, which looks like something between a sheep and a greyhound. She was great; she attended every art history class. She went to Commencement, where I graduated Phi Beta Kappa, and my friends made her a diploma. I also have the fondest memory of the second or third student art show that we put together. We all were serious about our careers, but there was a great deal of joy and experimentation​ at the same time.
What is the status of the National Women's History Museum? Although the museum is about to​ be 25 years old, it remains a virtual museum, and we are diligently pursuing a physical home in Washington. It has been a long journey, like most women's journeys. I've been the president and CEO for two years, with the charge, as the first professional museum director, to find and create ​​a physical space and to grow visibility through exhibitions, education, and outreach. Although federal legislation has been approved to establish a women's museum on the Mall, the building is decades away. We're investigating starting to do exhibitions and public programs at another venue in D.C. so we don't lose another 25 years waiting for this to happen.
What led you to this position? I've always worked in museums. I spent the first chunk of my career at the Museum of Modern Art (MoMA). I then decided to be an art conservator to bring together my interests in studio art and art​ history. I spent a number of years at The Met, the Tate, and the Hirshhorn Museum practicing​ conservation. It's an amazing field, but it has a lot of health hazards [because of chemicals used in restoring art]. I got to the point where I wanted to create a more significant impact on preserving the larger disciplines in arts and culture rather than​ one object at a time. I went on to be museum director at the New-York Historical Society, New York's oldest museum. Later, I was recruited to the American Craft Museum, where I served as director for 16 years. We created a truly interdisciplinary museum—renamed the Museum of Arts and Design—and built an extraordinary space in the epicenter of N.Y.C.
A primary area of interest for me throughout my career has been in breaking down the "walls" of a museum to create interactive and inclusive environments and experiences that people are interested in partaking in, and by that, I mean everyone, not just one type of ​visitor. Inclusiveness has ​been a big issue in the cultural world and in the museum field, and I think we've all done a pretty bad job at that historically.
One of the great things about my new position and the reason I was initially intrigued about the opportunity is that shockingly there is not another women's history museum in the country. We have hundreds of​ contemporary art museums, we have ​a museum for ​ice cream, a​ museum for stamps,​ but there's not one that focuses solely on women's history, ​despite the fact that women make up more than 50 percent of our population.​ I ​feel strongly in the value of creating a community and space​ where people can​ see ​and experience ​inspiring women's stories​. It's a journey; I'll try to take it to ​the next step, and hopefully others will come along. ​
What was it like to be part of Trinity's first fully coeducational class?​ I ​had the idea that the men ​would be overjoyed to have us there. But what I found, and what many of my classmates in the arts found, is that the men didn't want us there at all. They preferred seeing women only on the weekends, and somehow we were disrupting the peace.​ Many of us were coming from coed schools, and the thinking of these men seemed so incredibly ​immature​. We had to prove ourselves in every way. On the other hand, we had a lot of positive encouragement from the faculty all the way around. There was a great deal ​of enthusiasm for thought leadership, and that really helped shape my willingness ​to experiment​ and to test new creative paths in my life and career.
Which professors influenced you the most? ​I was lucky enough to be there at a unique moment in time, when the arts at the college were extremely experimental and vibrant. The people who taught studio arts were all artists who mainly lived in New York, and we were lucky enough to have two really inspired art history professors—Michael Mahoney and Tom Baird—who definitely ​trained my eye and informed and nurtured my sense of connoisseurship and how to recognize excellence.​ ​I also found my voice for activism, which has stayed with me.