Performance project creatively tackles challenges brought by COVID-19
By Andrew J. Concatelli
Photos By Nick Caito
Must a dance concert be presented on a stage? Must a rehearsal be held in a studio?
With large performance halls on campus shuttered and rehearsal studios converted into classrooms last fall during the COVID-19 pandemic, Trinity College's Theater and Dance Department confronted the challenge of how to create art and present it to an audience without gathering groups of people in person.
So exactly where can dancing take place? For two faculty members, the answer is simple: everywhere.
"It's time to think and dance outside of the box!"
That's how Assistant Professor of Theater and Dance Peter Kyle and Assistant Professor of Theater and Dance Rebecca K. Pappas pitched their idea for "Dancing Everywhere," the yearlong performance project that began in fall 2020 as part of their THDN-309 "Stage Production" course.
" 'Dancing Everywhere' is a think tank for movement and performance experiments that began by developing ideas in a creative laboratory," Kyle says. Students and their professors worked on site-specific performances, dances for the camera and for Zoom, and any other means by which members of the class could dance together while remaining apart. "Our goal was to make a big show, knowing that it would have to likely exist in a variety of different platforms that we wouldn't otherwise think of as venues," Kyle says. "We turned Zoom and all our spaces into rehearsal halls. We have gone beyond the studio and have made the leap to thinking about dance as being able to occur in other places."
Pappas adds, " 'Dancing Everywhere' refers to site-specific, nontraditional spaces, but it also means dancing together in digital space, in virtual ways, and in analogue spaces that digital portals take us to—in our homes, dorm rooms, the lobbies of buildings."
The uncertainty of whether any kind of live performance would be possible during the pandemic turned the focus away from the final product and inward toward the process. "It was really just about dancing all the time, no matter where," she says. "You're not in rehearsal for something else, you're just doing it now, and we're all doing it together. That's a different way to think about what a performance is and what a rehearsal is."
The class met in person outdoors and remotely via Zoom to work on student- and faculty-designed performance pieces. An open rehearsal held on the Main Quad and online in November showcased the work in progress, followed by a final performance in the spring. Working collectively on pieces allowed the parallel development of dances that took different formats, including short films, projection, and live outdoor performances. "Normally a concert would have six pieces in a program on the stage," Pappas says. "This year, the pieces are all different." Kyle's piece involving slow-tempo movement used the Main Quad as its venue, while Pappas filmed memory-inspired dances in the Crescent Center for Arts and Neuroscience.
Associate Professor of Theater and Dance Michael Preston, chair of the department, says that he appreciates the adaptability of Pappas and Kyle's project, which adjusted to changing weather conditions and to heightened campus alert levels that occasionally precluded any in-person work. "Rebecca and Peter had a great concept because we wanted to do some type of performance, but we needed to stay nimble," Preston says. "I think they came up with a nice approach to still do dance at this time without putting the pressure on having to be in person. We are all learning to embrace flexibility."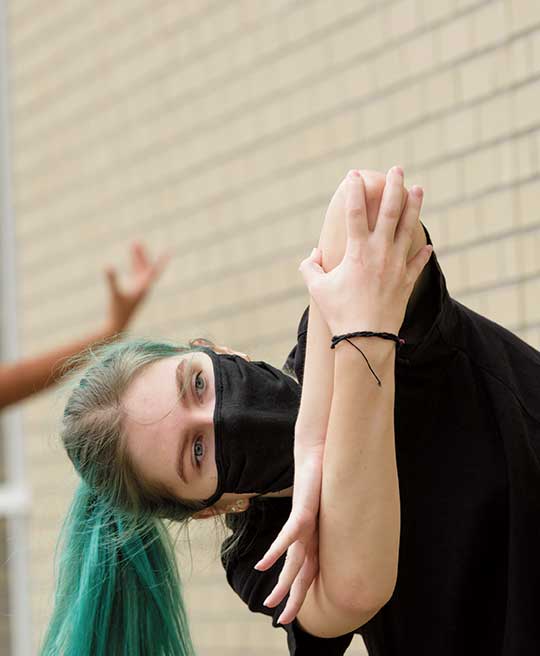 The unique approach to this course also offered a structure like no other. It met for four hours on Friday afternoons, giving class members time to warm up and become deeply immersed. Ugnė Tumonytė '24 says, "I would always look forward to Fridays. It was my last class of the week, and it would feel so good and so freeing after being confined to my computer space all week. Everybody in 'Dancing Everywhere' was just so happy to be there and was willing to experiment with what dancing is. I think of it as a kind of escape, like a safe place and a happy place to go to."
As a first-year student, Tumonytė says, the project helped her connect with peers at a time when interactions were limited and introduced her to new possibilities in the field of dance. "I had only done dances on a stage with live audiences. With Zoom, you don't have to think about the stage but about the screen," she says. "My project looked into how movement could appear different from different angles of the camera. I would never have thought of that if it wasn't for COVID. I learned so much from this project—and I had never danced outside before! This changed my perspective of dance, even though I've been doing it for a long time."
With only six students in the class, Kyle says, the collaborative atmosphere encouraged student agency and creative inquiry. "I was impressed by the level of ownership they brought to their work and how individual it was. They seemed genuinely free to experiment," he says. Even though many students had never choreographed anything before, the typical hierarchy of a studio seemed to blur, with community building coming to the forefront and students leading the work on their own pieces.
"Everybody could create their own piece in their own process. There wasn't a 'correct' process," says Clare Donohoe '22. "My piece was focusing on the little joys of quarantine, with a film focusing on isolated, specific parts of the body. I gave everyone a framework of what I wanted them to do, but then they could improvise their own dance," she says. "Having 10 weeks to create one piece was really freeing. It was a great experience and was helpful to have a way to express myself in these times."
Instead of dwelling on limitations, the project's participants embraced new opportunities. "It's so easy, during the pandemic, to focus on what we can't do: we can't be on a stage, we can't be together as much as we'd like," Pappas says. " 'Dancing Everywhere' explored what do we have? What is possible?"
Adds Kyle, "Rebecca and I share a delight in dance as an expression of movement writ large, not limited by what people think qualifies as dance or where it should occur. This project blasts open the notion of where dance is expected to occur. Dancing is living. Maybe the project is asking, when aren't we dancing?"
OTHER DEPARTMENT PROJECTS
"Performing Hartford":
Pappas partnered this year with Jasmin Agosto '10 of SageSeeker Productions to create this Community Learning course and performance series connecting students with Hartford artists through discussions, virtual performances, and question-and-answer sessions. "This was a great approach to the community building that I think we're going to need more of going forward," Preston says.
InterArts Gateway:
Preston invited artists from around the world to talk to students in the first-year program about what it is to be an artist. Students met remotely and created their own art. "They forged this incredible community," Preston says of the students. "They encouraged each other to be more honest and more generous as a class than I've ever seen."
Quarantine Complex:
"Director Terrell Sledge's docu-style performance project looks at the pandemic and its effect on us," says Preston. "Students interviewed real people in the fall and are creating a final spring project that's partly filmed and partly happening live. It's using the current limitations to see what else we can do and flex some other muscles. I hope the flame that makes me love theater—and makes our students love it—is still flickering, being fanned at times, and will come out even stronger when we get through this."