Trinity Trustee Michael J. Kluger '78, P'13, retiring from the board this month, said he has wondered why so few people know about the historic Atlantic Conference. After a 40-year career on Wall Street, the Trinity history major thought perhaps it was time to write a book.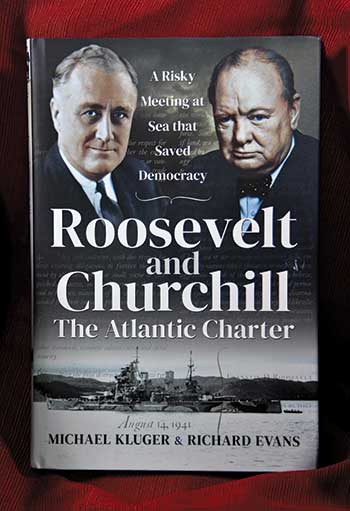 Roosevelt and Churchill, The Atlantic Charter: A Risky Meeting at Sea that Saved Democracy, by Kluger and his British co-author, Richard Evans, was published in January 2021.
"Over many years, there has been this relationship between Great Britain and the United States that has been mutually beneficial, and beneficial to the world," said Kluger. "There's nothing better to show what good things have happened from that relationship than the four days in August 1941 that FDR and Winston Churchill spent meeting at sea off the coast of Newfoundland.
"I felt it was timely—particularly with the resurgent 'America First' movement—to remind people of what the two leaders accomplished in the very dark days prior to the United States entering World War II. They met 120 days before Pearl Harbor and discussed many issues related to defeating the Nazis. At the conclusion of their meeting, they issued a joint proclamation, which came to be known as the Atlantic Charter. A little more than 200 words, it covered eight points outlining how civilized nations should act. Since its release, most democratic nations have adhered to the charter's points and principles, and the nations of the world have avoided another world war."
After Trinity, Kluger earned an M.B.A. from the University of Chicago and built his career in private equity, focusing on health care industry investments. He and his wife, Heidi Greene '78, P'13, reside in Palm Beach, Florida, but maintain a home in Redding, Connecticut. The hour-and-a-half drive from Redding to the Franklin D. Roosevelt Presidential Library and Museum in Hyde Park, New York, meant invaluable access to a trove of material. Likewise, Kluger's co-author had important access to the Churchill Archives Centre at Churchill College, Cambridge.
Kluger's keen interest in history was sparked by the captivating lectures of then-Northam Professor of History George Cooper. Kluger said he was surprised at Honors Day 1978 to be awarded the George B. Cooper Prize in British History.
"Cooper's focus was 18th-century Britain, and he was amazing," said Kluger. Cooper passed away in 1995, but Kluger suspects he would have been pleased about this book. "Other than my mother, George Cooper would have been the proudest."
See a Virtual Long Walk event with Kluger and read his thoughts below on his writing mentor, Milla Riggio, James J. Goodwin Professor of English, Emerita.
Milla Riggio, mentor
Michael J. Kluger '78, P'13 recalled when, early in his Trinity career, he gained a writing mentor whose influence turned out to be profound.
"I took 'English 101' with Milla Riggio [James J. Goodwin Professor of English, Emerita], spring semester of freshman year," said Kluger. "She called me aside at the end of the semester and said, 'You know, Michael, you actually do have something to say when you write, but you need to understand a bit more about sentence construction.' "
Riggio suggested Kluger pick three books he enjoyed and write a five-page, typed paper on each. She provided her home mailing address so he could send the papers to her over the summer.
"She marked up each of those papers with her edits and comments—she literally rewrote them, I have to admit. And it changed my life," said Kluger. "I went from being a B student to an A student."
Some 40 years later, Kluger said, he was delighted to seize a moment to thank Riggio publicly during a 2018 meeting of the Trinity Board of Trustees. It was at a point in the agenda when retiring faculty members, including Riggio, were being recognized, and, as a trustee, Kluger saw his chance to stand up and clink his glass to signal that he wished to make a toast.
"I was very, very pleased to have the chance to raise a glass and share that story and to thank Milla. I believe what I said was that I'm sure I'm not the only student that Milla helped during the summer. I'll bet over the years she's been a mentor to many, many others."