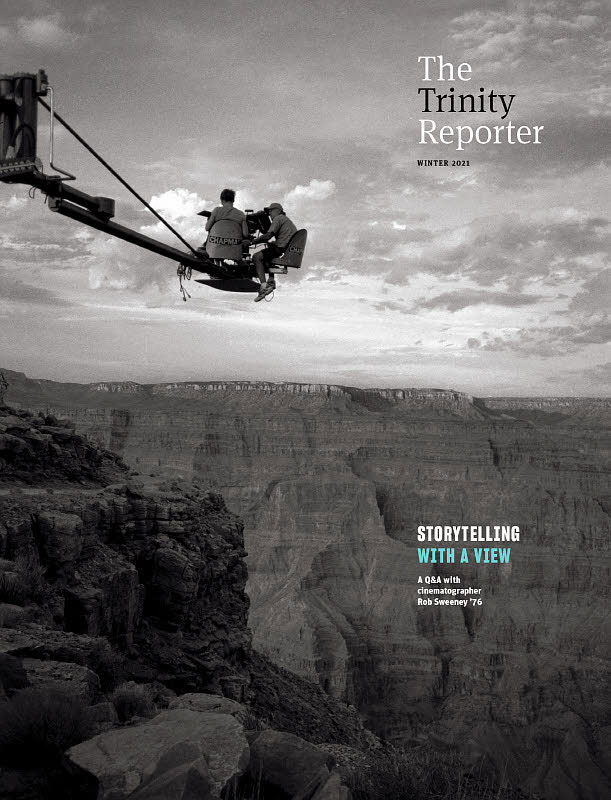 You may notice that what you're holding in your hands feels a little lighter than usual. Due to the pandemic and its attendant financial strain on the college, we needed to make cuts to the magazine budget. Rather than go back to a digital-only version (most of the comments we received from you about that were negative), we found savings by limiting this winter issue to the content that, according to the recent reader survey, you most like to read.
In these pages, you'll find alumni stories—in the Volunteer Spotlight and Q&A columns—and Class Notes. You'll also find the In Memory section of obituaries for those who have passed away. In addition, this issue includes our usual Alumni Events, as well as the Endnote, a letter from Trinity President Joanne Berger-Sweeney.
We're planning for a full spring issue that includes all of the above plus the longer feature stories you're used to receiving in each magazine; we hope that this abbreviated issue is a one-time occurrence, but, as with many things affected by the pandemic, we just don't know for sure.
I hope that you enjoy this winter issue. As always, I invite you to send feedback on content to me at sonya.adams@trincoll.edu; I may include your letter in a future issue of the magazine.
—Sonya Storch Adams