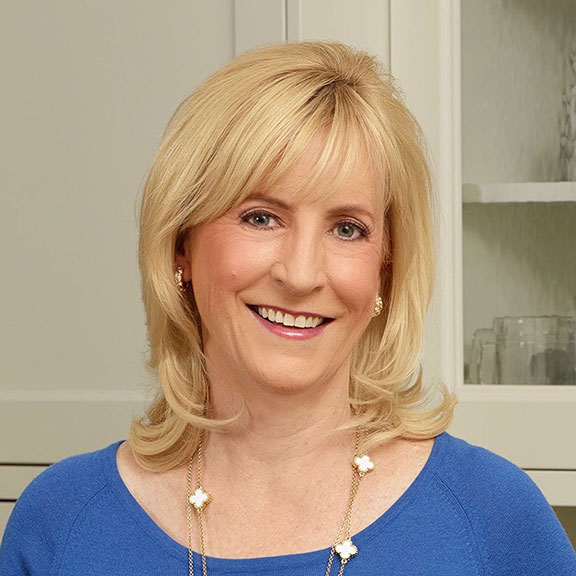 DEGREE: B.A. in economics
JOB TITLE: President and founder, A Well-Seasoned Kitchen
FAVORITE TRINITY MEMORY: Starting our freshman year, my roommate Cynthia Rolph Ballantyne and I were the managers of the Trinity men's squash team. Coming from Colorado and Montreal, respectively, we loved traveling with the team to all the other schools around the Northeast. Having spent little time in New England, I thoroughly enjoyed seeing other parts of the area and what the other school campuses were like. We also formed strong friendships with many of the players (and the coach), who we're still good friends with today.
What led you to a career in the culinary arts? I have always loved to cook; in fact, I hosted my first dinner party at the age of 16. While at Trinity, Cynthia [Rolph Ballantyne '80] and I often hosted dinner parties at friends' apartments. My mother, Sally, was known for her effortless style and smart sensibility when it came to home cooking and entertaining, and she taught me a lot over the years. So, when she began to suffer from the effects of early-stage memory loss, I decided to engage her in the kitchen, evoking family memories and collecting cherished recipes. The time we spent together led us to write our first cookbook, the award-winning A Well-Seasoned Kitchen. While our cookbook initially was a personal project, it allowed me to transition to the next phase of my career and pursue my real passion, going from successful cable television senior executive to culinary professional.
How has your work evolved over time? Well, it all started with one cookbook. Now, I have two award-winning published cookbooks and a successful food blog/recipe website, and my recipes and entertaining ideas have been featured in numerous regional and national publications. I also teach cooking classes and am frequently invited by local broadcast stations and cable networks to conduct cooking demonstrations. I also do a lot of public speaking on a wide variety of topics: creating a meaningful relationship with an aging parent, finding the courage to switch careers and pursue your passion, kitchen how-tos (cooking with herbs, cooking seasonally, etc.), and stress-free entertaining tips, among others.
What do you enjoy most about what you do? Inspiring people to cook delicious meals at home. Nothing makes me happier than when someone posts a comment on one of my recipes or on social media or sends me an email, telling me that they made one of my recipes and everyone loved it. I also enjoy hearing how they modified one of my recipes to make it their own, that I was able to inspire them to create something that was uniquely theirs, that they could be proud of.
How do you think COVID-19 has changed home cooking? There's even more focus on comfort foods, with a preference toward updated versions or those with a unique twist on the traditional approach. There's more desire for recipes that can be made with pantry and/or readily available ingredients. Also, more focus on one- and two-bite appetizers for socially distanced gatherings. More baking, especially bread. Consumers continue to want quick and easy recipes, or recipes that can be prepared now, with a portion frozen for later baking/reheating.
How did your time at Trinity prepare you for the work you do? First and foremost, it taught me to how to think, how to problem solve.
What was the most memorable course you took at Trinity? I don't remember the exact name; I think it was "Reason and Emotion in Literature." What I learned changed the way I looked at literature forever. Plus, the class was held in the Religion Department, which was in a house on Vernon Street, in the evening in front of a roaring fire.
Did you have a professor who was particularly influential? I would have to say it was Professor [Albert] Gastmann. One of our assignments was to conduct class for one day. We had to research a topic and then prepare and deliver a lecture. While I was nervous at first, I quickly discovered that I liked public speaking! And, Professor Gastmann told me I was very good at it and encouraged me to keep that in mind as I pursued any future career. I was just 25 years old when I was first invited to speak at a national cable TV conference, and it was the confidence I gained from his encouragement that allowed me to accept the invitation. I went on to speak several times a year at national conferences and conventions throughout my 25-plus-year cable career.
For more on Roper, visit www.seasonedkitchen.com.