Stephanie Apstein '10 is an award-winning senior writer for Sports Illustrated

By Rhea Hirshman
Photos by Caroline Voagen Nelson
Stephanie Apstein '10 did not have an auspicious early relationship with athletics. While she was "OK" at fencing, she was given the position of backup shortstop on her high school softball team. "They set me on the field with the actual shortstop because they didn't know what else to do with me," she says. And, at the end of one season, when each player received a signed softball from the coach with an encouraging message about her progress, Apstein's ball read, "Trying is everything."
Still, as someone growing up near Boston, Apstein learned that "you have to know what the Red Sox are doing, or they won't let you live there," and she found that following and rooting for a team offered a sense of belonging during the ups and downs of high school.
She also began to recognize some of the intricacies of the game and its rules. "I was very bad at sports, so I thought they were just a brute activity," she says. "But as I paid attention, I realized there were elements and complexities that might be interesting and worth exploring."
Now Apstein is an award-winning senior writer for Sports Illustrated with Major League Baseball (MLB) as her primary beat.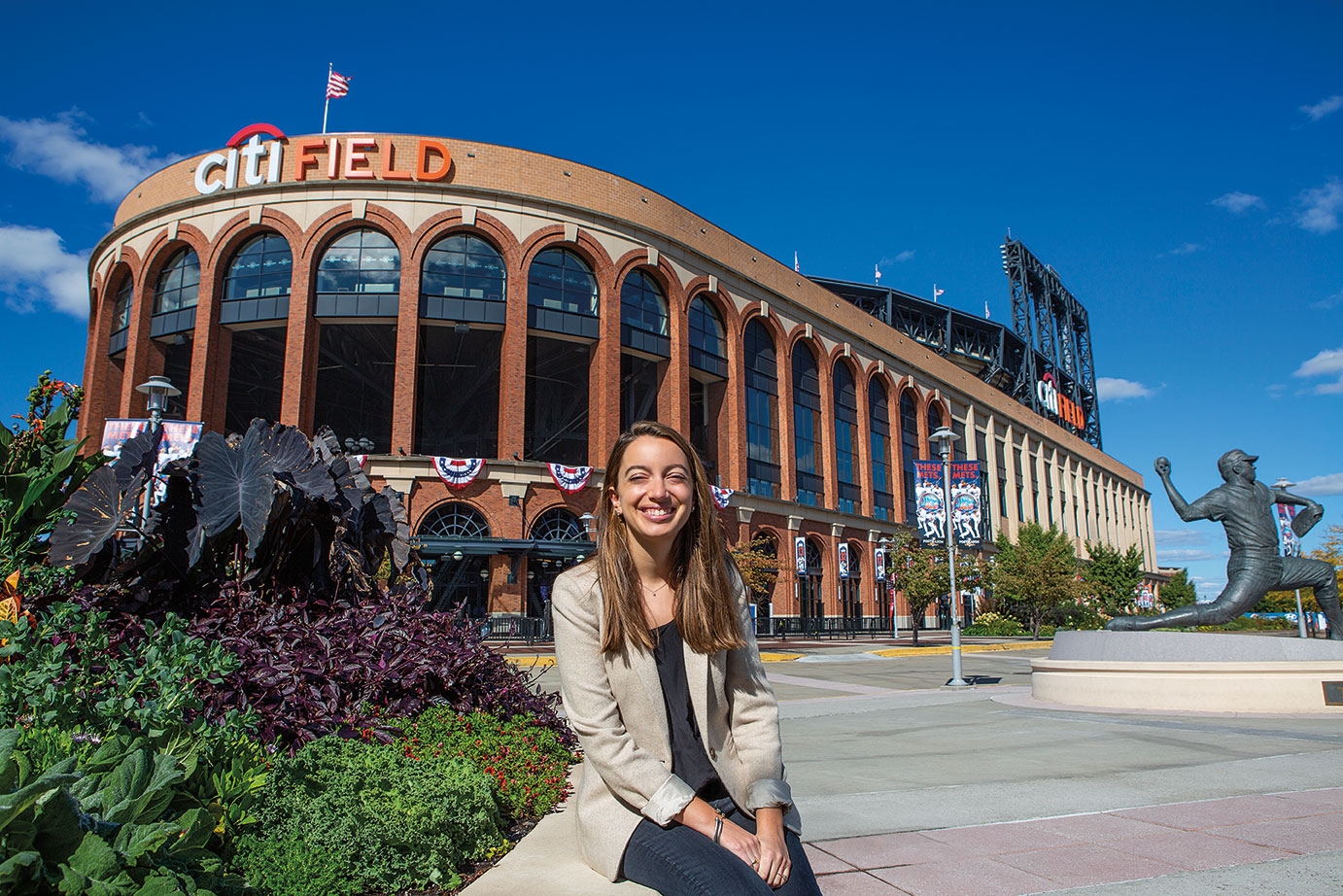 Apstein's sports writing took shape during her first year at Trinity College, when she joined the staff of The Trinity Tripod newspaper and began covering swimming and diving—two sports about which she initially knew nothing. "But everyone was so generous," she says, with the coaches and athletes explaining what she needed to understand until she became comfortable in her role.
That same openness and generosity helped drive Apstein's decision to enroll at Trinity, even though her campus visit was on an early spring day dampened by freezing rain, "probably the most disgusting weather day of the year," she remembers. Still, she found the campus beautiful and was impressed by the individual attention both during the visit and once she was accepted, from the highly personalized acceptance letter to lengthy phone calls with professors in her areas of interest. "Everyone I talked with envisioned me as part of the community," she says, "and that mattered a lot."
Still, with some typical first-year jitters, she worried about fitting in, so she followed her mother's suggestion to arrive early for pre-orientation. There she met people who would become some of her best friends. She also found a sport that suited her when she was persuaded to join the rowing team, where she was the coxswain all four years and captain her senior year. She majored in French and Italian, worked with Habitat for Humanity, joined the staff of the Ivy yearbook, and participated in Model U.N. for all four years.
And she continued writing for the Tripod, eventually becoming sports editor and then editor-in-chief. She especially appreciated covering sports at a Division III school like Trinity, where the athletes she wrote about did not receive special attention. "There's great support for athletics at Trinity," she says, "but they are also kept in context. Our athletes are no more or less important than students who act in plays or are involved in student government."
From Trinity, Apstein enrolled in the 10-month intensive master's program at Columbia Journalism School. Journalism degree in hand, she took an internship at Sports Illustrated, working her way up from fact-checker and copy editor to senior writer.
Apstein writes for SI's monthly print publication and its website, covering daily news stories primarily about MLB both on and off season and occasionally about professional golf. She also writes features and cover stories. In 2021, she won two Associated Press Sports Editors awards—one for overall beat writing, the other with writer Alex Prewitt for their cover story exposing pitch doctoring in MLB. Titled "This Should Be the Biggest Scandal in Sports," the article confronts the issue head on: "To understand the fiasco of baseball's 2021 season, which people around the game describe as sullied by rampant cheating to a degree not seen since the steroid era, all you have to do is pick up a ball."
While a scandal of this sort is major sports news, Apstein also is committed to telling athletes' stories. She learned a great deal about developing those stories from the subject of her senior thesis at Columbia, Fernando Perez, an outfielder for the Chicago Cubs (now a coach for the San Francisco Giants) and a published poet. "Fernando helped me understand how professional athletes think," she says.
For instance, she notes that asking an athlete how it feels to win the U.S Open or the World Series is not likely to yield a response that can drive a story. "Top athletes may be playing in stadiums with 50,000 people screaming at them. Their athletic skills may have no relationship with skills required for dealing with the media," Apstein says. Instead, athletes are more likely to be able to describe their crafts; a baseball player might be more comfortable talking about how he knows where to place his hands on the bat or why it's important for a fielder to get the glove all the way down in the dirt. Those kinds of conversations, she says, can open the door to more nuanced and personal stories.
A highlight of Apstein's career thus far has been covering the 2020–21 Summer Olympics in Tokyo and the 2022 Winter Olympics in Beijing. "In the Olympics, something is happening every minute," she says. "My colleagues told me that you're inevitably in the wrong place a lot of the time—it's just the nature of the event." But, in both Tokyo and Beijing, Apstein lucked out. In Tokyo, she was assigned to gymnastics at a moment when much of the world was transfixed by the triumphs and struggles of Simone Biles. Apstein had just written an SI cover story on Biles, giving her the background to present a major sports story with resonance beyond gymnastics and even beyond sports.
And, in Beijing, assigned to figure skating, Apstein once more found herself covering a story with far-reaching implications: the doping scandal surrounding 15-year-old Russian figure skater Kamila Valieva. "Again," she says, "I was in the right place. But there is nothing fun about the story of a teenager forced to live out a nightmare in public. I felt that I was doing work that people cared about and was able to remind fans of who the villains really are."
Going forward, Apstein wants to keep writing. "A lot of people move from writing to editing. I understand why, but I like the reporting. I like that search for info. I like humanizing the people."
Humanizing, she emphasizes, does not mean deifying. "Too often, individuals who are groomed from an early age as top athletes are told that other aspects of their lives are not important; selfishness becomes beneficial to them," she says. "Then we demand that they be role models, something they are unprepared for. Too often, fans will excuse or ignore problematic behaviors because they want their team to win."
But, Apstein says, there also is the joy of sports, their ability to unify, to create community, and to bring out the best in those who play and watch. And sports can send powerful, positive messages, as when athletes work for social justice or when the U.S. women's soccer team starts getting paid the same as the men's.
"Most of all,' Apstein says, "these stories are human stories, and I want people who don't particularly care about this team or that to read and enjoy my writing."
Read Stephanie Apstein's work, including the award-winning Sports Illustrated story on pitch-doctoring in Major League Baseball at: https://www.si.com/mlb/2021/06/04/sticky-stuff-is-the-new-steroids-daily-cover
Other stories: https://www.si.com/author/stephanie-apstein