From Trinity College to next steps
By Andrew J. Concatelli
Photos by Nick Caito
The story of the Class of 2023 is one of creative, nimble, and determined students forging their own paths and thriving during one of the most unusual and challenging four-year spans in Trinity College's history. The Trinity Reporter originally spoke with the following five seniors more than three years ago, soon after they arrived on campus as new students in 2019 and months before the world first heard of COVID-19. As Azka Hassan '23 says, "It feels like so long ago, but at the same time it feels like just yesterday." Here, we learn about their memorable Trinity experiences, how they achieved their goals, and what they've been inspired to plan to do after they graduate in May during Trinity's Bicentennial year.
MAGGIE POWERS
HOMETOWN: West Hartford, Connecticut
FLASHBACK TO FALL 2019: "My time at Trinity will hopefully be filled with growth that leads me to be engaged with my education and my community and to become more of an independent thinker who challenges our social and cultural norms."
Maggie Powers began her college experience by studying for a semester with a dozen fellow first-years in San José, Costa Rica, through the Global Start program. Then, her first semester on Trinity's campus was cut short when classes went remote in March 2020. "We were welcomed by students and faculty into a close-knit community on campus, but then the start of the pandemic was shocking," says Powers, who chose to spend the following year studying remotely as well. "It was a huge, transformative time of learning humanity and grace. There were extraordinary things going on in everyone's lives."
When she first joined the Trinity community, Powers thought her interest in restorative justice may have led to a major in urban studies or women, gender, and sexuality; instead, she found her place in the American Studies Department and is pursuing the five-year B.A./M.A. program, with a particular interest in the digital humanities. "I believe in exploring alternatives to written reports as products of academic studies," she says. "A digital humanities approach makes knowledge open to anyone. It moves discussions which traditionally only happen in classrooms to a more public-facing, accessible forum." To that end, she has produced a podcast, published websites, and worked on building digital archives. Some of her work has taken place at the Watkinson Library, the home of Trinity's rare books and special collections.
Powers has been an enthusiastic participant in student life—attending a cappella concerts, supporting athletics, and spending time with friends in the Underground Coffeehouse. "I still have two of the same best friends that I met on day one in Costa Rica," she says. Powers also enjoys being a first-year seminar mentor. "I appreciate the opportunity to become close with and help the future classes at Trinity," she adds.
"I'm grateful to Trinity for allowing me to forge my own academic path because I'm a very independent learner," says Powers, who plans to pursue her interest in the digital humanities as she completes her master's degree and into the future. "Without the pandemic and without everything being virtual, I don't think I would have tapped into being a creative, digital student."
RAY ALVAREZ-ADORNO
HOMETOWN: Newark, New Jersey
FLASHBACK TO FALL 2019: "I'm open to anything that's thrown my way. . . . In my time here at Trinity, I want to focus on not only getting smarter but also becoming a better person and a more accessible person to talk to."
With interests ranging from politics to poetry, Ray Alvarez-Adorno wanted to soak up all he could at Trinity. He decided on a major in anthropology and sees a future in graduate school, possibly pursuing a Ph.D. focused on Puerto Rico. "I would still love to be a teacher," he says. "Politics is not off the table, but I have a lot more to learn." During his time at Trinity, Alvarez-Adorno has been a student researcher and a teaching assistant. He says, "I try to extend a hand to other students whenever possible."
Outside of the classroom, Alvarez-Adorno is heavily involved with engagement in Hartford, both as a student worker at Trinfo.Café—a community space open to the public—and as a student member of the advisory board of Trinity's Center for Hartford Engagement and Research (CHER). At Trinfo, he has prepared taxes with the Volunteer Income Tax Assistance program. "Trinfo is one of the best spaces on campus," he says. "I've gained a relationship with Hartford that makes me feel like a person, not just a student who is here to get a degree. I want to give back. I'm here to learn and create relationships, and that's going to make me a better, smarter, more capable person."
Being at Trinity and in Hartford during the pandemic challenged the definition of community, Alvarez-Adorno says. "We're so used to seeing it physically; the pandemic helped us digitally exist in new forms and reconsider what we can do with public spaces," he adds. "I think my class [peer group] really considers alternative ways of community engagement, whether through arts, music festivals, or other forms." Some of Alvarez-Adorno's favorite Trinity memories are from his work as a student organizer for the Temple of Hip Hop, which produces the annual Trinity International Hip Hop Festival.
"The pandemic made time feel shorter, but it made us open ourselves up to new perspectives and think about things from all corners," Alvarez-Adorno says. "I feel like I'm a better person now, not just in the work I do, but how I carry myself."
AZKA HASSAN
HOMETOWN: Malé, Republic of Maldives
FLASHBACK TO FALL 2019: "I want to become the person that 5-year-old me would be proud of. In my future, I see a lot of growth, a lot of accomplishment, and, most importantly, a lot of hard work."
When Azka Hassan arrived on campus as the first Trinity student from the Maldives, she seized the opportunity to represent her country at the college's Festival of Nations. "I feel like Trinity has given me the space to really show myself and my country to the rest of the community," she says.
Hassan has helped plan and promote events at the International House. She is president of the International Student Advisory Board and a former intern in Trinity's Office of International Students and Scholars, helping to welcome students from all over the world. After finding value in her own introduction to Trinity, Hassan stayed involved with the Promoting Respect for Inclusive Diversity in Education (P.R.I.D.E.) pre-orientation program through her work in the Office of Multicultural Affairs. "At Trinity, you learn so much, grow as a person, and are opened up to so many different perspectives. It's an amazing opportunity for personal growth and to challenge yourself," Hassan says.
Following a lifelong interest, Hassan pursued a studio arts major, as she predicted three years ago. But she found a new passion through a course she took remotely during COVID and added a second major in educational studies. Through that class, she helped a teacher at Hartford's Expeditionary Learning Academy at Moylan School run lessons online and created a storybook using drawings of the students to engage them. "Studio arts helps me think about how to mix things up a little and make education more interesting for the students," she says.
Hassan persisted through the struggles of studying at home, several time zones away, at the height of the pandemic. She has had op-eds about educational issues published in the CT Mirror and will have her senior studio arts thesis exhibited this spring. After graduating, Hassan plans to gain experience in schools back home before pursuing a doctorate in education. "I'm interested in the education system in the Maldives and helping to improve it in any way I can," she says. "I think 5-year-old me would have been proud, even three years ago, of how far I had come. She is proud now, and she will be proud in the future."
GIFT NOSAKHARE
HOMETOWN: The Bronx, New York
FLASHBACK TO FALL 2019: "I took psychology in high school, and it was my favorite subject. I want to go deeper into that field to see if it's something I want to do. . . . I hope Trinity can break me out of being so reserved and help me be more open-minded."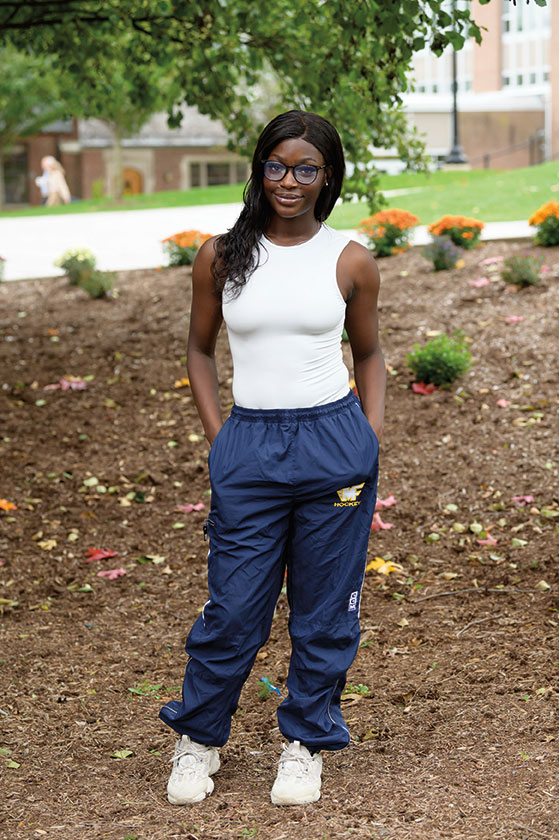 "When I came to Trinity, I was very excited for the unknown, but also kind of nervous," says Gift Nosakhare. "It's so cool to think about how far I've come." As co-president of the Trinity African Students Association (TASA), Nosakhare helps to organize its annual fashion show on campus. "My first year, I was on the sidelines watching the show. I was scared to join the group; now I get to help lead it," Nosakhare says.
Rather than pursuing a career in medicine, as she thought she might when she was a first-year student, Nosakhare is exploring careers as a therapist or social worker. "Taking courses here and talking with faculty and other students helped me choose to become a psychology major," she says. This year, Nosakhare is part of a program called Tea@3, which pairs students with senior citizens in the Hartford area. "We have weekly chats, drink tea, and just talk about whatever they want," says Nosakhare, who plans to earn a master's degree in psychology and possibly a Ph.D.
Nosakhare says her involvement on campus helped her grow as a person. "I feel like I'm so much more open-minded now—not just with people, but with the cultures and classes that I've explored. The social climate and diverse community here are helpful in breaking you out of your shell," she says. Through her role with TASA, Nosakhare has collaborated with other student groups, including Imani: Trinity's Black Student Union and the Trinity College Black Women's Organization. She has enjoyed participating in events held by different cultural clubs, including a Diwali celebration and a Hispanic Heritage Month gala.
Nosakhare's time at Trinity has left her with some good memories during some difficult circumstances. "It wasn't exactly what I planned, but nobody planned on COVID," she says. "Our last year here is very bittersweet. Knowing that I'll take these memories with me is keeping me excited for the end of senior year. It's crazy how fast four years have gone by."
JAKE ARMENTROUT
HOMETOWN: Lyman, Maine
FLASHBACK TO FALL 2019: "Coming here as a legacy, there's a pressure to be successful. I want to have a good academic career and not let my family down. My goals are to be true to myself and to continue the legacy in a strong way."
Jake Armentrout has pursued a course of studies that has helped prepare him for what he previously said would be his next step: law school. He paired a major in public policy and law with another in classical studies. "Public policy brings in working lawyers to teach courses, so I've learned from people who are active in their fields," Armentrout says. He also notes that classical studies is applicable to the law field, with a good deal of terminology stemming from Latin. "It's helped me to be a better reader and writer," he says.
Armentrout was on campus his sophomore year, when COVID restrictions were still in place. "I was happy to be at Trinity and not isolated at home, but being here with a limited campus community was tough," he says. "We still couldn't gather socially, and the dining hall options were all grab-and-go." He worked for the Office of Student Activities, Involvement & Leadership and joined Trinity's Boxing Club, a partnership with the Charter Oak Boxing Academy, a nonprofit organization in Hartford. "It's a great mix of people from different backgrounds, and Trinity students serve as tutors and mentors to the younger members," Armentrout says.
Some of Armentrout's favorite memories from the past four years stem from his time studying at the Stockholm School of Economics in Sweden. "Study away is an incredible opportunity. You get more of a world view from outside of America," he says. Back on campus, Armentrout helped to revive the college's Pre-Law Society and worked as a stage technician for theatrical productions in the Austin Arts Center.
He next plans to work for a few years in the legal field before applying to law school and choosing a specialty. He's already started exploring some possibilities. "I got a lot of good exposure and built some relationships through an internship at a firm that does transactional law," Armentrout says. "I also liked a class I took on environmental law, which is an interesting, developing field."