How did the idea of the vacation home start?  Why are vacations such an idealized concept? Think of any vacation homes that you have visited and their surrounding areas…now here are the top ten facts you did not know about vacation homes.
Some families consider having a vacation home the ultimate goal. Although the American Dream consists of having a nice house with a backyard and a pet, many people believe that having a vacation home is an element of the fantasized notion. Not only do they let families relax, but also come together, meet new people, and explore new places.
1-One of the first known accounts of a vacation was in 1744 when Dr. Alexander Hamilton left his home in Maryland for four months for relaxation and leisure purposes. At the time, there was no reason to believe that people needed breaks to relax. It is also apparent that people did not take vacations because carriages were not an adequate source of transportation and therefore they could not travel very far. Dr. Hamilton for instance, traveled on horseback. Taking a vacation was a very unusual habit during the mid-eighteenth century in America; however, perhaps Dr. Hamilton started the trend. By the 1760's, American upper-class families were traveling to one of America's first vacation destinations, Newport, Rhode Island which happens to still be a very popular vacation spot today. [1]
2-Ironically, after Dr. Hamilton took his four-month-long vacation in 1744, doctors all over America began encouraging their patients to get away. However, it was not until the 1820's that this idea of going on vacation began. Reasons to escape from daily-life included: health issues, weather conditions, and more generally, a need for relaxation. Doctors emphasized the importance of the climate, air, and water, and how it relates to one's health in balancing bodily fluids. They also believed that warmer temperatures could cure diseases such as asthma, gout, and rheumatism. Thus began the movement of families vacationing in warm places. [2] Still to this day, doctors encourage their patients to take vacations and rest. It is not only vital to one's happiness but also their health. Companies have to let their employees take a certain amount of vacation days for their well-being.
3-Baby boomers during the late 20th century had a great effect on the vacation home market. In 1995, 44% of households believed they would be able to buy a second home within the decade up from the 26.2% in 1990. In 1994, 4.8 million households owned vacation homes or time-share condos. It was also reported that the group of people most likely to invest in second homes were those aged 35 to 50-year-olds whose kids had already left home. The article also discusses how demographics do not affect the investment in a vacation home because at the time, prices were expected to increase by an average 5% ever year. [3] It is interesting to compare these numbers to the 2000 census listed below. Surprisingly, the number of vacation homes decreased between 1994 and 2000, perhaps due to the market stability at the time.
4-Despite the belief that most people who own vacation homes occupy much of the Northeastern part of the United States, that is not true. According to the United States Census Bureau in 2000, vacation homes take up space predominantly in the northeast, south, and west coast. The Historical Census of Housing Tables: Vacation Homes shows that in 2000, there were 3,604,216 vacation homes out of 115,904,641 total homes in the United States. Out of the 3 million homes, the leading states with the most vacation homes were, Florida with 484,825, California with 239,062 and New York with 235,793. [4]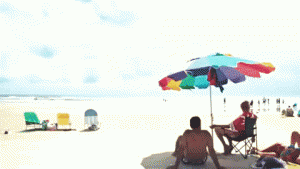 5-Not all well-known vacation destinations have always been meant for vacations. Nantucket Island is a great example of this. Situated off the southeastern part of Massachusetts, Nantucket is a small island that is known today for its beautiful beaches and quaint town. Although the island is occupied by residents all year round, it thrives during the summer months with both tourists and visitors who vacation there year after year. However, from 1800-1805 the island focused on whale fishery and was occupied by ocean-going vessels. Then in the latter half of the nineteenth century, it ultimately became a desired vacation spot. Residents of the island formed the Nantucket Agricultural Society in 1856 which helped the island create a system that could support itself. In 1840, under 10,000 people lived on Nantucket full time and that number was returned again in 2002. [5] Although there are a good number of residents, the majority of houses on Nantucket are rented out during the summer because their owners can get desirable prices from renters who are just looking to be there for a mere three-month vacation.
6-In 2008, a website called "Airbnb" launched and is now one of the world's leading online hospitality services used to rent vacation homes, cottages, apartments, etc. In 2017, Airbnb announced that it had 4 million listings worldwide in more than 191 countries, and it had over 200 million users since its launch in 2008. The website also reported that of the 4 million worldwide listings, the United States is the top country, with 660,000 listings. [6] With technology and fairly easy access to transportation, it seems as though people are beginning to travel more and are eager to visit new places. Websites like Airbnb are taking away from vacation home sales because people do not want to feel obligated to revisit the same town or home over and over again. That being said, Airbnb is benefitting many vacation towns as people have readily access to visiting almost anywhere they so desire.
7-Many people who do not own vacation homes might not know that there have been controversial tax implications in the past regarding second homes. In 1976, Congress added section 208A to the Internal Revenue Code because there was a concern that people who owned vacation homes were renting them out in order to subtract their own personal expenses. This section was intended to limit the amount of deductions those who owned vacation homes could benefit from. Owners were required to distinguish their personal expenses regarding the vacation home from their rental expenses. [7] This tax reform act of 1976 shows how the government does pay attention to those taxpayers who own second homes. Although it is clear from the United States Census Bureau that many people in the US own vacation homes, this tax reform also points to that. There was enough concern about deducting expenses regarding the vacation home that it was brought to the governments attention.
8-Although there are many benefits associated with vacation homes, such as having a generally relaxing and enjoyable experience, there are also some negative impacts. Many people neglect to consider the potential problems that arise when vacation homes take up an area, specifically a rural setting. Despite many wealthy American families having second homes in typical vacation towns such as Cape Cod, Nantucket, and the Hamptons, many less affluent families resort to more rural lands to purchase vacation homes especially if they are interested in recreational activities such as fishing and hunting. In a journal article about vacation homes, the author, Richard Ragatz, argues that in rural towns with many vacation homes, public services, such as water and sewer systems, security protection (police and fire), and means of access (highways, roads, etc.) often have to be expanded. [8] This issue is more of an economic one; however, vacation homes also generate problems that are more psychological and impact the family itself.
9-The same author, Richard Ragatz, writes about other issues surrounding vacation homes in his article, "Vacation Homes in the Northeastern United States: Seasonality in Population Distribution". Although vacation homes can improve many towns and bring benefits to new areas, they can also infiltrate on spaces if they become overpopulated. Ragatz argues that if urban settings are very concentrated with people, health issues can arise. If one person catches a disease, it can be spread very quickly. Other problems concerning the congestion of vacation homes can occur on the roads with traffic and speeding, the loss of agricultural land due to the increase in homes, and the negative impact the densely populated areas can have on the environment. [9]
10-Similar to the ideas of Airbnb, timeshares allow people to rent and share a variety of homes. The family who is looking to travel signs up in advance for a week and a place they want to go. For instance, in December they will sign up to go to Los Angeles for the week of July 4th the following year. Another family will occupy the same house the next week and so on. In 2008, it was reported that there were more than 1,600 timeshares throughout the United States with an economical effect of more than $92 billion. In 2002, a timeshare survey of 1,062 owners discovered that 62% of them intended to participate in renting a timeshare within the next year. [10] These numbers show how popular timeshares are and how those involved continuously use the program. Between Airbnb and timeshares it seems as though the public is generally moving towards renting second homes rather than owning them because they do not want to feel obligated to revisit the same vacation spot time and time again.
Works Cited
[1] Aron, Cindy S. Working At Play: A History of Vacations in the United States. New York, NY: Oxford University Press Inc., 1991. Accessed March 3, 2018. https://www.amazon.com/Working-At-Play-History-Vacations/dp/0195142349.
[2]Ibid.
[3]Smith, Anna Kates, and Mike Tharp. 1995. "The New Vacation Home Bonanza." U.S. News & World Report 118, no. 14: 64. Academic Search Premier, EBSCO host (accessed March 2, 2018).
[4] Bureau, US Census. "Data." Historical Census of Housing Tables: Vacation Homes. January 01, 1970. Accessed March 03, 2018. https://www.census.gov/data/tables/time-series/dec/coh-vacation.html.
[5] Alsop, James D. "Island Refashioning: The Nantucket Agricultural Society, 1856-1880." The New England Quarterly 77, no. 4 (2004): 563-87. http://www.jstor.org.ezproxy.trincoll.edu/stable/1559727.
[6]"Airbnb Fast Facts." Airbnb. Accessed March 4 , 2018. https://press.atairbnb.com/app/uploads/2017/08/4-Million-Listings-Announcement-1.pdf.
[7] Lawyer, Jeffrey T. "Vacation Homes, Section 280A and Bolton v. Commissioner: The Right Result for the Wrong Reasons." Duke Law Journal 1985, no. 3/4 (1985): 793-812. doi:10.2307/1372378.
[8] Ragatz, Richard Lee. "Vacation Housing: A Missing Component in Urban and Regional Theory." Land Economics46, no. 2 (May 1970): 118-26. Accessed March 4, 2018. doi:10.2307/3145169.
[9] Ragatz, Richard Lee. 1970. "Vacation Homes in the Northeastern United States: Seasonlity in Population Distribution." Annals of the Association of American Geographers 60, no. 3: 447-455. Academic Search Premier, EBSCO host (accessed March 4, 2018).
[10] Sampson, Scott E. "Optimization of Vacation Timeshare Scheduling." Operations Research 56, no. 5 (2008): 1079-088. http://www.jstor.org.ezproxy.trincoll.edu/stable/25580867.