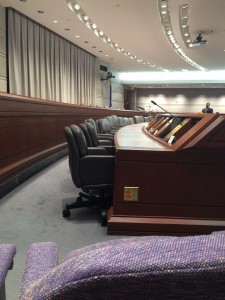 The Education Committee Hearing held on Monday March 7, 2016 featured many interesting and engaging testimonies on a variety of pressing issues facing the Education Committee in Connecticut. The hearing was newsworthy on many accounts, including discussions about special education and the controversial S.B. No. 380 Act, which would allow for teacher evaluations to be completed without factoring in student performance on exams.
Among the significant Committee bills present on Monday's full agenda was House Bill No. 5557, an act about the recruitment and retention of early childhood educators. The purpose of the bill is "To establish an early childhood educator compensation schedule for early childhood educators that ensures the retention and recruitment of qualified educators, secures a standard of living that meets such educators' needs, and reflects the true costs associated with quality standards for early childhood care and education programs." The bill obliges The Office of Early Childhood to present a new plan for increased compensation as the state moves towards requiring more highly educated teachers in the coming years.
Section 10-16p of H.B.No.5557 necessitates that by 2017, 50% of "designated qualified staff members" (DQSMs), other wise known as lead teachers, have their bachelor's degree and that by 2020, 100% of DQSMs have a bachelors degree.
Commissioner of the Office of Early Childhood, Myra Jones-Taylor, testified on behalf of her department and described some of the scholarship opportunities they are able to offer early childhood educators in obtaining higher degrees. In 2015 the Office of Early Childhood was able to allocate $968,800 towards helping roughly 250 educators with degree attainment. In the Office of Early Childhood's Plan to Assist Early Education State Funded Providers to Degree Attainment and Increased Compensation, they cite evidence of the positive impacts that employing well educated teachers has on early learning through encouraging more literacy, developing better student-teacher interactions, and more appropriate instruction.
However, Ms. Taylor acknowledges that without increased compensation, scholarships alone will not be enough to retain early childhood educators. Vice Chairman Robert Sanchez, who cited the consistently low wages received by early educators, and called on the Office of Early Development to make meaningful changes, aggressively pursued this point. The average early childhood care worker receives on average only $10.44 per hour, which is less than half of what a female elementary school teacher can expect to earn.
While Commissioner Jones-Taylor agreed with Representative Sanchez's critique of the current situation, she did call attention to the paradox that increased compensation creates for early childhood education, explaining that without an increase in their budget the Office of Early Childhood is forced to decide between increasing wages of educators, but limiting the number of children the Office can serve, or keeping wages stagnant and continuing to serve more children. "I do have serious concerns about the fiscal impact of this legislation," said Taylor in her testimony, "To ensure providers have the ability to pay these higher required wages, the OEC would have to raise the per-child rate to providers. With no additional new funds expected in this fiscal climate, the OEC would serve fewer children."
When questioned by Representative Sanchez about "unspent funds" that can be tapped into, Ms. Taylor responded that legislation passed in 2015 now allows for up to $1 million of unspent School Readiness funds to be used for scholarships. However, Jones-Taylor warned against using these funds to adjust the pay structure, in her response to Representative Sanchez, because the numbers fluctuate year to year.
Nonetheless, Jones-Taylor and the Office of Early Childhood demonstrated their commitment to finding a solution to the problem of increasing compensation and retention among early childhood educators. The Office of Early Childhood is launching a Cost of Quality Study to better analyze the costs and benefits associated with excellent early education while also addressing better wages for the educational actors. "The OEC believes the best course of action is to review the results of the Cost of Quality Study before placing a new mandate on providers we cannot afford in this new economic reality," concluded Ms. Jones-Taylor, "We will continue to develop strategies to ensure we have a robust pipeline of talent into the field and incentives to retain them."