On Thursday February 16, 2017, the Committee on Children met to discuss the impact of concussions in youth sports in Connecticut. According to HealthDay.com, in 2016 over two million children and teens were diagnosed with concussions in the United States alone. Today, during the public committee Katherine Snedaker LCSW, founder and CEO of Pink Concussions, explained why coaches, parents, and even the athletes need to be more aware of concussions, and how to spot and treat them correctly.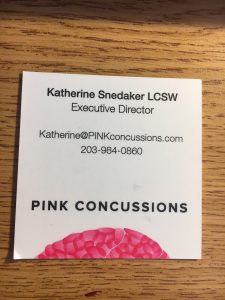 Since 2013 Snedaker has made it her mission to understand and better educate the world about the danger of concussions. She herself has suffered from concussions, but her passion for them started when her son had to take a year off from school due to a serious concussion. Now she travels the world advocating for children's safety on the sports fields.
Snedaker is currently working in Norwalk, Connecticut on a three-year project to track all reported concussions in the Norwalk school system. She is also trying to change the system of youth sports in Connecticut and make it safer for children. Since 2015, Snedaker has implemented and enforced that every coach in Norwalk, whether it be volunteers or paid coaches, has to take the 20-minute CDC concussion course before they start coaching.
It might come as a surprise that this rule has not always been implemented in Connecticut youth sports, but a lot of the volunteer coaches are not educated on concussions and their risks. Snedaker pointed out that a lot of volunteer coaches don't think they have the time, or that their players aren't at risk for concussions. However, this lack of attention only hurts the athletes. In other Connecticut towns, concussion training is not mandatory and advocates like Snedaker and other concerned parents are trying to change this.
Snedaker reminded the committee that concussions do not only happen during sports. They can happen during school recess or even at home. This is why it is important for all adults interacting with children to be educated on the symptoms of a concussion and how to proceed. When a child's concussion goes untreated and they do not refrain from physical activity, it puts the child at risk for a second concussion and an even longer recovery time. This puts further strain on the child's brain and can have severe consequences.
We also cannot forget about the children when talking about concussion education. If we educate all children on the symptoms and consequences of concussions they will be more likely to recognize the problem and tell an adult. Video games like FIFA have started to put concussion awareness into their programs. The players in the soccer game will actually sit out if they sustain an injury that may cause a concussion. This is setting a positive example for the young children who play FIFA and other sports video games.
Today, there is a learning curve when it comes to concussions. More research is being done and the education process on concussions is slowly changing. Parents and coaches are becoming more aware of the problem and they recognize that something has to be done. The leaders at the Committee on Children are eager to fix this problem and keep the children of Connecticut safe.