A cartel is an explicit agreement in which competing firms work in collusion to increase their own profits while eliminating the competition. This is accomplished as "producers and manufacturers agree to fix prices, marketing, and production". [1] Typically, that word brings to mind visions of drug cartels or organized crime. Prior to watching The Cartel by Bob Bowdon, a documentary film that claims to be making a statement on the state of education in America, while narrowly focusing in on New Jersey, cartel and public schools would not be two words which I would have thought people felt were synonymous.  Bowdon, a reporter and news anchor, comes out swinging against teachers unions, the ring-leaders of the cartel, and cites "administrative bloat and lack of oversight" [2] being behind the failure of New Jersey public schools.
The film begins by stating that New Jersey spends more money than any other state on public education yet, students continue to receive poor test scores, no matter how much money they throw at the problem. Bowdon questions what do you get with all this spending and where is all the money going? Through the use of substandard graphics Bowdon presidents the superintendents of the New Jersey schools as a figure reminiscent of the Monopoly Man.
At one point he even goes so far as to count the amount of luxury cars in the parking lot of the Jersey City Board of Education.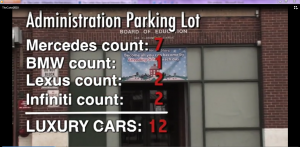 Bowdon calls New Jersey the "soprano state" and discusses how administrators receive incredulous salaries, bad teachers can't be fired and this whole process is protected as the New Jersey Educational Association (NJEA), the main teachers' union, "exert a disproportionate influence on the public policies that most affect their members." [3] This influence of the union, on politicians, school board members and even on election dates prevents administrators and policy makers from achieving educational equity and block policies that would allow for school choice.
The control exerted by the teachers' union creates "the multi-billion dollar cartel" also known as the American educational system and Bowdon's solution to the terrorism being committed by the cartel is to implement a corporate reform strategy resting on school choice and accountability. School vouchers are introduced forty six minutes and nineteen seconds into this documentary. Forty six minutes were spent narrating the problems: corruption, teachers' unions, wasteful spending as the underlying problems in education. Forty six minutes were spent narrating a story with statistics on how American and New Jersey students in particular are as a majority not proficient in reading and math on standardized tests. Bowdon's theory of school reform is that providing access to voucher and charter schools which are not run by the "cartel" will give them access "to the skills and behaviors necessary for access to economic opportunity." [4]
The film captures pieces of a NAACP debate between Reverend Reginald Jackson, Orange Board of Education and Walter Farrell, Professor of Social Work at UNC Chapel Hill. In trying to diminish the argument of the CON speaker on voucher programs, Farrell, Bowdon criticizes the way Farrell uses the luxury cars owned by voucher supports as a statement that voucher supporters too are driven by profit and far removed from the inequality they claim they are trying to solve. Ironically, didn't Bowdon count the cars in a parking lot earlier?
In his conclusion Bowdon says what we have learned is that:
"people think we should spend more on education, but they have no idea what we are spending now. When they find out they are amazed. People support higher education budgets because they think teachers should make more, but only a fraction of school spending goes to the teachers…. Schools that have to attract kids to exist are run better.  Schools that are guaranteed a supply of kids, no matter how well they do , are usually run worse. Teacher's unions are designed to protect the jobs of adults, not help kids. Teacher tenure helps protect bad teachers, the good teachers are often just as frustrated with the system as anyone. Teacher unions are not like other unions because they have a huge hand in selecting the superintendents with whom they'll later negotiate. School vouchers would give poor parents an alternative to terrible schools.  Defenders of the status-quo say poor parents should not have the option of a private school even if it's better or cheaper."[5]
What we do not seem to have learned though is how this corruption will be avoided in privately-run schools, how this competition is playing out in different states, how curriculum and teaching will be improved, if there are different ways to assess learning besides standard tests, how much of the money given to these school districts with a majority of minority students is spent on things considered obstacles to learning (such as malnutrition) and in providing those resources to students and when students stopped being students and became customers.
---