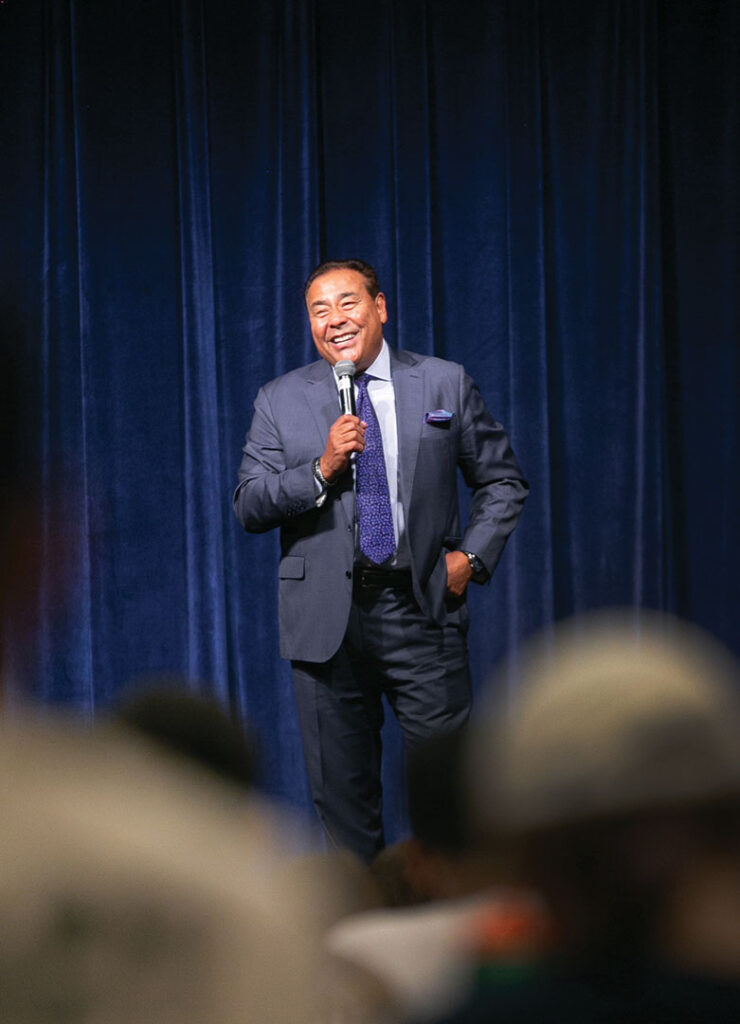 John Quiñones, broadcast journalist and host of the ABC television show What Would You Do?, came to Trinity on September 17 to help kick off Latine Heritage Month at the college. Members of the Trinity community gathered in Mather Hall's Washington Room to learn about Quiñones's personal and professional journey and how he ultimately used education as a tool to build his legacy as a Latine. But first, he noted, he had to break many barriers on his way to becoming one of the first Latine correspondents at ABC News.
Quiñones shared that he came from humble beginnings, including working the fields as a migrant farm worker. As a Mexican-American, he grew up in a Spanish-speaking household with his mother, a housecleaner, and his father, a janitor. Quiñones did not start learning English until the first grade.
Since age 13, Quiñones dreamed of pursuing journalism. The government anti-poverty assistance program Upward Bound enabled him to become a first-generation college student. However, when applying to journalism jobs in his home state of Texas, he was met with rejection due to quotas for Latine journalists. While he felt like giving up, he persevered and went on to earn a master's degree in journalism from Columbia University. Eventually, Quiñones was recognized with seven Emmy Awards.
On his show What Would You Do?, Quiñones uses social experiments to illuminate current social and political issues in America. Hidden cameras capture how ordinary Americans react to injustice. To date, more than 1,000 scenarios have been presented in the show's 14 years of filming. In the words of Quiñones, "Do you step in or step away when no one is watching? Silence is complicity."
Quiñones called on the audience to be "active bystanders and not just passive observers." "Put yourself in the shoes of the victim," said Quiñones, who noted that Latines and others who face adversity are often most willing to be compassionate with others because they know firsthand what it is like to face discrimination. "We need to give a voice to the voiceless."
To access the Trinity College Library's collection of materials that spotlight the histories, cultures, and achievements of Latine communities and a music playlist curated by student group La Voz Latina, please visit https://courseguides.trincoll.edu/Latine_Heritage_Month.