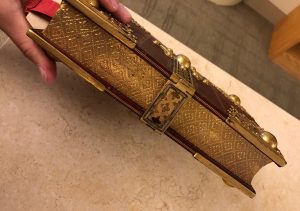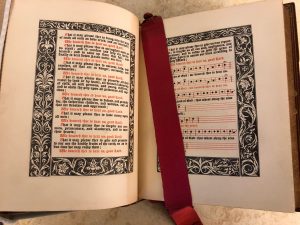 Among the Watkinson's extensive collection of rare books and ancient texts are gaudy Bibles and religious books. These eye-catching books are adorned with heavy, metal clasps, gold leaf, and other ornate designs. Of these ostentatious books, two stood out as especially flashy. The first book I found while I was shifting. It was an incredibly heavy book with two thick clasps adorned with crosses. The cover and textblock are both overlaid with gold leafing, adding to the dramatic effect. The second book is just as extravagant. The cover is decorated with gold designs and an intricate clasp. In the four corners are small, gold domes that add depth and a three-dimensional element to the cover. The text block is also decorated with gold leaf that has an ornate floral design. The irony of these books is that they are both about religion. There are many teachings in the Bible that discourage flaunting wealth and being overly extravagant. For example, a proverb in the King James version of the Bible states, "the love of money is the root of all evil…" 1 Timothy 6:10. This is a cautionary verse about the dangers of greed and money. It seems contradictory to create religious books with very flashy covers. Or maybe it was okay to make them flashy because they were about God's teachings? Either way, they are interesting to look at and worth checking out at the library.

Posted by Lizzie Smith, '20, Watkinson Student Assistant
This entry was posted on Thursday, August 23rd, 2018 at 7:12 pm and is filed under
book history
,
Students
,
Uncategorized
. You can follow any responses to this entry through the
RSS 2.0
feed. Both comments and pings are currently closed.