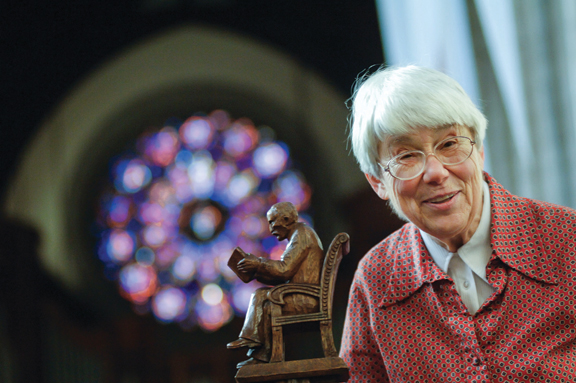 Trinity College has received a substantial bequest from the estate of Marjorie Van Eenam Butcher, professor of mathematics, emeritus, who was the College's first female faculty member. The gift will establish two endowed positions dedicated to mathematics and Chapel music, along with an endowment to provide for occasional major work to maintain the Trinity College Chapel's pipe organs in prime condition.
Butcher, who passed away in April 2016, and her husband, Robert W. Butcher, who died in 1993, shared dual passions for applied mathematics and chapel music. The John Rose College Organist-and-Directorship Distinguished Chair of Chapel Music is one of the endowed positions created by Butcher's planned gift; she named this chair in honor of John Rose, College organist and director of Chapel music at Trinity since 1977. Rose is the first to hold the chair.
The second position created is the Marjorie V. and Robert W. Butcher Distinguished Professorship in Applied Mathematics. Butcher and her husband met during graduate study and actuarial teaching at the University of Michigan. Hartford was destined to become their home city as much by virtue of her Trinity teaching career as his with the Travelers Insurance Companies. For more than 30 years, he worked for Travelers as a life, pension, property/casualty, and research actuary. Both were boosters of the liberal arts tradition at Trinity and felt that the College's already robust Mathematics Department could be even stronger if a larger applied mathematics component were present.
At the June 10 memorial service held at the Chapel in honor of Marjorie Van Eenam Butcher, Trinity President Joanne Berger-Sweeney was among those who spoke. "During her 33 years of teaching at Trinity, Marjorie Butcher's goal was always — in her words — to 'try to convey the elegance of mathematics,' " said Berger-Sweeney. "Clearly, she accomplished that mission extraordinarily well, as attested by the generations of former students who have gone on to successful careers."
Other Trinity community members who eulogized Butcher included James F. Jones, Jr. H'14, president and Trinity College professor in the humanities, emeritus; Professor of Mathematics David Mauro; and Borden W. Painter, Jr. '58, H'95, president and Trinity College professor of history, emeritus.
Please see page 74 (the third page of the pdf download) for Butcher's obituary.