Helt's book guides parents of infants at risk of developing autism
Photos and story by Andrew J. Concatelli
Inspired by her own children, Trinity College Assistant Professor of Psychology and Neuroscience Molly Helt has co-authored a new book to teach parents how to provide early intervention treatment for infants at risk of developing autism spectrum disorders (ASD).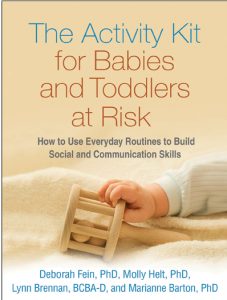 The Activity Kit for Babies and Toddlers at Risk: How to Use Everyday Routines to Build Social and Communication Skills (The Guilford Press, 2016) shows families — in easy-to-understand terms — how to support their child's development by incorporating scientific principles into their day-to-day lives, even before receiving an official ASD diagnosis.
"I'm the parent of a child with autism, and parents are told to give their children up to 40 hours of intervention a week," Helt says of her experience with her oldest child. "So what I found myself doing was adapting a lot of applied behavioral analysis programs to daily routines like bathing, changing, feeding, or going to the playground."
Concern for her second child led Helt to look into early intervention techniques for children who are considered "at risk." She knew that children who have an older sibling with autism have a roughly 20 percent chance of developing autism, but she could not find much information about parenting at-risk children. "Autism is something we can't diagnose until 18 months at the earliest, and I couldn't just sit around for 18 months and do nothing," Helt says. In reality, a child may be significantly older than that before treatment begins. "The average wait time once a parent identifies that they have a child with a problem, to get an appointment [for diagnosis], is nine months nationally," she says. "These are crucial months in which a child's brain is the most plastic and developing the most quickly."
To prepare for writing the book, Helt and her co-authors first researched typical development and ASD treatment programs. They then adapted those concepts for families with young children who may have ASD — or who may be at risk — to use anytime, anyplace. "It's basically all about getting autism therapy into your day-to-day life," says Helt, who holds a dual Ph.D. in clinical psychology and developmental psychology.
The book's introduction says, in part, "From the moment your child wakes up to the time she goes to bed, you have many opportunities to build language, social skills, imitation, and pretend play. This book contains games to play while you dress your child, rhymes and songs to use during mealtimes and chores, ways to enrich development and learning during play and errands, and more."
Helt says she hopes the book "serves as a 'how-to' on how to do early intervention yourself. We know from autism research that autistic children will do things for their parents they won't do for anyone else. I really want to inspire parents, to say, 'You can do this.' Even if you have a job, you have to eat with your kid and bathe them, and so you can be part of this plan. A lot of these activities are embedded in games, and we want it to be fun and manageable. It doesn't have to be something that takes away from living your life."
Helt will test the early intervention program as part of her ongoing research at Trinity. "I plan to recruit parents of children at risk and will begin to offer them parent training on the overarching principles in the book," she says.
The Activity Kit for Babies and Toddlers at Risk is Helt's first book; the publisher is translating the book into Korean, Turkish, and Chinese and plans to translate it into more languages. The book's co-authors are Helt's mentor Deborah Fein, Ph.D., a Board of Trustees Distinguished Professor in the Department of Psychological Sciences at the University of Connecticut; Lynn Brennan, BCBA-D, a board-certified behavior analyst based in Massachusetts who has worked with children with autism spectrum disorders for more than 20 years; and Marianne Barton, Ph.D., a clinical professor and director of clinical training in the Department of Psychological Sciences at the University of Connecticut, where she is also director of the Psychological Services Clinic.
Helt first met Fein when the UConn professor diagnosed Helt's oldest child with autism at age 2. "She was warm and informative, as well as very clear and direct about what my son's treatment needs would be," Helt said. "For several years, I was one of my son's primary treatment providers, and as he got older, I decided to go back to school for my bachelor's degree. Deb consistently encouraged me about how much I would have to offer if I entered the field. She has done groundbreaking research on autism, and ultimately I was lucky enough to have her take me on as a graduate student. She is the best mentor one could hope for and is a wonderful role model as a female and a mother who achieved amazing things with her career."
Fein believes that Helt's personal experience brings a unique perspective to her work. "She understands not only what research and treatment needs to be developed but how to explain it to parents," Fein says. "This means that they trust her and understand her. She is extremely dedicated to the welfare of the children and parents."
Fein hopes to continue collaborating with her student-turned-colleague. "We worked together on autism research for about eight years while she was in [UConn's clinical psychology] program," Fein says of Helt, "and she did some of the best research that any student has done on autism." Fein and Helt are currently working together on a paper about future directions for the field of autism research.
Helt, who has taught developmental psychopathology, developmental neuroscience, clinical psychology, and a senior seminar called "The Social Self" at Trinity, now serves as a mentor to her own students. Neuroscience major Sarah Bunker '17, who works in Helt's lab, calls Helt an inspiration. Says Bunker, "Working with her and seeing her passion gives me motivation to continue my road toward medical school and be in a specialty that I really love, so I can wake up every morning with as much drive as she has."