Lydia Chen '18 recently became the first Trinity student to spend a semester studying in Japan through a new exchange program with Tokyo's Rikkyo University. Chen, an international studies and urban studies double major and an international student from China, attended Rikkyo from April through July 2017, the Japanese equivalent of a spring semester.
Chen began studying the Japanese language during her first year at Trinity and wanted to learn more about the country's culture. "The exchange semester was unforgettable, mostly because of the amazing people I met," Chen said.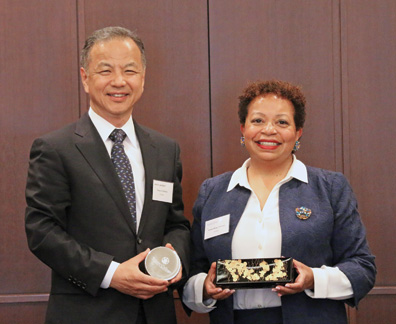 A memorandum of understanding signed in 2016 by Trinity and Rikkyo states that the institutions will exchange one or two students per academic year; Trinity will receive its first student from Rikkyo in fall 2018. In May 2017, Trinity President Joanne Berger-Sweeney traveled to Tokyo and spoke with Rikkyo officials about the new program.
Rieko Wagoner, principal lecturer in language and culture studies and international studies, started the Japanese program at Trinity in 1987 and is coordinating the exchange program. She said that language proficiency is not required and that Trinity students at Rikkyo take courses taught in English in addition to a Japanese language course.
Jeffrey Bayliss, Trinity associate professor of history, notes that Rikkyo also offers a visiting scholars program, which invites Trinity faculty members in a variety of disciplines to participate in the cultural exchange. "I look forward to short-term collaborative work with scholars at Rikkyo," Bayliss said.
Jennifer Summerhays, Trinity's director of study away, said that the Rikkyo program joins Trinity's other exchange programs: the Twelve-College Exchange Program with domestic colleges and the Baden-Württemberg Germany Exchange Program between the State of Connecticut and the German state of Baden-Württemberg.
Summerhays said that exchange programs are intended to cultivate diplomacy and to focus on relationship building with a sense of reciprocity that benefits everyone involved. "I think exchanges are incredibly crucial, especially in the world we live in today," she said. "My hope is that this exchange program can help students and faculty engage in deeper ways on critical topics that are world relevant."
For more information about the Trinity/Rikkyo Exchange Program, please visit http://www.trincoll.edu/UrbanGlobal/StudyAway/programs/AffiliatePrograms/