Volunteer Spotlight
By Andrew Faught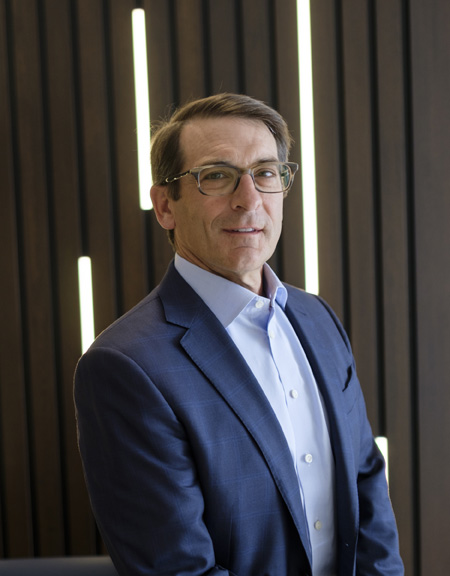 It wasn't until his sophomore year that Justin S. Maccarone Jr. '81, P'19 took his first airplane flight. But the event was momentous for another reason.
Spending a semester abroad at Trinity College's Rome Campus, Maccarone, the grandson of Italian immigrants who settled in Hartford, discovered the power of studying international politics in a global setting.
"I was a world away from being a small-town kid from Connecticut," he says. "As a result, I came back and became an international relations major and the president of the World Affairs Club. The light went on after that trip."
These days Maccarone is managing director of Tradition Energy, an international energy consulting and brokerage firm. He's also the newly elected president of Trinity's National Alumni Association (NAA) Executive Committee, and, through that position, he sits on the college's Board of Trustees.
In his NAA role, Maccarone promotes a positive image of Trinity and helps to develop programs that strengthen the college's relationship with its 25,000 alumni. His latest role builds on years of volunteer service, during which he served two of his five years on the NAA as vice president. He also previously served as co-chairman of the Career Development Subcommittee.
Maccarone, a Darien, Connecticut, resident, has spent the last 15 years advising Trinity students—informally and through the Center for Student Success and Career Development—on how to forge careers in investment banking and private equity. He also manages Tradition's recruitment program, and he's helped to hire several Trinity alumni.
Volunteering comes naturally for Maccarone. He's doing so, in part, to give back. His late father, Justin Maccarone Sr. '50, lived right off of Zion Street and was able to attend Trinity thanks to a scholarship; his late mother, Lucia M'51, earned a master's degree at the college. Both were first-generation Americans and the first in their families to pursue a higher education. Representing a third generation of Maccarones, Justin's son Michael '19 is at Trinity, working toward a political science degree.
During his own student days, Maccarone was on the varsity wrestling team, earning rookie-of-the-year accolades in his first year. While an injury forced him off the team, he stayed busy on the academic front, adding a major in economics.
"A small liberal arts college turned out to be the perfect place for me," he says. "I was not very much aware of the world before I went to Trinity."
Fresh from graduation, Maccarone went to Wall Street, where he worked as a banker and private equity investor for nearly 30 years. He then turned his attention to managing Tradition Energy, a growing business based in Stamford, Connecticut.
Wheaton Hall roommate and longtime friend Steve Dylag '81 says it's no surprise that Maccarone continues to nurture close ties to his alma mater.
"Justin made great friends and had a wonderful experience, and he got a great education," says Dylag, principal with North Attleboro, Massachusetts-based Keystone Consulting Group, a commercial real estate appraisal firm. "What else can someone want from their college education? No wonder he works at staying connected."
Away from his professional and college duties, Maccarone enjoys golfing and boating. Last year, he piloted his powerboat to Maine and back, stopping for visits in Nantucket and Martha's Vineyard. But don't expect him to schedule extracurricular activities near class reunions; he hasn't missed one yet. The reason is simple: "Trinity was a life changer for me."