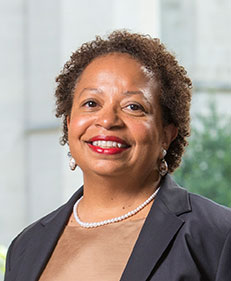 Join Our Path to a New Summit
The fall semester at Trinity was an exhilarating and inspirational one for me and an important one in the life of the college and the history of the institution. As you know from previous communications and from the feature story in these pages, in October the Board of Trustees approved Summit, the new strategic plan that will guide us to Trinity's bicentennial in 2023 and beyond. In early December, the campus gathered to celebrate the start of our journey—students, faculty, and staff came together for a reception in the Cave in Mather Hall to learn more about the plan and next steps in the process, as well as how they could help the college achieve its goals. I was thrilled by the turnout for the event and by the engagement of so many in the strategic plan.
Summit was more than a year in the making, with input from the broad Trinity community. We listened! The goals the plan puts forth will position Trinity for continued excellence and an even greater sense of purpose and relevance in the 21st century. Summit builds proudly on the strengths of our past and embraces our identity as a community as it calls upon us to seize opportunities to make Trinity a first-choice college for students, faculty, and staff; to connect even more meaningfully to Hartford, to the world, and to our alumni network; and to achieve financial and environmental sustainability for future generations.
I am deeply proud of the work of our community in developing Summit and excited for what's ahead. Higher education has a singular role to play in creating knowledge, promoting inquiry and freedom of expression, and developing engaged, global citizens who think critically and embrace complexity. Trinity, as a liberal arts college in a capital city, is positioned especially well to advance these ideals, and, in doing so, we contribute substantially to the public good.
What comes now is the challenging work of implementing the plan, and that work is already under way, led by Dean of Academic Affairs and Strategic Initiatives Sonia Cardenas. From Summit's broad goals and objectives, we will continue to work with the community to develop specific initiatives, and we will keep you apprised of our progress along the way.
There's great momentum already with a number of projects begun. Here are just a few that will help move us toward our strategic goals: Our new downtown presence at Constitution Plaza, complete with the Liberal Arts Action Lab, has opened, and we've just welcomed our first cohort of J-Starts (students whose Trinity careers start in the spring semester rather than the fall). We've launched a successful new signature student wellness program called Bantams in Balance, and our student workshop series, "Meaningful Discourse Across Difficult Boundaries," and community-wide Bridging Divides initiative are helping to promote dialogue and understanding—work that's critical in today's deeply divided world.
I'll be visiting several cities this spring to talk with alumni and friends about our plans, but even if I don't have the opportunity to meet with you, I encourage you all to learn more and to be involved (visit summit.trincoll.edu for additional information). This path to the future matters to all members of the Trinity community, and you are critical partners in the work to achieve our goals.
Finally, in case you missed it, my end-of-semester letter to the college community included the terrific news that Trinity has been reaccredited for 10 years by the Commission on Institutions of Higher Education (CIHE) of the New England Association of Schools and Colleges (NEASC). This was a comprehensive process that began with a self-study submitted in the fall of 2016 and was followed by a visit of an evaluation team in March 2017. That Trinity has been reaccredited for the maximum period possible—10 years—is a sure sign of the strength of the college and the confidence of CIHE and the evaluation team in our strategic direction. Summit is your plan. Consider how you can be a part of the future of this incredible institution!