Seeking to define higher ed's role in promoting a just society
By Andrew J. Concatelli
March 2017, Middlebury College: A controversial speaker is shouted off stage; a professor who accompanied him is injured in a violent confrontation with protesters when trying to leave campus afterward.
August 2017, University of Virginia and Charlottesville: Hundreds of torch-bearing white nationalists march through the center of the historic campus; the next day, a counterprotester is killed when a car drives into a crowd.
September 2017, University of California, Berkeley: The campus goes on high alert, spending hundreds of thousands of dollars on security in anticipation of a controversial "Free Speech Week" lineup that fails to materialize.
During the past year, institutions of higher education across the country have been grappling with conflicts and debates surrounding the issues of free speech, academic freedom, privilege, diversity, and race.
Trinity College was thrust into the national spotlight last June when a politically conservative website published a story about the social media posts of Johnny Eric Williams, Trinity professor of sociology, resulting in threats against the professor and the campus. There were calls both for the college to defend his freedom of speech and to take punitive action against him. A review by the Dean of the Faculty's Office affirmed that Williams's actions and words were protected by academic freedom and did not violate Trinity policy.
In response to this incident and to the general climate of political, ideological, and social division permeating the country, this fall Trinity launched a new initiative called Bridging Divides: Higher Education's Role in Advancing Understanding and Promoting a Just Society.
Anne Lambright, dean of academic affairs and professor of language and culture studies, says that Trinity is working to bring together its community in creating an environment that invites dialogue and promotes understanding across differences. Programs throughout the 2017–18 academic year involve discussions of race and racism, academic freedom and freedom of speech, power and privilege, and the challenges inherent in holding productive dialogue on such topics. Many of these goals align with the work of Campaign for Community, the student-led initiative launched in 2015.
"At Trinity we believe that college is the place to have these dialogues in informed ways and to engage in deep conversations in this small, shared space," Lambright says. "Our students are so committed, so engaged. They want the knowledge that can help them take what they are sensing and feeling and turn it into informed action."
One highlight of the Bridging Divides programming—"The Contours of Free Expression on Campus"—showcased a conversation between civil rights scholar and Phi Beta Kappa Society Secretary and CEO Frederick M. Lawrence and Philadelphia Media Network Vice President of Strategic Development William K. Marimow '69, H'16. The October event, which touched on many recent events at college campuses nationwide, was streamed live and recorded for off-campus audiences.
During remarks prior to the conversation, President Joanne Berger-Sweeney laid out the college's goals for Bridging Divides. "As an institution of higher learning, it is our responsibility to create and nurture a community that advances understanding through discovery, discourse, and respectful listening," she said. "This work seems more important than ever in our deeply divided world."
Lawrence cautioned the audience to avoid backing away from dealing with complex or uncomfortable subjects. "That's the beginning of the end of academia, when we're afraid to talk about these things," he said. He paraphrased former Supreme Court Justice Louis Brandeis when he advised that rather than barring speech with which one disagrees, the better response is to voice one's own opinion. "The answer to bad speech is more speech," Lawrence said. "I think that's not just an alternative. I think we're living in a time where that's a moral obligation. That's what it means to be part of a participatory democracy that has at its core a right of free expression."
Marimow, a longtime Philadelphia Inquirer editor and two-time Pulitzer Prize winner, added, "I think this gathering tonight is a good example of what we should be doing around the nation and around the world … an exchange of ideas that really elevates everyone's understanding and knowledge and gives us a chance to discuss potentially inflammatory issues in a civilized, thoughtful way."
See pictures from this event on Flickr or read the Op-ed from the Philadelphia Inquirer written by Marimow and Lawrence.
Lambright notes that the initiative offers opportunities for more understanding about varied perspectives rather than simply trying to get everyone to agree. "I do believe that the faculty is sensitive to the fact that we're dealing with a very diverse population with diverse personal and political experiences and that our job is to help students develop informed arguments using solid research and facts," she says. "Trinity is in a unique position by virtue of being a liberal arts college in an urban environment with strong connections to global communities. We are in a unique place to offer students who want real, active, intellectual engagement that can lead to transformative practices."
Before classes even began in the fall, Division of Student Affairs staff members including RAs and P.R.I.D.E. leaders went through training on how to facilitate difficult conversations in the residence halls, while first-year students completed an interactive program on racism, sexism, and LGBTQ issues called "You. Me. We."
Faculty members also utilized campus forums to deal with sensitive subjects. Associate Professor of Philosophy Donna-Dale Marcano worked with Lambright to organize two faculty panel discussions that were open to the entire Trinity community: "Race in Academia," which explored the experiences of faculty of color, and "Authority in the Classroom: Experiences of Diverse Faculty Members Teaching Politically Charged Subjects."
Marcano says they decided to hold these panels after she learned that some faculty members did not understand what faculty of color or people who work on topics including race and racism have to deal with. "It started with realizing that many of our colleagues had not known that black philosophers had been targeted for a while now; any public intellectual was targeted," she says. "We are in a politically charged environment where there's a backlash with race and gender. It's more out in the open now than it was. Faculty of color need to be protected, and not just from people outside but the possibility that we are going to have to negotiate certain things with some of our students."
These events were the beginning of what Marcano sees as an ongoing conversation. "We heard from so many people that they really learned a lot and that they wished there could be more," Marcano says. "Part of the importance of these panels is recognizing that there are many different types of people in our community; we have to respect that people come from lots of different places."
Several other Bridging Divides events took place in the fall (see listing below), and more are planned for the spring. "We will continue to work with Campaign for Community, reach out to diverse students groups, and involve our distinguished faculty," Lambright says. "I don't think that there are particularly clear-cut answers here, but we certainly can't fix anything that we're not willing to identify."
Fall happenings
Additional events held as part of Bridging Divides during the fall semester included:
Art from Archive: Work by Lewis Watts and Pablo Delano: This exhibit in the Austin Arts Center's Widener Gallery provoked viewers to consider aspects of black and Puerto Rican history within the structural societal framework of the United States. See more pictures from the event on Flickr.
"The Color of Law": Author Richard Rothstein, a research associate of the Economic Policy Institute and fellow of the Thurgood Marshall Institute of the NAACP Legal Defense Fund and the Haas Institute at the University of California, Berkeley, spoke about how the establishment of the Federal Housing Administration made it difficult for anyone other than white families to move to suburbs in single-family homes.
"Freedom to Teach in the Classroom": Joerg Tiede, senior program officer in the Department of Academic Freedom, Tenure, and Governance at the American Association of University Professors, addressed trigger warnings, the relationship between individual academic freedom in the classroom and the faculty's responsibility for the curriculum, and questions about faculty who introduce into the classroom material not related to their subject.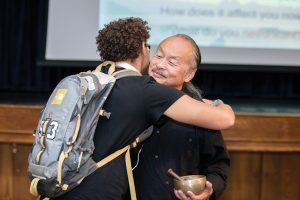 "An Unfinished Conversation"​:​ Filmmaker, educator, and diversity trainer Lee Mun Wah led a workshop exploring the complexities of inequality and racism in America. He promoted techniques to reduce a sense of isolation and alienation among members of the community. View photos from the event on Flickr.
"Conflict Is Not Abuse": Novelist, playwright, historian, and lesbian rights activist Sarah Schulman, distinguished professor of the humanities at the College of Staten Island (CSI) and a fellow at the New York Institute for the Humanities, noted during her lecture that in recent years society has come to confuse what she calls "normative conflict" with unacceptable forms of abuse.
"Confronting White Supremacy: Racism and Anti-racism in Our Classrooms and Communities": Crystal Marie Fleming, associate professor of sociology and Africana studies at Stony Brook University, addressed in her talk the roots and consequences of white supremacy and the need to challenge forms of domination and inequality that exist in classrooms.
View a YouTube playlist of some of the above events.
ILLUSTRATION: ROY SCOTT/IKON IMAGES/GETTY IMAGES