Interviewed by Kevin Torres '21
KT: What have you done since leaving Trinity?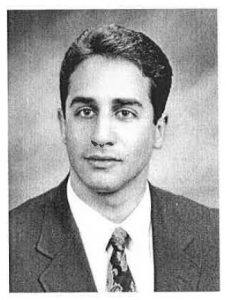 BA: Right after Trinity, I went to law school in Boston and from there I started a law firm from scratch with a couple of my colleagues, growing it to 200 people, within 8 years. We focused on disability representation on a national basis and converted the firm to a company to build value and offer additional services. We were fortunate to sell the company in 2010 to a large insurance intermediary. Since then, I focused on investing in start-ups and mentoring small business owners, while also launching a technology solutions business in the insurance space. I certainly took an interesting path from Trinity to law school and then to various entrepreneurial endeavors.
KT: Is there anything you learned at Trinity that you used to help with your career?
BA: Absolutely. Trinity, being a small liberal arts school with vast opportunities, enabled me to take classes that helped me look at both sides of issues, as well as learn how to communicate whether it was verbally or in writing. The classes are generally small, so Trinity allows students to effectively express themselves as well as regularly interact with professors inside and outside of the classroom setting. Trinity's academic structure builds one's confidence quickly and enables for personal and intellectual growth which benefits students as they enter the job market or graduate school.
KT: What is your proudest accomplishment since leaving Trinity?
BA: Since leaving Trinity, other than the obvious of starting a family and watching my kids grow up, I would say starting the firm/company from scratch and achieving a successful exit. I persevered with the help of others and built a team of employees who helped to create a strong culture and provided viable solutions for our customers.
KT: What is something you want other alums to know about you?
BA: I would want them to know that I didn't chart a specific career path. My focus was to prepare myself for any field by learning various skills, building strong relationships along the way, and engaging in many work/internship/volunteer experiences. It's important to continue to network during all stages of your career. My years at Trinity gave me the confidence to interact with people, ask questions and learn from their experiences.
KT: What are some hobbies/passion projects, successes, or milestones, that you would like Trinity to be aware of?
BA: From a business perspective, my company has been fortunate to be named to the Inc. 5000, fastest growing private company list, three times (twice for my prior company and once for my current company once). Outside of work, I thoroughly enjoyed coaching youth basketball and soccer for over 10 years. It's extremely important to have a solid work-life balance, so I strongly encourage to take a break from work, even if it's a few hours here and there to recharge.