THE WALLACE STEVENS WALK
690 ASYLUM AVENUE TO 118 WESTERLY TERRACE
HARTFORD, CT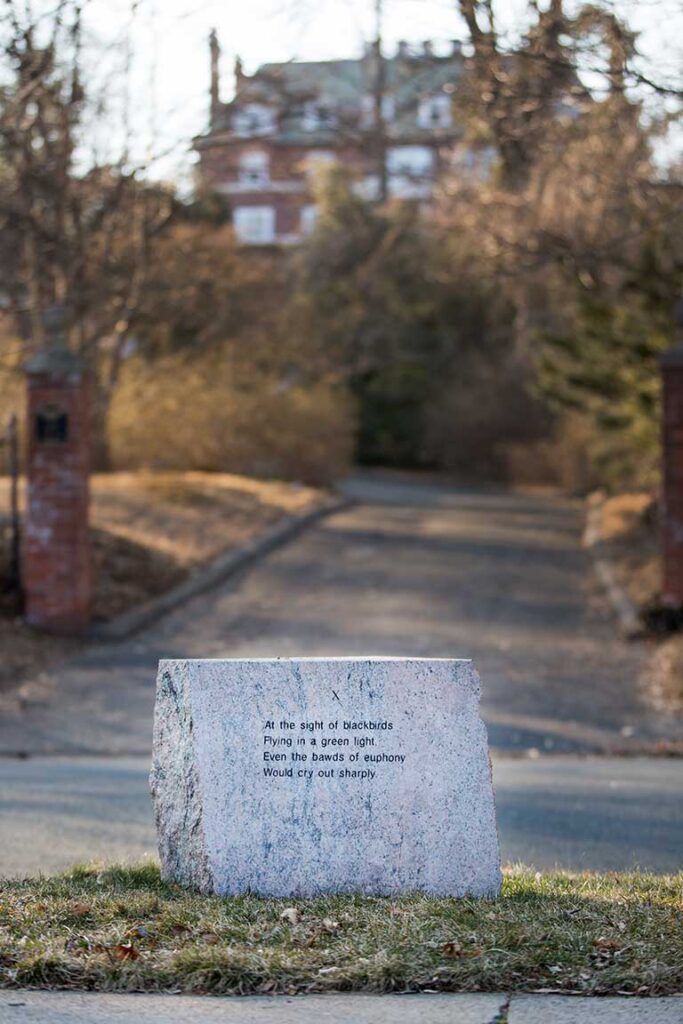 Wallace Stevens, one of America's great 20th-century poets, called Hartford home for nearly 40 years, until his death in 1955. He continues to be celebrated through the Wallace Stevens Walk, a 2.4-mile stroll that features a series of Connecticut granite stones inscribed with verses from one of his poems, "Thirteen Ways of Looking at a Blackbird." The walk, dedicated in 2009, follows the path that Stevens took from his workplace at The Hartford at 690 Asylum Avenue to his home at 118 Westerly Terrace. Funded through individual donations, foundation grants, and a gift from The Hartford, the walk is maintained by the nonprofit Friends & Enemies of Wallace Stevens. "People like the idea of walking the same path Stevens strode, thinking and composing his great poetry," says Tim Finnegan, president of the organization. "It is not a static, statue-type memorial. The stones are often encountered singly in the city landscape, thus becoming a kind of mystery to be solved. … I think Stevens would have liked that moment of mystery." The group also hosts programs, including the annual Rose Garden Reading to support Connecticut-based poets. For more information on the Wallace Stevens Walk and programs offered by the Friends organization, please visit http://www.stevenspoetry.org/stevenswalk.htm.