Taking Trinity into the future
Larger profiles by Molly Cooper
As the college's three-semester commemoration of the 50th anniversary of coeducation nears its end, we celebrate 50 for the Next 50, an initiative honoring 50 women who will have a lasting impact on the future of the college. Thematically, the celebration focused during the spring 2019 semester on the history of coeducation and last fall on the present. The spring 2020 semester has focused on the future, and this initiative does just that. These 50 remarkable women, chosen by a selection committee from more than 200 nominations, were feted during a February 7 event at The Society Room in Hartford. Read on to learn more about all of them (and follow the links at the end to even more content).
Yasmin Affey '19
Trinity College residential learning coordinator and Trinsition Fellow; as a student, was active with the Office of Spiritual and Religious Life as well as the Office of Multicultural Affairs; served as a global ambassador for the Trinity in Trinidad program, a P.R.I.D.E. leader, and president of the Trinity African Students Association, Muslim Students Association, and Charleston House of Interfaith Cooperation
Jasmin Agosto '10
Founder, SageSeeker Productions; community partner, Trinity International Hip Hop Festival; education and community outreach manager, Hartford History Center at Hartford Public Library; member, Hartford Resident Advisory Board for the Liberal Arts Action Lab
Fatima Al Ansar '17
Mali's youngest diplomat; head of mission, Ministry of Foreign Affairs and International Cooperation; founder, Tiwalte Girls Peace Network; alumna, African Leadership Academy; scholar; fellow, Oxford Consortium on Human Rights, 2017; co-founder, Students Stand for Justice in Palestine Organization at Trinity College
LISA BANKS '90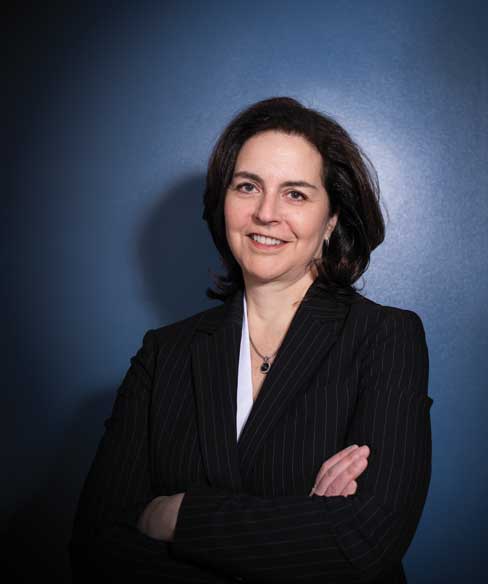 Lisa Banks '90 has dedicated her career in public-interest law to representing the underdog and giving voice to those who face discrimination. "The law can be such a tremendous way to effect change for good," she notes, "a way to be involved and impactful." Banks credits a mentor at Trinity, Associate Professor of Legal and Policy Studies Renny Fulco, "with giving me the confidence to pursue this path."
That confidence has taken her a long way. A founding partner of Katz, Marshall & Banks, LLP, a nationally prominent plaintiff's employment law and whistleblower firm in Washington, D.C., Banks is no stranger to honors and awards, gaining recognition for her contributions to employment law and her advocacy for victims of sexual harassment and assault. She received a 2019 Leadership Award from the Victim Rights Law Center for her firm's representation of Christine Blasey Ford in the Brett Kavanaugh Supreme Court confirmation hearing. "Dr. Ford exhibited such phenomenal courage. … She gave voice to millions of survivors of sexual assault across the country and the world," says Banks. "That was an extremely difficult time period, but it was also some of my most meaningful and rewarding work."
Banks also received Ms. magazine's 2019 Wonder Woman Award for her work advocating for women and girls, was named 2017 Lawyer of the Year for employment law in Washington, D.C., by Best Lawyers, and was described as "Washington's hottest young employment lawyer" by Washingtonian Magazine in 2006.
In addition to representing her clients, Banks speaks regularly across the country on employment law and in 2017 published Whistleblower Law: A Practitioner's Guide. She has represented hundreds of whistleblowers across various industries and describes these clients as courageous employees working on the front lines to "identify wrongdoing and to help keep society safe from all sorts of harm."
Banks has spent her entire career on that front line and finds strength in all the company she keeps. "There are so many phenomenal people that are doing this work," she says. "You feel you are not alone in the fight."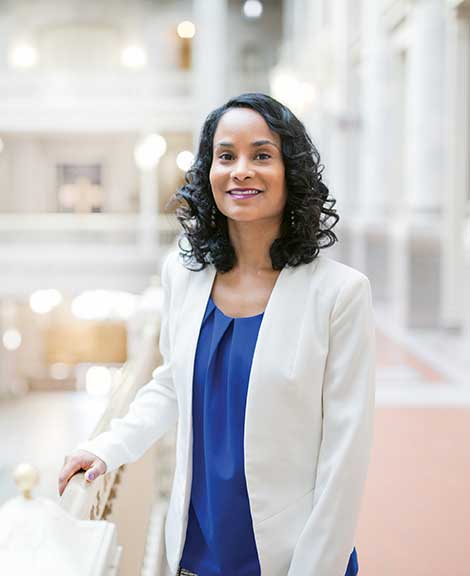 Wildaliz Bermudez '04, now into her second term on the Hartford City Council as a member of the Working Families Party, never intended to go into politics. After majoring in Latin and Caribbean studies at Trinity, she went on to earn a master's degree in environmental studies from the Universidad Metropolitana in Puerto Rico and returned to Hartford to work as a policy analyst and community organizer focused on issues of environmental justice, educational equity, police accountability, and social reform.
She recalls that for years she was comfortable working behind the scenes to facilitate and organize community action, but during her work on the issue of the baseball stadium in Hartford, she recognized that she needed a seat at the table. "As women, we do a lot of work behind the scenes," she explains. "Not only do we need more women in government, but we need to make space where it appears there is none; we need to be as inclusive as possible."
Bermudez notes that Trinity was key to her finding her passion. Her parents were both activists and she grew up with that value, but Trinity "was the first time I really became active as a student. I found myself initiating and organizing there." As a former board chair of La Voz Latina and president of the Spanish Club, Bermudez expresses appreciation for Trinity challenging her in ways she had not been before.
In her career, she has continued to challenge herself in the fight for equity and inclusion and to focus on serving the marginalized and vulnerable. She also has volunteered her time as a board member for the Connecticut Landmarks Society, the Center for Latino Progress, and the Connecticut Alliance for Basic Human Needs. She currently serves on Trinity's Board of Fellows.
The value of her activism has not gone unrecognized. In 2018, she was named to Connecticut Magazine's 40 Under 40 list. Her goal moving forward: "to have a different perspective at the table—a very progressive perspective—and to push that agenda further."
Joanne Berger-Sweeney
Twenty-second president of Trinity College and professor of neuroscience; accomplishments include creating the Bantam Network mentoring program for first-year students, the expansion of Trinity's footprint to Constitution Plaza in downtown Hartford, the establishment of task forces on the prevention of sexual misconduct and on the status of women, and the collaborative development of the Summit strategic plan
Francesca Campanelli '20
Mentor, Venture; vice president, Newman Club; public relations intern, The Jackson Laboratory; sales intern, SAP; member, Psi Chi Honor Society; coordinator, Overnight Admissions Program, 2017; and president, Charleston House of Interfaith Cooperation, 2018
Stefanie Chambers
Professor and chair of political science and active member of the Trinity College community since 2000; scholar of urban politics, minority politics, education policy, and immigrant incorporation; author of several books, including Somalis in the Twin Cities and Columbus: Immigrant Incorporation in New Destinations, which is the foundation of an upcoming documentary, Dreaming in Somali
Lori Clapis P'18
Coordinator, Trinity College Student Accessibility Resources, responsible for the administration of the Student Accessibility Resource Center; Trinity employee since 2005; former part-time staff member, Trinity College Health Center; established one of the first NESCAC testing centers for students with testing accommodations; member of Student Accessibility Council; chairperson, Student Accessibility Faculty Advisory Council
Erica Crowley
Communications and data assistant, CHER (Center for Hartford Engagement and Research) at Trinity; community organizer, macro social worker, and mentor; serves on the Permanent Commission on the Status of Hartford Women
Hanifa Darwish '22
Kabul, Afghanistan, native who spent the summer after her first year at Trinity creating a first-of-its-kind children's library in her hometown, refurbishing and painting the building and finding and translating children's books into Farsi and Pashto; currently working to improve women's health and reduce social stigmas about menstruation through The Pad Project, which seeks to make available washable sanitary pads for girls and women in impoverished areas of Kabul
Kathryn Dissinger M'13
Assistant professor of physical education and head women's lacrosse coach; as assistant coach from 2012 through 2014 and head coach since 2015, helped lead Trinity's unprecedented run of six-straight appearances in the NCAA Division III Final Four, 2012 to 2017; Intercollegiate Women's Lacrosse Coaches Association (IWLCA) National Assistant Coach of the Year, 2012; IWLCA Division III Berkshire Region Coach of the Year, 2016; member, Venture planning committee
Kristin Duquette '13
Five-time American Paralympic record holder in swimming; founder, disability empowerment college program called A Day in a Wheelchair; commissioner, Multimodal Accessibility Advisory Council for Washington, D.C.; disability mentor, Clinton Global Initiative University, 2014; confidential assistant to the chief of staff in Obama administration, 2015–17
Margaret Elias '17
At Trinity, served as a mentor for Venture, editor-in-chief of The Trinity Tripod, and a writing associate in the Writing Center and interned for the Long Walk Societies; a consistently active member of the Trinity community since graduation; working as a litigation case manager at a New York law firm before heading to law school in the fall
Elizabeth Elting '87
Member, Trinity College Board of Trustees and the Women's Leadership Council Founders Council; recipient, Trinity's Alumni Medal for Excellence, 2007, and the Gary McQuaid Award, 2017; founder and CEO, the Elizabeth Elting Foundation; co-founder, TransPerfect, the world's largest provider of language and business solutions
Eleanor Faraguna '21
Resident adviser; first-year seminar mentor; Writing Center associate; actively involved with the Women & Gender Resource Action Center (WGRAC) and EROS (Encouraging Respect of Sexualities); Dean's Scholar; Faculty Honors recipient; participated in the Community Action Gateway and worked with NARAL Pro-Choice CT; currently writing a report concerning community organizing strategies for comprehensive sexual health education campaigns through the Community Learning Research Fellows program
Emily Garner
Head women's basketball coach; last year, in her third season as head coach, led team to its best overall record since 1999–00 (19–6)
Nicole Hockley '92
Co-founder and managing director of Sandy Hook Promise, the nonprofit organization she helped found after her son Dylan was killed at Sandy Hook Elementary School in 2012; recipient, Trinity Alumni Achievement Award, 2017; recognized in 2016 by People magazine as one of its "25 Women Changing the World"
Laura Holt '00
Associate professor of psychology; Trinity College faculty member since 2008; teaches courses in abnormal, community, adolescent, and addiction psychology; researches prescription stimulant misuse and vaping in emerging adults; designs and evaluates preventive interventions for addictive behaviors
Caroline Howell '18
Recipient, the Susan E. Martin Award, National Alumni Association Senior Achievement Award, Psychology Prize, and Women's Empowerment Activist Award, 2018; President's Fellow for the Anthropology Department; mentor, Venture; working as a clinical research assistant at Boston Children's Hospital, investigating the effects of intergenerational stress on cognitive and social-emotional development in children
Amelia Huba '22
Intern, Center for Student Success; campus tour guide; co-coordinator, Cinestudio; co-coordinator, JELLO (January Experience of Living, Learning, and Outreach); co-president, Green Campus; sustainability liaison, Student Government Association
Taniqua Huguley '15, M'17
As a student, served as president of the Trinity College Black Women's Organization for three consecutive years, helping to establish a Girl Scout troop in Hartford; interned for the Multicultural Recruitment Team in the Admissions Office; served as cultural house coordinator for the Umoja House; worked in Alumni Relations; currently a member of the Trinity College Alumni Association Executive Committee
TAMSIN JONES

Associate Professor of Religious Studies Tamsin Jones notes that her early life included no direct exposure to religious practice or traditions. In fact, as a teenager in Victoria, Canada, Jones set off on a very different path. Passionate about dance, at 14 she decided to "give acting a go" and auditioned for a television show called Northwood. It was her very first audition, and she got the part. But what might have been the fairy-tale start to a life of fame proved a detour. By the time the show ended, Jones knew she was headed in a different direction. "I had an intellectual thirst, but I didn't know for what," she recalls. "I was eager to enter university."
At McGill University, she quickly found her path. Her interests were broad—literature, philosophy, history—but she knew she wanted to ponder the big questions, and she saw the study of religion as "the common denominator."
After McGill, she earned a master's and doctorate in theology at Harvard University, where she went on to work as director of undergraduate studies and lecturer in religion for three years; then after two years at the University of Victoria, she arrived at Trinity in 2013. Jones's area of expertise is the history of Christian thought and the continental philosophy of religion—a conceptual and abstract terrain. The 2018 recipient of Trinity's Dean Arthur H. Hughes Award for Achievement in Teaching, Jones notes that her students ground her in reality with "their own particular experiences and questions," and she finds true reward in the classroom's "mutual, joyous, and energetic exchanges."
The field of continental philosophy of religion remains dominated by men, and Jones takes seriously her work as a support and mentor to other female scholars. She sees strong investment from the students who take her "Women, Gender, and Sexuality in Religion" course, and she models for them what her own realization about gender dynamics instilled in her: "a fire to be the best I can be and to make sure my voice is heard."
BURABARI PEACE KABARI '20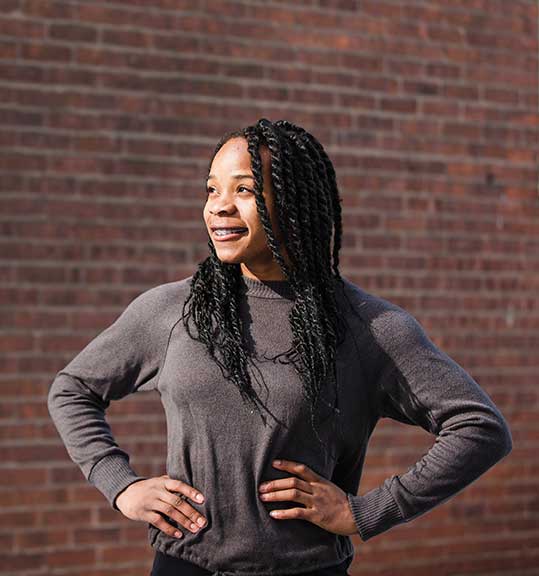 Born in a refugee camp in Comè, Benin, Burabari Peace Kabari '20 goes by the middle name her parents gave her as they found peace after escaping the conflict in Nigeria. Growing up with her 10 siblings in New Hampshire, she set her sights on a great education in a city setting, and "Trinity felt like it was always meant to be."
Kabari's track career began in middle school, and when she tried the shot put in her senior year of high school, she found her true joy in the sport. Basketball, though, was her first love. She has played since fourth grade, and in basketball she finds community, accountability, and personal growth. Trinity's team, she points out with pride, is "the most diverse team in the NESCAC, and that's our strength … you can learn so much about how to work with different types of people."
An economics major minoring in religious studies, an All-American and record-holding Trinity thrower in track and field, and an all-conference basketball star for the Bantams, Kabari credits the Trinity College Athletics Department—her coaches and teammates—for her growth over the past four years "both on and off the court."
For all that athletics has given her, Kabari has given back to her community even more. A recipient of the Robert R. Bartlett Award for excellence in Trinity athletics and service to the community, Kabari helped found the Trinity Athletes of Color Coalition, served for three years as a leader in P.R.I.D.E. (Promoting Respect for Inclusive Diversity in Education), and worked as a first-generation student peer mentor.
Studying economics and religion, two fields where women are still underrepresented, Kabari has navigated her own path and notes that she has "never felt held back." After graduation, she will return to New York City and Citi, where she interned this past summer; she has accepted a job as a markets analyst for the firm and knows her liberal arts education has equipped her well. "In this rapidly changing world," she says, "I believe that a Trinity education has taught me the importance of making a change for the better."
Nicole Katav '17
At Trinity, a Posse scholar and first-generation college student; was president of Hillel and active in several organizations, including La Voz Latina and the Multicultural Affairs Council; helped to bridge divides and build understanding among diverse groups and individuals
Michelle Kovarik
Associate professor of chemistry; Trinity community member since 2013; studies microfluidics and other topics at the intersections of chemistry, biology, and engineering; recipient, the Dean Arthur H. Hughes Award for Achievement in Teaching, 2019, and a Cottrell Scholar Award from the Research Corporation for Science Advancement, 2017; planning committee member, Venture
Elissa Raether Kovas '93
Co-chair, Trinity Athletics fundraising campaign; serves as board member of MetroSquash, a Chicago-based urban squash program, and is an advocate for Capitol Squash, a similar program housed at Trinity; founder, Shellkare fashion line
LaTanya Langley '97, H'17
Vice president and general counsel of BIC, responsible for Latin America, Africa, the Middle East, and Asia; active in diversity in the legal profession and women's empowerment initiatives globally through her company and board associations with the National Bar Association, Minority Corporate Counsel Association, and Asian American Bar Association of New York; honors include the George W. Crawford Black Bar Association's Trailblazer Award, Legal 500's General Counsel Powerlist, National Women in Law Thought Leadership Award, First Chair Award for Top General Counsel
Trinna Larsen '20
President, Student Government Association; member, Summit Sustainability Committee, Green Campus, TREEHouse, and Composting on Crescent; founding member, TrinTalks, an event designed to promote healthy political discourse on campus, and GreenFest, an event celebrating sustainability on campus
Brooke LePage '19
Trinity's Commencement student speaker, 2019; senior thesis, "Title IX in the Age of Trump: An Evaluation of Institutional Administrators' Responses to the Proposed New Guidelines," focused on gender inequity in higher education; served as president of Alpha Chi Omega; currently a policy associate for FutureEd, a think tank at Georgetown University McCourt School of Public Policy; member, Trinity College Women's Leadership Council
Donna-Dale Marcano
Associate professor of philosophy; Trinity community member since 2005; specializes in black feminist philosophy and human rights; faculty director of the Individualized Degree Program since 2017; recipient, Trailblazer Award for Education from the Hartford-based Voices of Women of Color
Samantha McCarthy '21
President of Alpha Chi Omega, a sorority whose national philanthropy is domestic violence awareness; Student Government Association junior senator; participant in the Community Action Gateway and Community Learning Research Fellows program, through which she works with NARAL Pro-Choice Connecticut; first-year mentor; teaching assistant; student coordinator, Green Dot program; participant, WGRAC; Class of 1963 Scholar; Bantam of the Year as a sophomore, 2018–19
Beth Miller IDP'00, M'03
Executive director, Creative Education Foundation; board member, Ahern Family Foundation; in Trinity's Individualized Degree Program, won five student leadership and writing awards; senior paper, "Prudence Crandall: Challenging Race and Gender Boundaries in Antebellum America," was adapted into a play performed at The Open Theatre Project in 2018; received honorary Ph.D. in arts and humane letters from Southern New Hampshire University in 2017
Colleen McGlynn Moody '98, M'01
Director of government law and strategies at Brown Rudnick, LLP; former chief of staff for Massachusetts State Senate Majority Leader Frederick E. Berry; after her son, CJ, passed away in 2009, founded the CJ Moody Fund to provide grants to children with congenital and developmental difficulties; recipient, Senator Frederick Berry Early Intervention Champion Award, 2019
Karraine Moody '01
CEO, Hartford Area Habitat for Humanity, which has guided more than 300 families to home ownership in Greater Hartford; designed her own major in community development at Trinity and then worked as a work-life coordinator at United Technologies and in community relations at Hamilton Sundstrand before joining Habitat in 2005 as family services director
Selina Ortiz '19
As a student, was an active member of the college's chapter of Temple of Hip Hop and the Trinity International Hip Hop Festival; computer science and legal studies major; undergraduate mentor and lead instructor, Mobile Apps for Hartford Program with students from Hartford Magnet Trinity College Academy; P.R.I.D.E. leader; student worker, Multicultural Affairs
Consuelo Pedro '15
As a student, worked for four years in the neurocognitive laboratory and was active in the Trinity College Caribbean Students' Association; recipient, Andrew S. Terhune '78 Scholarship; was among the first cohort of Trinsition Fellows at Trinity; currently pursuing a doctorate in physical therapy at New York University, where she is house leader for the Arthur J. Nelson House of the Department of Physical Therapy
Ilda Ramos
Assistant director, college events and conferences; first joined the Trinity community as a member of the custodial staff in 1995, rising to the position of superintendent before moving to the Calendar and Special Events Office
The Reverend Allison Read
College chaplain and dean of spiritual and religious life; Trinity community member since 2008; second woman to serve as college chaplain; an Episcopal priest ordained in the Diocese of New York in 2003; serves on the liturgical commission of the Episcopal Church in Connecticut; elected vice president of the National Association of College and University Chaplains, 2019
Courtney Roach '16
Senior assistant director of admissions; as a student, majored in urban studies, worked for the Office of Multicultural Affairs, and served as secretary of the Student Government Association Budget Committee; selected as a member of the Obama Foundation Community Leadership Corps in Hartford
Pearl Rourke '21
Mentor, Venture; teaching assistant; Deans' Scholar; recipient, Faculty Honors; vice president, Ignite and the Newman Club; member, Editorial Board for The First-Year Papers; senior legal intern; an accomplished harpist
Jacquelyn Santiago '00
Chief executive officer, COMPASS Youth Collaborative, which operates after-school programs, violence-prevention programs, crisis-response teams, and case management for high-risk youth; as a student, was active in student government, as well as in La Voz Latina and Imani, Black Student Union, and served as a tour guide and senior interviewer for the Admissions Office
Simran Sheth '19
As a student, received the Trustee Award for Student Excellence, 2019, and the Ralph E. Walde Prize in Computer Science, 2018; named Bantam of the Year as a first-year, 2016, and junior, 2018; President's Fellow for mathematics, 2019; president, International House; finance chair, Entertainment Activities Council
Tiana Starks '21
Hartford native who completed the Community Action Gateway and was an early participant in the Liberal Arts Action Lab; P.R.I.D.E. leader; first-generation mentor; has worked at Trinfo.Café and the Center for Student Success and Career Development; selected as a member of the Obama Foundation Community Leadership Corps in Hartford
Hamna Tariq '20
Advocate for the education of girls in her native Pakistan who was invited by Together for Girls to speak at the U.N. Commission on the Status of Women Conference, 2017; has published papers with faculty in the Center for Urban and Global Studies; writes for the Communications Office; head resident adviser; Presidential Fellow for international studies; active in the Asian American Student Association and WGRAC; researched at the Wilson Center in Washington, D.C.
Monique Tarrant '08
Board-certified clinical nurse specialist and clinical researcher with experience in oncology, geriatric medicine, and public health; advocate for health care reform at the local, state, and national levels; executive board member, Greater New York City Black Nurses Association; recipient, National Black Nurses Association Under 40 Award for nursing excellence, 2019; currently serves as clinical nurse specialist for the Department of Radiation Oncology at Memorial Sloan Kettering Cancer Center
MOLLY JANE THOMS '17 M'19

Originally from rural Vermont, Molly Jane Thoms '17 M'19 knew that she wanted to attend college in a city. Compared with the mountains where she grew up, Thoms says, she thought of cities as "centers of gravity for culture, ideas, and social change." Trinity's Cities Program caught her attention.
This spirit of exploration fueled her. Thoms majored in world literature and culture studies and minored in two areas: urban studies and writing, rhetoric, and media arts. She went on to earn a graduate degree in English at Trinity while working as program coordinator for the Office of Spiritual and Religious Life alongside her mentor, Chaplain Allison Read. Thoms's passion for community is shown through her depth of involvement at Trinity, which included serving as president of the Charleston House of Interfaith Cooperation, as a mentor in the Venture and first-year seminar programs, as a member of the presidential initiative Campaign for Community, and as the leader of the team that developed the concept for the Bantam Network. She also worked in the Writing Center and the Communications and Admissions Offices. Thoms consistently delved into what made Trinity a positive and inclusive community and how students—through conversation and advocacy—could support one another. Though always busy, she was not overwhelmed: "Each thing was so energizing—I felt like I was coming alive."
Thoms acknowledges that she took coeducation for granted when entering Trinity; her mother had been in the first class of women at Williams College, and she "thought the trail had already been blazed." While aware of gender dynamics at play in the social environment, she appreciated women members of the faculty, staff, and administration who embodied her "highest values: listening, persistence, and partnership."
Thoms now is a student at Boston College Law School. Public interest law is a path she discovered during a summer internship with the ACLU of Connecticut, when she witnessed both the intellectual and human elements of law. "Lawyers use words to empower people," she says. "Words and empowering people are my two favorite things."
Cornie Thornburgh '80
Member of the Board of Trustees since 2004 and chair of the board since 2014; served as chair of the Presidential Search Committee that brought Joanne Berger-Sweeney to Trinity and as co-chair of the Charter Committee for Building Community; former member, Board of Fellows; co-creator and member, Women's Leadership Council Founders Council; recipient, Trinity's Eigenbrodt Cup, 2010; she and her husband, Richard E. Thornburgh, had their names inscribed on the Wall of Honor, 2013
Vidhi Vasa '22
Only international student at Trinity to be chosen to serve in the Obama Foundation Community Leadership Corps in Hartford, 2019; public relations manager, International House; mentor for fellow international students, helping first-year students transition smoothly; head unit manager for event support, Office of Student Activities, Involvement & Leadership (S.A.I.L.)
Hyacinth Yennie P'02, '06
Longtime chair, Maple Avenue Revitalization Group; co-founder, South End Wellness Senior Center; founder, Barry Square Community Day; active in the Hartford Public High School Governance Council, the boards of the South Park Inn housing shelter, and other organizations; mother of Melissa Yennie, a teacher who is pursuing a doctorate in education; Charlecinth Yennie '02, a family physician in Hartford; and Craig J. Yennie '06, a founder of COMPASS Youth Collaborative, who passed away unexpectedly in 2016 after earning a Ph.D. at Brown University
For more on Women at the Summit, visit the Women at the Summit website.
To see photos from the 50 for the Next 50 event held in February, please visit the Flickr gallery.