Have you ever taken the time to think about why you eat at the places you eat? Maybe you have a favorite place to eat, or a place that reminds you of your childhood when you eat there. What's the significance of eating at a restaurant versus at your home?
Eating places are exactly what it sounds like. Places where people consume food. This includes bistros, cafes, diners, restaurants, lunchrooms, and even your dining room. These spaces are often not just places for food consumption. They are places for ideas, fellowship, and business. The history of eating places is extremely complicated and has drastically changed in the past couple of centuries. Here are 10 things you didn't know about eating places. 
1.) The first fast food restaurant wasn't mcdonald's

Historians actually consider the first fast food chain to be a restaurant called White Castle. White Castle was created by Walter Anderson around May 1921, during the roarin' 20s in Wichita, Kansas. Anderson was not the richest man, but he was an entrepreneur. He decided to refurbish an old shoe repair stand and sell hamburgers for a nickel.[1]
Anderson began to make a profit and was able to eventually partner up with Billy Ingram to create the official White Castle design. Each restaurant or "Castle" had the same layout, with a grill, counter, 5 stools and was staffed by two male employees. The restaurant was known for its impeccable hygiene and speed.[1]
2.) Diners started in the United States
Diners actually evolved from lunch-wagons in the first decades of the 20th century.[2]  A lunch-wagon could be considered an early food truck made from a wagon. Later on, people began to use trolleys, streetcars, and railroad dining cars as a diner which is why the diner's original style was narrow and elongated.[2]  The original diners were established in the North East of the United States because that is where there was a condensed population. Many diners were transported from New Jersey to other parts of New England, but not much farther out. It was very rare to see the early diner established south of Virginia or west of Ohio because traveling on local roads meant traveling at 10 miles per hour. [2] The streetcar era is what really spread the idea of the American diner we see today.
The menu of the diner stayed simple over time with basic American cuisine. The "true" diner rose around the 1920s; its menu is what most people are familiar with today. [2] This includes hamburgers, french fries, club sandwiches, and breakfast foods. Typically today the interior of a diner will be a rendition of the 1950s/1960s model.[2]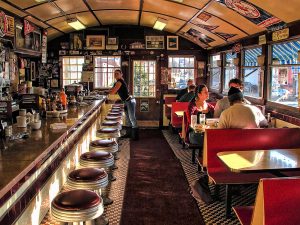 3.) Most colonial Americans never dined in a restaurant
Most of the Colonial Americans during the 17th and 18th century did not have any reason to dine in at commercial establishments – even if one was available to them. Before the industrial revolution, many colonials lived on farmland. They only traveled away from homes to go to the market or for civic duties. They did dine away from their homes, but only for special occasions such as church gatherings, weddings, funerals and other social events. Dining at taverns, inns, and boarding houses were seen as a luxury for the wealthy. [2]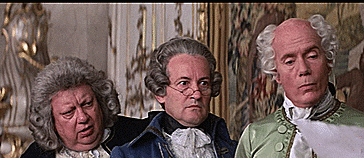 4.) You've been eating wrong your whole life
According to Vivian Brown, author of Table Etiquette in The American Journal of Nursing, "If an individual does not know how to handle a cup of tea or a plate or a fork in an easy…manner [they] will find some opportunities closed to [them]."[3] Brown's beliefs were not rare during the time she wrote her piece. Most people believed that having proper table manners was directly related to someones lifestyle. Her piece was published in 1933 during the Great Depression. A few of Browns "Nevers" include:
Never stir your tea and leave the spoon still standing.
Never fail to close the lips while you are chewing.
Never prop your weary head upon your forearm.
The video below will provide some more basic table manners.
5.) the white house's old family dining room was opened to be viewed by the public for the first time in 2015
Michelle Obama who was the First Lady at the time opened the room for public viewing in 2015 through a joint effort with the Committee for the Preservation of the White house. [4] The room was refurbished for the special occasion with 20th century art and design. The history of the room dates back to 1825. A few items in the room include: 1939 ceramic plates, china and glassware; silver tea set manufactured by Graff, Washbourne, and Dun; 1950 pictorial weaving adapted as a wool rug; and New York World's Fair Tableware.[4]
6.) females eat less and males eat more in mixed company
According to a study in the Journal of Health Psychology done by scholars Emily Brindal, Carlene Wilson, Philip Mohr and Gary Wittert, males and females change their eating habits in mixed company. The group examined females eating with the same sex, men eating with the same sex, and then a large mixed company setting. Their goal was to discover whether there were multiple social influences in a fast food eating environment. They found that in a larger group females ate less when a male was present, as males in the larger group setting consumed more when a female was present. [5]
They believed this supported a cultural norm of minimal eating for females. Their conclusion derived from the negative judgements around eating fast food, females may have seen eating less as a way to express their femininity. This reasserted the injunctive norm of how women should behave when eating. [5] As for males, they believed their norm was the opposite of minimal eating. One where their consumption was a way for them to assert their masculinity.[5]
7.) THe civil rights movement is believed to have started at a diner
On February 1, 1960 four students who attended an all-black technical school in North Carolina walked into a diner with the intention of ordering lunch. The diner they walked into had a strict whites-only policy, however the men refused to budge, they ended up staying at the counter until closing and brought back 15 more students the next  day.[6]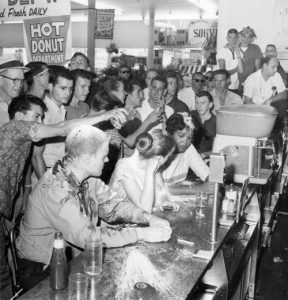 The movement continued to gain traction and reached Jackson, Mississippi where the photo featured took place. In the Mississippi NAACP two large figures, Medgar Evers and Doris Allison were the people who were really at the head of the local movement in Jackson. [7]This particular sector was "radical" and received extreme and severe backlash from their racial counterparts as pictured.[7] Unfortunately, Ever's was assassinated in June of 1963 and the achievements of the Jackson movement were minimal.[7]
8.) You're more likely to eat unhealthily if you don't eat at a designated eating place
A study done by the RAND Corporation in Santa Monica, California concluded that non-eating places are related to the eating occasions and the type of food consumed there. The study included having participants measure their physical activity through an ActiGraph accelerometer and GPS monitor and have them record all the places they visited and the food the consumed there.[8] Their results showed that people eating in non-eating places  were 1.3 times more likely to eat an unhealthy snack compared to a designated eating place.[8] Non-designated eating places include the couch, in front of a TV and a work space. The study concluded that the reason people were more likely to consume unhealthy foods was because of the vulnerability to convenience. When a person is eating in a non-designated eating place they are most likely looking for the most convenient and accessible food like packaged snacks, vending machine items or fast food.[8]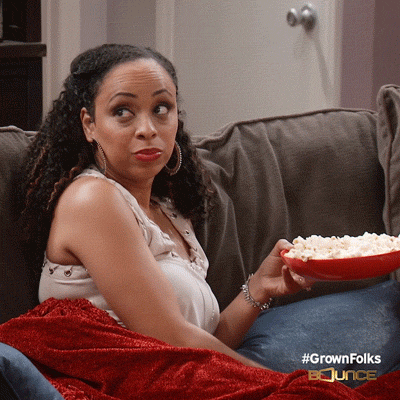 9.) In 18th century America dining rooms and dining tables weren't a thing
During this time in America, people had multi-use rooms and typically shared a space. If a family was going to eat a meal, they typically ate in shifts. [2] The idea of the American family dinner developed in the mid-19th century. The dinner table since then has been identified as an important place of socialization or "civilization" of children. [9] It was from the idea of the dining room as a training place for social interaction that eating in moderation, table etiquette, and self-control really became part of American social virtues.[9] From then birthed the stereotypical 1950s happy nuclear family image.[9]
10.) the idea of "home" is shaped by eating places
In the book Consuming Geographies, David Bell and Gill Valentine discuss the idea of "Home" and how it has shaped American eating functions. [9]The dinner table also functioned as a way to serve the idea of the American Dream. People began to associate an eating space with the ability to produce a happy family. When a person remembers their childhood home, they also associate that with experiences that were based around an eating space because that is typically the place where the entire family is gathered. For those who didn't have proper eating places, or did not have an entire family gather at a dinner table, their idea of home is very different from those who did have one.
 The authors believed the importance of shared meals in the social production of households is further emphasized by the role that food plays in people's memories of "home." [9]
Footnotes:
[1] Hogan, David G.. 1997. Selling 'em by the Sack : White Castle and the Creation of American Food. New York: NYU Press. Accessed February 28, 2018. ProQuest Ebook Central.
[2] Pillsbury, Richard. 1990. From Boarding House To Bistro. Unwin Hyman: Boston.
[3] Brown, Vivian. "Table Etiquette." The American Journal of Nursing33, no. 11 (1933): 1063-066. doi:10.2307/3411513.
[4] William Allman, "The Old Family Dinging Room Made New Again,: February 10, 2015. http://www.whitehouse.gov/blog/2015/02/10/old-family-dining-room-made-new-again Accessed February 19, 2018.
[5] Brindal, Emily, Carlene Wilson, Philip Mohr, and Gary Wittert. 2015. "Eating In Groups: Do Multiple Social Influences Affect Intake In A Fast-Food Restaurant?". Journal Of Health Psychology 20 (5): 483-489. doi:10.1177/1359105315576607.
[6] "Woolworth's Lunch Counter – Separate Is Not Equal". 2018. Americanhistory.Si.Edu. http://americanhistory.si.edu/brown/history/6-legacy/freedom-struggle-2.html.
[7] "We Shall Not Be Moved: The Jackson Woolworth's Sit-In and the Movement It Inspired." Journal Of Southern History 80, no. 3 (August 2014): 765-766. Academic Search Premier, EBSCOhost (accessed March 1, 2018).
[8] Liu, Jodi L., Bing Han, and Deborah A. Cohen. 2015. "Associations Between Eating Occasions And Places Of Consumption Among Adults". Appetite 87: 199-204. doi:10.1016/j.appet.2014.12.217.
[9] Bell, David, and Gill Valentine. 2013. Consuming Geographies. Hoboken: Taylor and Francis.