A book written by Samuel S. Kassow '66, Charles H. Northam Professor of History at Trinity College, is being adapted for the screen by writer-director Roberta Grossman and executive producer Nancy Spielberg, sister to Steven Spielberg.
Production is already under way to turn Kassow's 2007 book, Who Will Write Our History? Emanuel Ringelblum, the Warsaw Ghetto, and the Oyneg Shabes Archive (Indiana University Press), into a 90-minute documentary film that will be screened at film festivals and in select theaters. Who Will Write Our History? tells the gripping true story of Emanuel Ringelblum and his determination to use historical scholarship to resist Nazi oppression in the Warsaw Ghetto during World War II. Kassow's book has been published in eight languages.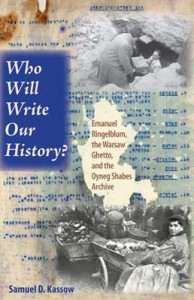 According to the November 2015 West Hartford Life story, "Writing Holocaust history: Samuel Kassow's book on the Warsaw Ghetto is being made into a movie," by Lynn Woike, filming for the project began about a year ago with interviews and re-creations shot on set and on location in Poland and Israel. The majority of the production will be done in Warsaw in May or June 2016, and will be followed by about a year of editing. A 5-minute sample of the film is now available on the website whowillwriteourhistory.com. Kassow plans to present another sneak peek of the film's progress on April 10, 2016, at the closing night of the Mandell JCC Hartford Jewish Film Festival.
Judith and Henry M. Zachs '56 have contributed greatly to the fundraising efforts to make the production possible, as have generous supporters of Jewish community causes both locally and nationally, according to West Hartford Life. The subject is seen as a historically important part of the Holocaust that deserves the broad attention a film can deliver.
The Warsaw Ghetto uprising began on April 19, 1943, when the German military entered the Ghetto with the intention of "liquidation" – the deportation of all residents, mostly Jews, to forced labor camps. The residents chose to resist rather than be deported to the camps, where death awaited them. The Jews continued to fight for 28 days, though greatly outnumbered and lacking weapons. By May 16, thousands of Ghetto fighters were captured or killed and the Germans proceeded to destroy the Ghetto.
Kassow is considered the leading expert on Ringelblum, who, in 1940, established a secret organization called Oyneg Shabes – Yiddish for "Sabbath delight" – in Nazi-occupied Warsaw to document Jewish life in wartime Poland and to compile an archive that would preserve the events for posterity. Ringelblum was captured and killed in 1944, but before he died, he hid thousands of documents in milk cans and tin boxes, which were discovered in 1946 and 1950.
As a scholarly authority on the subject, Kassow served as lead historian for two of eight galleries of the new POLIN Museum of the History of Polish Jews, which opened in October 2014 on the site of the Warsaw Ghetto uprising.
Most recently, Kassow edited and wrote an introduction for the book, In Those Nightmarish Days: The Ghetto Reportage of Peretz Opoczynski and Josef Zelkowicz (Yale University Press). The translation of works by two lesser-known Ghetto journalists who died in World War II was released in October 2015. Kassow is currently translating the writings of Rachel Auerbach, one of three people from the Oyneg Shabes operation who survived. He is also co-editor of Volume Nine of The Posen Anthology of Jewish Culture, which is scheduled to be published by Yale University Press in 2017.
For more information about Who Will Write Our History? visit whowillwriteourhistory.com.